1800 Tequila Turns Up the Heat In A Classic Hot Toddy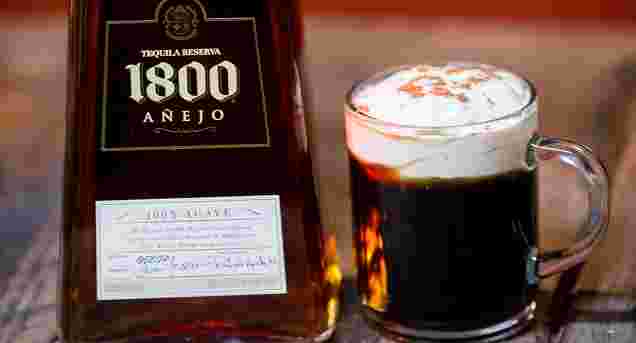 Hot Toddy may have its own holiday (January 11 –  National Hot Toddy Day), but any time of the season is the right time to indulge. And if you're looking for a twist on the classic cocktail, the below recipes from 1800 Tequila bring the heat to a Hot Toddy.
Jalisco's Toddy
2oz 1800 Anejo
2oz Chamomile Tea
.75oz Apple Cider
.50oz Honey Syrup
.50oz Lemon Juice
2 slices Ginger Root
Pinch of Cinnamon
Directions: In a pot combine apple cider, ginger root, lemon juice, and cinnamon. Allow to heat up until it's a rolling boil. Brew tea. Add more than one tea bag, so flavor is heightened. In a glass add tequila and honey syrup. Stir and combine heated tea and cider with tequila mixture. Garnish with Lemon Peel and Cinnamon Stick.
Miner's Cough
2 oz 1800 Añejo
1 oz Dark Roast Coffee
3 dashes Chocolate Bitters
1/2 oz Agave
Top with Lager Whipped Cream
Directions: Combine all ingredients into shaker. Shake for 10 seconds. Strain in Rocks Glass. Top with ***Lager Whipped Cream. Garnish with Shaved Chocolate.
THIS ARTICLE IS WRITTEN BY