2017 FORMULA 1 AZERBAIJAN GRAND PRIX Will Feature Performances From The Black Eyed Peas & Nicole Scherzinger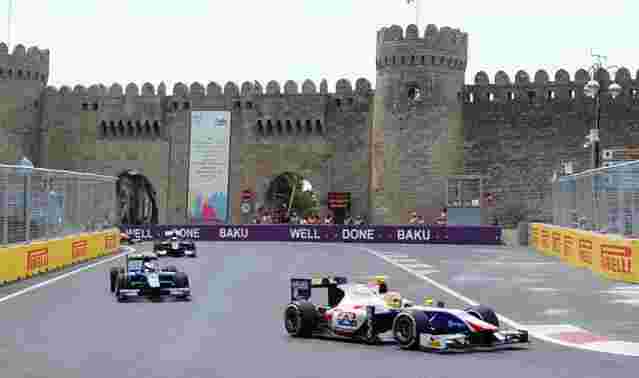 Two of the most popular musical acts will perform back-to-back concerts at the 2017 FORMULA 1 AZERBAIJAN GRAND PRIX. On Saturday evening, June 24th Nicole Scherzinger will take to the Main Stage at Baku City Circuit during the midpoint of the second successive F1 race weekend to be hosted in Baku. She will then be followed by The Black Eyed Peas, to deliver a night of world-class music and entertainment at the the newest street circuit in Formula 1.
Taking to the stage first in Baku after the Qualifying session has ended on track, will be Nicole Scherzinger. The superbly talented and Grammy-nominated triple threat has scored #1 singles on both sides of the Atlantic, selling 37 million singles worldwide – 16 million records as a solo artist and a staggering 54 million albums as the lead singer of the Pussycat Dolls, making them one of the best-selling girl groups ever.
Last summer, Scherzinger wrapped filming the role of Penny in the highly anticipated "Dirty Dancing" remake for ABC, which airs this year. Scherzinger most recently teamed up with Neil Patrick Harris to co-host his new NBC primetime variety series "Best Time Ever With Neil Patrick Harris."
She will then be followed by the best-selling and innovative group, The Black Eyed Peas – who will deliver one of their exciting live shows to close out the night. In an era of an ever-changing music industry that's defined by diminishing expectation, where a "successful" career means having one, maybe two hit records; The Black Eyed Peas are an exception. They have transformed themselves from a beloved backpack rap troop from the West Coast Underground into fully-fledged, massive global superstars whose music can be heard in any country around the world.
They've done this the right way: creating albums that are more innovative than the last; which has translated into each new album being more popular than the last. And in following this pattern, The Black Eyed Peas – released their sixth full-length album, The Beginning.
Speaking right after both acts were confirmed to perform at the 2017 Formula 1 Azerbaijan Grand Prix, BCC's Executive Director, Arif Rahimov, commented: "It is hard to fully express just how delighted and honoured we are to welcome two of the most successful global music acts of all time to Baku. Both The Black Eyed Peas and Nicole Scherzinger have proven themselves time and again to belong to that very elite group of performers who transcend ordinary expectations of what an artist can and should be. Music and Formula 1 have always managed to fit together seamlessly with both industries committed to pushing creative boundaries. Today's announcement continues this great tradition. The 2017 FORMULA 1 AZERBAIJAN GRAND PRIX will be truly unmissable. We look forward to partying with you in Baku this June."
The second successive Formula 1 race to be staged on the streets of Azerbaijan's capital city is scheduled to take place on the weekend of 23rd -25th June, 2017.
All ticket holders will have free access to the concert. Fans with four-day tickets will additionally be able to enjoy an exclusive Pit Lane Walk on Thursday 22nd June, while all ticket holders will get access to the drivers via daily Autograph Sessions and will also be entertained throughout the weekend via a series of entertainment activities located along the circuit's vending zones situated along Baku's stunning seaside boulevard.
Tickets for the 2017 Formula 1 Azerbaijan Grand Prix Still on Sale.
A variety of tickets options are still on sale for the 2017 Formula 1 Azerbaijan Grand Prix, as well as special 'Junior' tickets for children aged 2-16
For more information on how to purchase tickets and plan your stay in Baku for the 2017 Formula 1 Azerbaijan Grand Prix please visit: www.bakucitycircuit.com
THIS ARTICLE IS WRITTEN BY