2017 Miami Boat Show to Dazzle Showgoers With All New Yacht Experience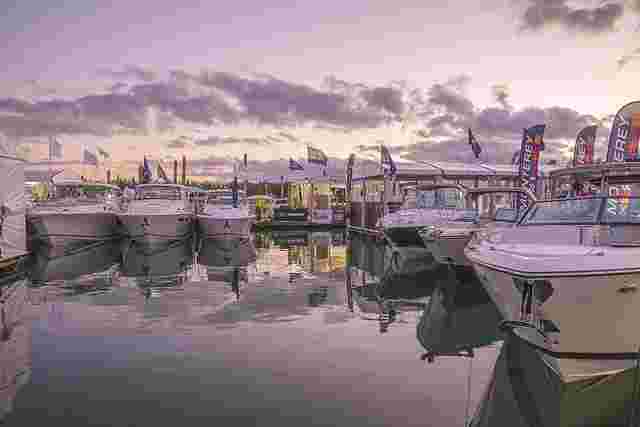 The 2017 Progressive Insurance Miami International Boat Show will be held next year over President's Day weekend in February. This is the one of the largest consumer boat shows in the world, taking place with the beautiful backdrop of Miami. For those looking for the ultimate Miami experience, the show combines all the city has to offer – history, great food and luxury. The show is located at the historic Miami Marine Stadium Park & Basin for the second year in a row and will feature an all new luxurious yachting and VIP experience, new culinary options, and much more that are sure to attract buyers from all walks of life.
The Show will bring the best in boating to an international crowd of more than 100,000. The 2017 event will feature more than 1,300 new vessels – from sport fishing boats and high performance boats, to personal watercraft and wake sport boats, family cruisers and luxury yachts. The latest marine technology and nautical accessories will also be on display, making the Miami Boat Show a can't miss winter destination for those with a taste for life on the water.
New for 2017 is a yachting and VIP experience  that offers show goers the chance to browse, board and buy more than 100 new luxury yachts, making the Miami Boat Show a global destination for those who appreciate high-end, on-water experiences. VIP's can expect five-star treatment including premium culinary options, live music and concierge services, as well as an exclusive on-water VIP lounge aboard the 111-foot Biscayne Lady.
Enhancing the overall show experience, the 2017 Miami Boat Show is partnering with Great Performances, renowned caterer for world-class events such as the Miami Open, and will feature a variety of new dining options highlighting Miami's diverse cultural landscape and culinary scene. From a champagne and sushi lounge to Cuban cuisine and numerous indoor and alfresco dining experiences, all featuring fresh, local ingredients, the 2017 show will be a food-lovers paradise.
Located on beautiful Virginia Key, with the oceanfront Miami skyline as its backdrop, Miami Marine Stadium Park & Basin is just minutes from downtown Miami, giving visitors a unique seaside experience in one dynamic location. Historically a boating destination, Miami Marine Stadium Park and Basin provides an island oasis for attendees to enjoy all the boating lifestyle has to offer. The show's main location address is 3501 Rickenbacker Causeway, Miami, FL 33149
The Miami Boat Show's second location, Strictly Sail Miami, will once again be at Miamarina at Bayside and feature more than 130 sailboats, a large selection of sailing and power catamarans, dozens of daily seminars, and the newest sailing gear. Strictly Sail Miami is located at 400 Biscayne Blvd, Miami, FL 33132.
The show takes place February 16-20, 2017 from 10 am–6 pm.
Admission:
Premier Day: $40
Adult (age 16+): $25
Two-day pass (Friday–Monday, February 17–20): $45
Five-day pass: $100
15 & younger: FREE
Tickets on sale November 4th, 2017: www.miamiboatshow.com
Accommodations:
Visit http://www.miamiboatshow.com/accomodations now to book rooms at the best rates through the boat show's official housing partner, OnPeak.
Transportation:
Whether by water taxi or valet parking, visit the Getting to the Show tab at MiamiBoatShow.com to plan how you will get to the Show.
For more information visit www.MiamiBoatShow.com
Twitter, Facebook and Instagram: #MiamiBoatShow and #StrictlySailMiami
THIS ARTICLE IS WRITTEN BY