3 Insider Tips For Your First Trip To CUBA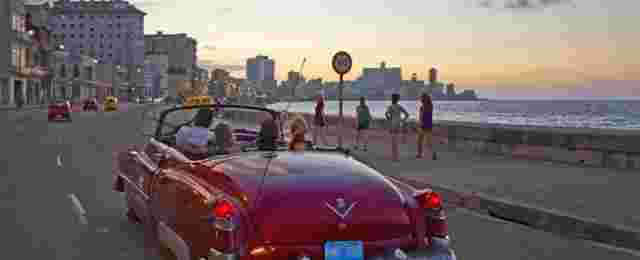 Tourists are flocking to this island in the Caribbean for a quick getaway. If you want to go but don't know where to start, these tidbits will get you moving in the right direction.
As a travel journalist, I plan everything. But for some reason, the idea of planning my own itinerary for my first visit to Cuba sounded daunting. I started freaking out about the little things. What if I ran out of cash during my 48 hours there? What if my basic high school Spanish couldn't carry me through conversations with the locals? What if there are better tours than the ones I'm going on? I had a serious case of FOMO (fear of missing out). But thankfully, all of my anxiety went away when I was introduced to the Cuba Travel Network. The company's resources proved to be invaluable to me—a person who sometimes doesn't have the time to always plan everything. Get plugged in now so you aren't left out later.
Tour Havana in a Classic Car
Thanks to the Cuba Travel Network, I was able to create my own travel itinerary based on my preferences and length of stay. The network's travel consultants arranged a three-hour private tour in a pink and white classic car for me and my friend.

Our guide had our driver stop at certain landmarks including Revolution Square (aka Plaza de la Revolución) where political rallies still take place, and Fusterlandia, Cuban artist José Fuster's colorful community art tile project.
After spending two hours in the car, we toured Old Havana by foot for an hour. Walking on cobblestone streets perusing shops, admiring the beauty of historic buildings and being surrounded by locals made the authentic experience come to life. At one point, we even witnessed a young lady—with a full face of makeup and several outfits for wardrobe changes—being photographed for her Quinceañera.     
Go To Viñales
About two and a half hours from Havana is where you'll find the rural town of Viñales. The Network set us up with the local tour company, Ecotur, and one of its amazing and employees named, Julio Emilio Hernández Morejón. It helped that he spoke English and was able to start chatting us up from the minute we got inside the BAIC jeep. One of my favorite parts on this excursion was visiting a tobacco plantation and meeting the actual farmer! He showed us how to roll a cigar once the tobacco leaves that were hanging overhead in his barn had dried. This not-to-miss adventure also gave me an opportunity to carefully analyze coffee beans growing on the farm and to purchase a bottle of beans for my caffeine-loving madre.
Julio gave us an opportunity to do some sightseeing in town so as we walked the main street in Viñales, we were able to peruse knickknacks like handcrafted bags and wooden "mystery boxes" the locals were selling. The charm of the dated architecture to seeing horse-drawn carriages roam the streets, transported me to another place in time. And helping to make our time there special, Julio made sure we got the "people-to-people" experience we wanted when he pulled the jeep over so we could purchase mangos from a native selling the tasty fruit at his makeshift stand.
Dine At These Local Gems
I'm sure you've read that the food isn't the best in Cuba. Well, we found three places that rebut that sentiment. The first one, La Fontana, was a short walk from our hotel, Meliá Habana. Once we were told that Rihanna ate there, we knew we had to go.
The restaurant's oversized sangrias, live band, and fresh snapper were spot on. We also enjoyed grabbing lunch at Mediterráneo Havana. Located in a two-story white and blue home, I savored every bite of the mushroom risotto and the waitstaff's stellar service.
Last but not least, a meal at Doña Eutimia, is not to be missed. Expect to find loads of American tourists here. Cobblestone streets lead you to its packed patio. But making a reservation ensures you'll be able to dine at the popular restaurant. We loved the freshly buttered tilapia paired with plantain chips.
THIS ARTICLE IS WRITTEN BY