5 Downtown LAS VEGAS Secrets Only Locals Know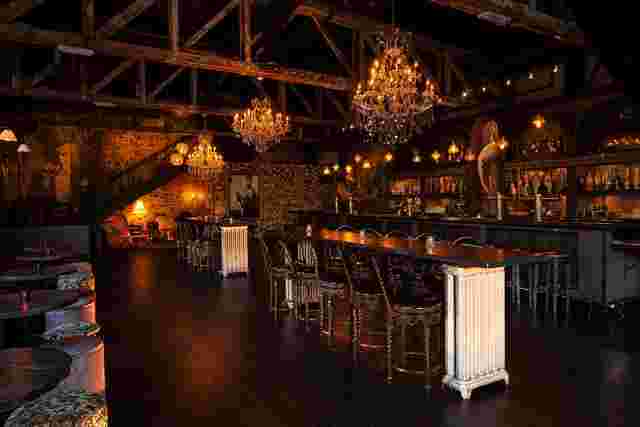 It pays to be an insider—especially in Sin City. Knowing the right people at the door or what to order when what you want isn't listed on the menu, is critical to your overall experience. But with more tourists getting hip to what Old Vegas has to offer, you can set yourself apart. Here, we share five secrets that only super cool locals know about. Use this as a guide to help you and your friends get the most out of your venture in Downtown Vegas.
Make Sure You Get Your Hands On A Laundry Pin
You will impress your friends when you tell them to meet you at Commonwealth for a drink. The dimly lit two-story pre-Prohibition-inspired cocktail bar on Fremont Street serves creative concoctions such as The Dude Abides (raspberry vodka, coffee liqueur, Irish cream) and Sucker Punch (citrus vodka, orange, fresh lemon, pineapple). Here, in this 6,000-square-foot space, patrons will find a long main bar, vintage stuffed albino peacock, and an urban rooftop garden.
A popular haunt for locals, the classic pub (think leather and wood seating) tends to draw a tourist crowd too. But when it gets packed, don't leave—just make your way to The Laundry Room. Located behind a door near the restrooms, a 27-seat speakeasy awaits. According to Dan Marohnic, corporate mixologist for Corner Bar Management, most guys order an Old Fashioned. "Men don't have to think about it," he says. "The Laundry Room takes people away from the flashing lights and the noise and let's them appreciate the cocktail." You have to make a reservation to gain access to this hideout, but once you do, it will be so worth it.
Must-Have Item: A wooden clothespin serves as the business card for The Laundry Room. If you ask around at some neighboring Downtown venues, you might luck up on one. Then, text the number on the pin to make a reservation.
Commonwealth
525 E. Fremont Street
Las Vegas, NV 89101
For more information visit: www.commonwealthlv.com
Dine In The Mob Room
For a hearty meal with some juicy history, make a dinner reservation at Golden Steer. Known as Las Vegas' oldest steakhouse, the restaurant has been a hit with locals since its inception in 1958. Be sure to sit in the Mob Room—it comes complete with a hidden door that leads to the back alley. To date, the door is now covered up, but in the '60s, '70s and '80s, mobsters would use this entrance to access the dining room, and of course, to close important business deals.
Must-Order Dishes: A restaurant regular, Frank Sinatra would always order baked clams on the half-shell with a New York Strip—he preferred to have his meat sautéed with olive oil, garlic, white wine, onions and diced tomatoes. For dessert, he'd get the famed Bananas Foster, which was—and still is—served flambé tableside. If you want to sit in the crooner's favorite spot, just ask for table 22.
Golden Steer
308 West Sahara Avenue
Las Vegas, NV 89102
For more information visit: www.goldensteersteakhouselasvegas.com


Say Sí To El Escorpión
For some really addictive homemade queso dip, stop by Nacho Daddy's Downtown location. Pair your tortilla chips and cheese with the restaurant's famed scorpion shot. Using farm-raised dune scorpions, you and the crew can dare each other to swallow the lifeless arthropod with your choice of alcohol—we recommend Patrón.
Must-Beat Record: Try to beat a brave man named John who most recently slammed down a total of 20 scorpion shots.
Nacho Daddy
113 N. 4th Street
Las Vegas, NV 89101
For more information visit www.nachodaddy.com/downtown
Experience A True Community
If you really want to live like a local, spend some time with the locals at Downtown Container Park. The unique venue, which is filled with eateries like Big Ern's BBQ (order a half rack of tender ribs and a side of barbecue pork and beans) and Cheffini's (get the El Mexicano bacon-wrapped grilled hot dog topped with avocado, onions, chipotle guava, cherry pepper relish), is made from repurposed shipping containers and Xtreme Manufacturing's multiperformance cubes. Highlights? The on-site wedding chapel and 33-foot-tall slide make it a fun place to get hitched or play around.
Must-Do Activity: At sundown, you'll want to participate in the drum circle celebration. This exercise helps to awaken the 40-foot female praying mantis that sits at the entrance of Container Park. Approximately every 15 minutes, you'll see her fire off some sizable flames.
Downtown Container Park
707 Fremont Street
Las Vegas, NV 89101
For more information visit www.downtowncontainerpark.com/
Get Polished Before You Party
Manicures aren't just for the ladies. Visit Beauty Bar Nails for a Men's Manicure, which includes filing, moisturizing and the application of clear nail polish. And once your nail beds are trimmed and buffed, stay put. The venue transforms into a happening nightspot where the salon's dryer chairs are pushed to the side to make room for a dance floor and droves of hipsters. The Saturday night vibe is sweet thanks to deejays like DeLa O who pump out old school hip-hop beats including songs like "Back That Ass Up" from Juvenile to hits from Jay-Z.
Must-Know Information: Every Tuesday night is Nickel Beer Night, and on the weekends, touring bands like Haunted Summer, Tijuana Panthers and more perform on Beauty Bar's patio.
Beauty Bar Nails/Beauty Bar
517 Fremont Street
Las Vegas, NV 89101
For more information visit www.beautybarlv.com/
THIS ARTICLE IS WRITTEN BY