AARON SANCHEZ: Blazing His Own Path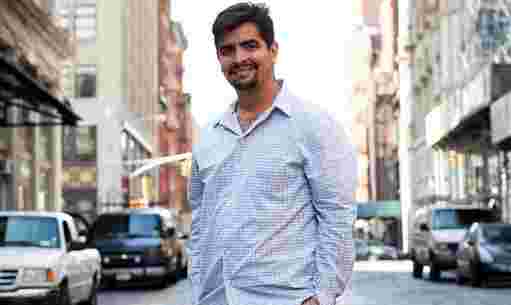 In the world of Latin restaurants and Mexican food Zarela Martinez is an institution. But it is her son, Aaron Sanchez, who is now building his own legacy and blazing a trail for others to follow. Sanchez stars on multiple Food Network shows. He is owner and executive chef of Centrico in New York and Mestizo Restaurant in Kansas City, and the culinary visionary behind Crossroads at House of Blues nationwide.  It is his passion, commitment and skills that have made him one of the nation's leading contemporary Chefs.
Sanchez's Food Network shows include Heat Seekers, Chefs vs. City, Chopped, Best Thing I Ever Ate, and Dear Food Network Thanksgiving Special. Among his books are "La Comida del Barrio: Latin-American Cooking in the U.S.A.," and his latest "Simple Food Big Flavor."
HOMBRE: What can you tell us about the development of the menu at Centrico?
Aaron Sanchez:  I'm from the north of Mexico, from Chihuahua and I started traveling when it came time to put the menu together.  I didn't want to have a homogenized menu.  I wanted to feature classic dishes but reinvented with good quality ingredients and a more contemporary presentation. I traveled quite a bit and had a chance to learn from the senoras and people that have been cooking their whole life. I got a good foundation from them and used my training – the technique that I learned – and applied it to this kind of food.
H: How often do you change the menu?
AS: We change the menu seasonally.  We add new dishes every week and change the menu every three months for the most part.
There are certain things I would be killed if I take off the menu but I rotate dishes based on seasons, freshness, etc.
H: To what do you attribute Centrico's success?
AS: We've tried to stay humble and accessible.  The success is based on two things.
First, our consistency, trying to deliver that positive experience over and over again. The second is meeting people's expectations.  When people come to my restaurant they have an expectation and that can be me cooking for them, it can be Mexican food at a good price point, a funky atmosphere, great drinks… Whatever that is, we try to deliver those expectations and that's how we have people coming back.
H: What do you want people to think about when they think of Centrico?
AS: Definitely not a combo platter, you will not see melted cheese, sizzling fajita; that's not happening at my place. What you will see is a commitment to service.  My business partners (Myriad Group – Nobu, Tribeca Grill) have some of the best restaurants in the world and they bring with them that pedigree, you get a superior service. The third will be a true New York experience of being down in Tribeca.
Tribeca is a very interesting part of town.
H: And when they visit your place, what should guests try?
AS: They should try for sure our tongue tacos. People may get squeamish eating tongue but if you like cold cuts, baloney has the same texture and flavor. Even better. Also any of our tamales which we make seasonally and which is amazing. And finally our ceviches.  I take a lot of pride in our ceviches.
H: What is the best lesson you learned from your mom?
AS: To remember my culture, to know the food, and to develop my own style. To use your training but create dishes that are signature to you so when people eat your food they go that's an Aaron Sanchez dish or a Zarela Martinez dish.
H: Did you have aspirations of being a Chef as a child?
AS: I was very undisciplined as a kid and got into the kitchen as a way of structure, discipline and hard work. Then I started to understand that you can make a fruitful and satisfying life cooking. That's when I decided to do it, when I realized you can make people happy. It's a rewarding experience.
H: What do you hope to teach mainstream audiences on television about Latin food?
AS: I try to make sure that they know Latin food is not comida casera, not home style food necessarily.  I want people to know that there is an elegance and sophistication involved.  Each country has contributions that are being made and there is a lot of originality.  You have to think of the regionality of Latin food. You can't just say all Latin or all Mexican food is the same.
H: Do you have plans of expanding restaurants?
AS: We're looking at restaurants in the Midwest and other parts of the country.  I want to spread the love. Especially to other places that don't have the Mexican food or the experience they should be having.
H: What are some of your plans?
AS: I just released my new cookbook "Simple food, Big flavor" which is unique Mexican inspired recipes from my kitchen to yours. I'm getting ready to promote the book and my new show on the Food Network "Heat Seekers." There are a lot of different things going on.
H: Why is it important for men to cook for women?
AS:  When you cook for a woman you are breaking down the traditional barriers and also showing an artistic side to you.  It's very thoughtful. Any time you make something with your hands you are honoring that person and that's an important thing to do.

Sanchez, along with partner MOZO shoes has also created a signature footwear collection giving style, quality and affordable options to the restaurant industry and home chef. You can find Aaron Sanchez's shoes here http://www.mozoshoes.com
To keep up with Aaron Sanchez, his restaurants, TV programs, personal appearances and to buy his book visit
www.chefaaronsanchez.com
Above Photo by Donnie Miller and from Aaron's book Simple Food, Big Flavor.
THIS ARTICLE IS WRITTEN BY