Absolut Launches New Groundbreaking Campaign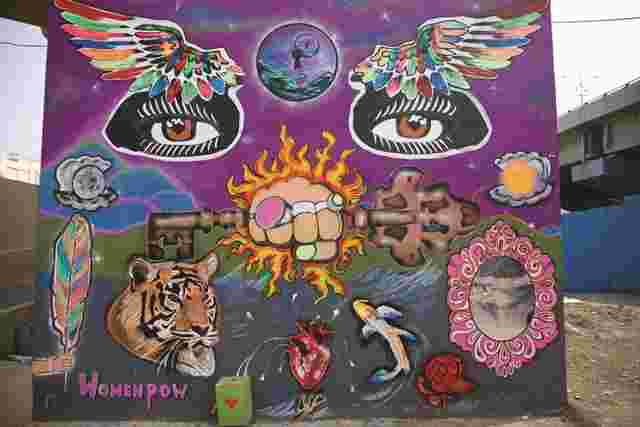 Absolut has unveiled an inspiring project that celebrates global unity through a series of art murals across the world to "Create a Better Tomorrow, Tonight" harnessing art and power of creativity. Seven artists in seven countries around the world came together for a common cause of positive action in Brazil, Canada, China, Germany, India, The UK and USA. Featured artists will create transformative murals over the course of a single night to inspire one another and people in their local communities to live in a more open and inclusive world.
Aaron Rose, a renowned director who has worked with artists from Shepard Fairey to Jeffrey Deitch created a compelling short film to capture the process and show the artwork. Working from sunset to sunrise, each artist created their ideals for change. Visualizing themes around sustainability, gender equality, global unity and freedom of expression, artists came together across different time zones to help shine a light on a local community in each country.
Artists include:
Catete, Rio de Janeiro; Brazil – Panmela Castro
Downtown Eastside, Vancouver; Canada – Emily Gray
Chengdu, China – Fansack
Kreuzberg, Berlin; Germany – Ibo Omari / Poet 73 / Gris
Mumbai; India – AVANTIKA
Toxteth, Liverpool; UK – BETA ROK 75
Bushwick, New York; US – Fumero
Each artist will give back through a local workshop / activity in each city. Three in particular, include:
In New York, for example, art teacher by day, street artist by night, Fumero uses art as a freedom of expression, and provides free public events to inspire others in the community to do the same. In #ANightForChange, Fumero will depict his vision of a better tomorrow in an incorporation of musical symbolism in his combination of graffiti and abstract style due to its relevance in Bushwick's local context as a historical means of freedom of expression. Absolut will support a follow up activity with Fumero in the form of a public street art gallery. To encourage the expression of the neighborhood's residents the work will be exclusively made by them as opposed to from visiting artists. In its unveiling the gallery will host an open mic night as well as local DJs.
Panmela Castro, Brazil's representation, uses street art as a platform to raise awareness for women's rights. In her home of Rio de Janeiro, gender inequality is widespread with its effects being particularly exacerbated by a lack of public investment in education and safety in neighbourhoods such as Catete.  In #ANightForChange, Panmela's artwork depicts her vision of a better tomorrow where we bring women to power through unity. Central to the concept is the notion that empowering women creates a more equal society overall. Absolut will support Panmela's community initiative, Rede NAMI, in providing graffiti workshops to empower Afro-Brazilian women in underrepresented communities in their #AfroGrafiteiras project.
Vancouver based Emily Gray's work consists of community based art, as her mission is to empower people through the creative process. She collaborates with fellow artists as well as members of disenfranchised communities found in Downtown Eastside Vancouver. In #ANightForChange her artwork portrays her vision of global unity as a cosmic cobweb, representing the strength of the connection between humankind from a molecular to a cosmic level. Absolut will support a community program of Emily's design providing materials to plant a community garden with immigrants and refugees in the area in collaboration with a new housing project of the Immigrant Services Society of British Columbia (ISSBC).
"To bring everyone together around the world over the course of one night to create a vision for a better tomorrow is both humbling and inspiring. We hope 'A Night for Change' can become a global movement to inspire people to take action overcoming borders and boundaries. Only when we unite, can we live in an open world for everybody – a world with more understanding, love, freedom and equality" said director, Aaron Rose.
Since the late 1980s Absolut has collaborated with more than 550 artists, including Andy Warhol, Damien Hirst, Keith Haring and many others. Aaron Rose is the latest collaborator, who was also the owner/director of New York's Alleged Gallery, which launched the careers of today's most celebrated contemporary artists, photographers and film directors.
Each piece of art from A Night For Change can be bought online via Absolut.com ( Or Absolutart.com)  with all profits going to support these local initiatives. For more information, visit here: www.absolut.com
THIS ARTICLE IS WRITTEN BY