AC Hotel San Juan Condado Opens As New Luxury Lifestyle Property In Puerto Rico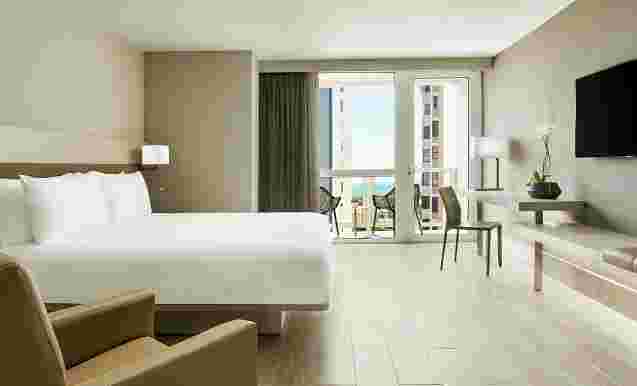 The 233-room AC Hotel San Juan Condado is the latest opening, and first Caribbean property, from Marriott's lifestyle line, AC Hotel. The venue celebrates the beauty of stylish modern design with its European soul and Spanish roots, born from the signature vision of renowned hotelier Antonio Catalan, who founded AC in 1998 and grew it into one of the most well respected hotel brands in Spain.  Making a stylish entrance in Puerto Rico's Condado neighborhood, the sleek new hotel is perfectly located in the center of the district steps away from the beach. The contemporary hotel will feature refined, modern design guest rooms, a rooftop terrace, a relaxing lounge area as well as an innovative European and Puerto Rican style beverage and food service.
"We are thrilled to bring this new breed of lifestyle hotel to the urban and culturally rich capital of Puerto Rico – San Juan," explains Reynaldo Rey Fernández, General Manager of AC Hotel San Juan Condado.
The elegant hotel lobby features contemporary art and furnishings where hotel guests will be immediately greeted upon arrival. Guest rooms incorporate inviting grays and charcoal tones, with clean lines accentuated by tile floors; furniture is lifted off the floor to create a sense of space, and crisp white linens are used to create a look that is both refined and elegant.
The hotel will offer a 9,000 square foot rooftop terrace, where the hotel pool, fitness center, yoga flex space and signature ACKitchen and Bar will invite hotel and local guests to enjoy panoramic views of the city and ocean.  The AC Kitchen will serve European-inspired breakfast each morning featuring freshly baked breads, artisan cured meats, selection of yogurts and cereals, seasonal fruits and local specialties.  Tapas, beverages and signature cocktails will be offered daily, along with live entertainment on weekend nights.  The pool area includes a spacious deck with plenty of seating, where guests may relax and enjoy poolside service.  This unique space is the only one of its kind in Condado, and will also be available for small weddings, corporate lunches, receptions and special events.
The AC Library and Lounge areas are located within lobby level and invite travelers to relax in sophisticated surroundings, while also creating an effortless space in which to conduct a business meeting or connect with friends over cocktails. High speed Wi-Fi is offered for guests and locals to work, connect, explore and socialize.  A signature element of the AC Hotel San Juan Condado is its innovative selection of food and drink available at the AC Lounge. A twist on the traditional hotel bar, the AC Lounge includes tapas, local artisanal beer, specialty wines on tap and signature cocktails, curated and prepared fresh by the hotel's resident mixologist.
For groups and meetings, the hotel offers the AC Meeting Room located in the lobby area, which can accommodate 24-40 people depending on room set up, as well as two boardroom-style Media Salons that can seat up to seven people each. The meeting spaces are furnished with comfortable chairs and tables and audiovisual support can be arranged through the hotel's sales department. The rooftop and AC Kitchen can also be reserved for weddings, receptions and special events of all kinds.
AC Hotels by Marriott is designed for creative, entrepreneurial spirits who are constantly on the go and who appreciate the oasis of a well-designed hotel that allows them to welcome moments of tranquility, be present and connect with others.  "We are very pleased to partner with Interlink and Highgate to launch this exciting brand here in Puerto Rico. The rapidly growing portfolio of AC Hotels in the region illustrates Marriott International's commitment to making distinctive architecture and design affordable and accessible for creatives, innovators and entrepreneurs here and around the world," explains Bojan Kumer, Vice President Development, Marriott International Caribbean and Latin America.
"San Juan is one of the Caribbean's largest and most busy cities with an energetic urban culture," said Fernández. "With its prime location, harmonious approach to modern design and thoughtful service, we feel the AC Hotels by Marriott brand will fit perfectly with this cosmopolitan and culturally diverse city."
AC Hotel San Juan Condado is owned by Interlink and will be managed by Highgate, a premier real estate investment and hospitality management company whose growing portfolio includes more than 100 properties in gateway cities worldwide.
For more information visit www.achotels.marriott.com
THIS ARTICLE IS WRITTEN BY