ALL EYEZ ON ME Returns Tupac Shakur's Message To Harlem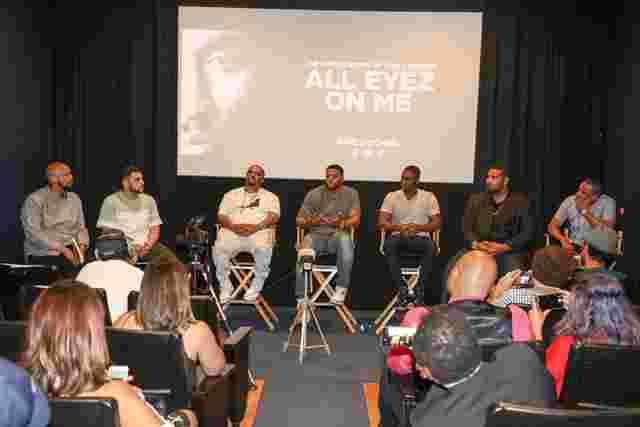 This past Monday the producers and cast of the upcoming Tupac Shakur biopic ALL EYEZ ON ME brought his message to Harlem, the place where his journey began. In attendance were cast members Hill Harper, Demetrius Shipp, Jr, Dominic Santana, along with director Benny Boom and producer LT Hutton. What followed was a powerful panel discussion moderated by Spotify's head of Hip Hop Programming Tuma Basa & U.S. Latin music editor AJ Ramos. ALL EYEZ ON ME opens this Friday June 16.
The discussion, live streamed by CODEBLACKLIFE, touched on the importance of people of color to tell their own stories, the producer LT Hutton's journey to get the film made, Tupac's cross-cultural influence, the important role women played in his life, his global impact and how the filmmakers wanted to honor his legacy.
The event took place at Maysles Documentary Center, a non profit organization that brings experienced teaching artists to work with students to develop storytelling, film production, and community engagement skills.
At the event, intended to champion Tupac's message of unity, attended by media and influencers from both the African-American and Latino community, they previewed the 12-minute exclusive first look created for the AEOM Cinema transformer truck that has toured the nation bringing it to those that Tupac most wanted to impact, the urban community.
ALL EYEZ ON ME tells the true and untold story of prolific rapper, actor, poet and activist Tupac Shakur. The film follows Shakur from his early days in New York City to his evolution into being one of the world's most recognized and influential voices before his untimely death at the age of 25. Against all odds, Shakur's raw talent, powerful lyrics and revolutionary mind-set propelled him into becoming a cultural icon whose legacy continues to grow long after his passing.
Directed by: Benny Boom
Starring: Kat Graham, Lauren Cohan, Hill Harper, Jamal Woolard, Danai Gurira and Demetrius Shipp Jr. as Tupac Shakur
Produced by: L.T. Hutton, David Robinson and James G. Robinson
THIS ARTICLE IS WRITTEN BY