"All Eyez On Me"- The TUPAC SHAKUR Legacy Lives On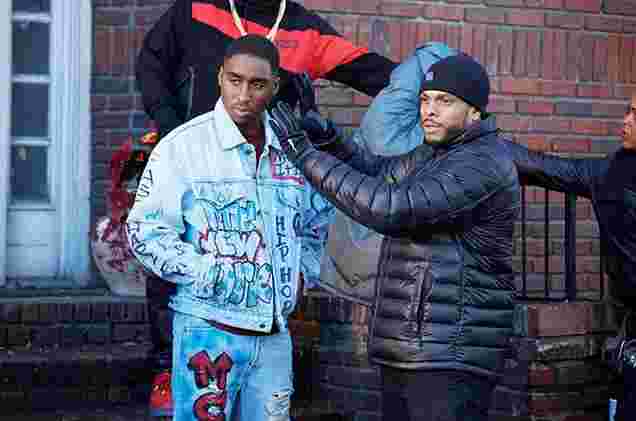 After attending an advance screening of the Tupac Shakur biopic "All Eyez On Me," we had the opportunity to chat with the film's stars Demetrius Shipp Jr., starring as Shakur, and Dominic L. Santana, in the role of Suge Knight. Also joining the conversation were the men bringing this dramatic story to the big screen, director Benny Boom and Executive Producer LT Hutton. The evening began with the tasty catering from Soul Food mecca Sylvia's, followed by previewing interview clips from significant figures in the life of Shakur. After that it was time for business. Here cast and crew deliver powerful messages of what the legacy of Tupac Shakur means to them – and should to you.
To many, Tupac Shakur was the greatest rapper to ever live. What is without question is that his life was filled with controversy and timeless music, a life worth retelling. "All Eyez On Me" has been highly praised by those that lived the story, including label mate Snoop Dogg, who recently inducted Shakur into the Rock & Roll Hall of Fame.
Shipp not only bears a striking resemblance to Shakur but managed to capture his voice, and mannerisms. In a twist of fate his father worked at label Death Row and produced tracks with the musical icon.
Santana plays Knight with commanding strength. Kat Graham as Jada Pinkett, Annie Ilonzeh as Kidada Jones, and Danai Gurira as Afeni Shakur also deliver powerful performances. As expected, with access to the extensive Shakur catalog, the music is spectacular. You will find yourself swaying in your seat song after song.
Perhaps one of the main reasons why Shakur remains an iconic figure is that besides the drama and controversy, he created music with a message. 'Hey Mama' and 'Brenda's Got a Baby' are two examples of songs that are catchy and shine a powerful spotlight on the realities of inner-city communities often ignored.
If you follow Shakur's trajectory and pay attention to his lyrics you will find wisdom. And this is why we asked a question about the artist's legacy to the men responsible for the film. Their thoughtful answers are inspiring. In case you are one of the few not familiar with Tupac Shakur we highly recommend you see the film for a crash course. If you are already a fan then you will relive key moments in a life cut too short. In either case you should read the answers below. We hope you feel inspired, and that when you wake up tomorrow you do as Hill Harper says, and you decide to 'go for great.'
HOMBRE: What does Tupac's legacy mean to you?
Hill Haper plays the 'interviewer' who extracts Shakur's most inner thoughts while interviewing him in jail. Harper has an extensive career, best know for countess films and a starring role in 'CSI:NY.'
HH: I think about Tupac from the standpoint that all lives matter, our lives matter. Tupac could very well be president today instead of Donald Trump. He probably would have been a senator at minimum, and that would have happened probably ten years ago. He was so intelligent, so driven, everybody wanted to be around him. He could move on any circle and he had so much respect. And that is what is so heartbreaking. We allow individuals to rise up who are not good. And we take away the great.
We ALL have to find our own greatness, and stop living below who we are. Because we allow too many people to live above who they are. And then they push us down. It motivates me even more to say, I'm not going to settle. I hope everybody says, 'I'm going for great.'
Dominic L. Santana stars as Suge Knight. He began as a recording artist by the name of Young Gent. He has appeared in the films 'Dead Heist,' and 'Love for Sale,' and his first film, "20 Funerals".
DLS: One of the things I learned with listening to Pac over the years is how effective what you say can be, not just to you, but to everybody when you have that platform. How you can shape a whole culture by what you say.
And if you're just in it for the money you can destroy a whole generation over your lust for money. At the end of your life you have to sit back and look at all that you've done and that's on your head. And that was because of Pac. I pattern my music to Pac, meaning I lure you into the song with the beats but when you listen I trick people into learning, and I got that from Pac.
Looking at the effect he had on people, the effect he had on my own life. I felt that responsibility. I turned down a lot of money. You all know me from acting you don't know me from music. It wasn't worth selling my soul, or selling out my whole community. I rather just make music the way I make it. Fortunately my film career started moving.
Demetrius Shipp Jr., who stars as Tupac Shakur, was planning to pursue a career in music. This is first acting role.
DSJ: Sitting here I feel that anything I put my mind to, now it's the time to tackle it and make it happen. And it's not just because of monetary gain. I don't want to say I'm like Pac, but I always wanted to be a voice to the youth, and the black culture. I never wanted to be in front of the camera, I never wanted to be the star. I wanted to be a music producer, stay behind the scenes, make my music, sit on the stands and look at everybody rock to it.
Now I'm on this stage and it's like what I said about wanting to be a voice, to uplifting, motivating people. That's how I got to where I am now, by looking at other rap artists and looking at Tupac being resilient, going after their dreams and never letting anything stop them. I just want to use my platform to encourage black youth to stay on the straightest path they can. To be independent thinkers, stay motivated, and go after their dreams. Don't let anybody stop you or push you down.
Director Benny Boom has an extensive career producing and directing music videos for artists including 50 Cent, Lil' Wayne, Nas and Prince Royce among others. His film credits include "Next Day Air" and "S.W.A.T.: Firefight."
BB: Being a director and a writer, doing this has thought me a lot about how to approach the next phase of projects. To make sure my voice is heard, because there is a responsibility that comes with being here, with making a movie and show it to thousands and millions of people. That's a big responsibility. What are you saying when you make that film, it's important that the message comes across. I spent a lot of years making music videos I obviously didn't always agree with the song or the lyrics, some of it was done for commerce, for finances. Other times it was 'I really like this record and I want to do this video.'
I've come to the point to do what is right for you, do what is honest to you. If you don't like the song, don't do the video. Ten years ago I would not have thought that, but now it's different. It's not because I did the Tupac movie, it's just rethinking what is happening. If I look back at the work, I've seen the decline of hip hop, and anybody else whether they are a producer, a director, or a writer, they've taken some part in that. So there is a responsibility. It's just taking an ownership of me as an artist, that's what Pac has taught me and that's what I relearned with doing this film. That my voice is important and if it doesn't line up with other voices that want me to do something then I'm not doing it.
LT Hutton comes from a music background and is the only person to have worked on several projects both with Ruthless Records and Death Row Records. He now owns his own indie record label 'The Program,' and is CEO of his own film production company, Program Pictures.
LTH: This film almost took me completely out of the world. People think 'they're making all this money.' Like I said, it's hard enough to make a film in Hollywood, let alone about content this strong and what we showed on the screen. But if I can accomplish it, that means an entire world can understand that anything is possible. I don't fit the typical Hollywood creator or producer in their square of a world. I know for a fact what I brought together in this particular production – and multiple ones that people may not have heard of but I was behind the scenes – But the place where I come from everybody told me that I was gonna die, everybody told me that I was gonna be in jail. The cliche. I had to explain to them that God said differently.
One thing I take away from Pac is just the work ethic, the making it in spite of. It's not always going to be a paid job, but you have to do the job. It's not always going to be that silver lining. Because people are going to take your credit, people are going to rob you, people are going to do everything. But in the test of time what you do will last, the material will speak for itself if you focus on doing good content. It's about creating opportunities for yourself. Stop talking and do it. Everybody can sit around talking about what they're going to do, but it's just talk. What are you going to do. How do we get the guns out of these kids hands in Chicago? We have to take responsibility for what we do and we have to be brave enough in our voice. Like I said, this movie is entertaining, but I take this on me. This is not egotistical. There is no way in hell I was going to let this film come out and just be fluff, or one long music video, or sex after sex after sex. We give you the entertainment but there are messages on this film. Like I said, dying at 25 is not gangster.
Film Summary:
"All Eyez on Me" tells the true and untold story of prolific rapper, actor, poet and activist Tupac Shakur. The film follows Shakur from his early days in New York City to his evolution into being one of the world's most recognized and influential voices before his untimely death at the age of 25. Against all odds, Shakur's raw talent, powerful lyrics and revolutionary mind-set propelled him into becoming a cultural icon whose legacy continues to grow long after his passing.
Directed by: Benny Boom
Produced by: L.T. Hutton, David Robinson and James G. Robinson
THIS ARTICLE IS WRITTEN BY