Azzaro WANTED Lives Up To Its Name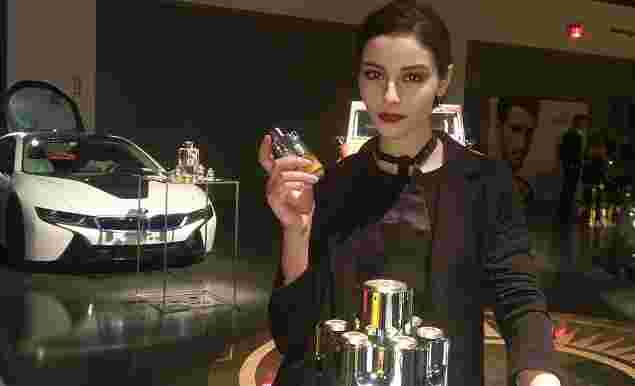 The name of Azzaro's new fragrance for men describes your status while wearing it. WANTED you will be. A highly informal poll in our office building confirms it. The official fragrance launch was held at Classic Car Club Manhattan. There Sandrine Groslier, president of Clarins Fragrance Group & Mugler Mode along with fragrance model Nikolai Danielsen held court to introduce Azzaro WANTED, surrounded by a mix of new and vintage Lamborghinis, Ferraris, and Porsches. 
This is not a regular fragrance for a regular guy. With a subtle inviting scent it will not go unnoticed in the company of women. If you have a bold, daring personality with strong confidence and unwavering bravado give it a try. It will elicit a compliment or two. Model Lilit Bagdasaryan, pictured below, firmly claimed it to be her 'favorite men's fragrance.'
Azzaro WANTED's  bottle makes a manly statement with its mechanical design. Is it the detail of a skeleton watch, the inner workings of an engine, or the barrel of a gun? You decide. The one thing for sure is its masculinity, unique style, and symbol of power.
The scent can be described as a woody citrus spicy Eau de Toilette with sensual aroma. The top notes project lemon and ginger for a vibrant and explosive freshness. The heart blends bold, spicy cardamon and vetiver to unveil its radiant personality. And finally the base reveals tonka bean and smoky juniper for a captivating and elegant masculine finish. Key ingredients, such as Guatemalan cardamom, Haitian vetiver and Brazilian tonka bean come from sustainable sources. This breakthrough is the creation of master perfumer Fabrice Pellegrin.
Give Azzaro WANTED a try and never go unnoticed again.  Available nationwide in two Eau de toilette sizes and grooming essentials.
THIS ARTICLE IS WRITTEN BY