BELLY Opens at New York City's Gansevoort Market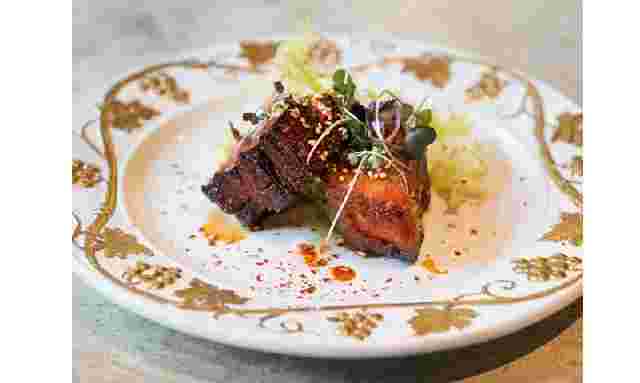 Pork belly, or Korean bacon, is beloved in the states, but it has yet to receive a temple devoted entirely to its worship. Enter Belly, a new restaurant offering New York City's first bacon omakase menu. This trailblazing concept is the brainchild of advertising executive Phillip Cho and Partner Anna Lee, longtime friends with a passion for the porcine. The original restaurant proved to be such a success at its original location in Williamsburg that it now has an outpost at the Gansevoort Market in New York City's Meatpacking District.
The team seeks to show diners that Korean cuisine can be so much more than what's found on 32nd Street in K-Town, and that an omakase does not have to be stuffy or exclusive. It started as a series of laidback, bacon-centric dinners that Cho and Lee used to stage for their pork-obsessed friends, featuring quirky riffs on traditional home cooking and comfort food that they grew up eating. The pair soon realized that they were onto something, and numerous brainstorming sessions later, an omakase began to take shape and Belly was born. Helming the kitchen is Chef Johnny Wooh, a passionate self-taught chef who is one of the founding partners of Belly.
Though an a la carte menu is available, the star of the show is the 9-course bacon omakase offered only during dinner hours at the 10-seat bar and 10-seat communal table. It has been designed to bring diners on a journey, exploring different cuts, textures and preparations of pork. And though the menu emphasizes fun and experimentation, there is serious culinary technique applied behind the scenes.
It begins with a cold glass of draft beer or chilled sparkling wine and Homemade Liver Mousse with Korean yellow mustard and pickled onions on white sourdough bread, a primer for the experience to come. What follows is Bacon Sushi 2.0, pork jowl dotted with wasabi, lime, and salt over sushi rice.
Next comes Chicharron de Belly (pictured at the very top), thick-cut pork belly in a maple soy glaze served with market greens, followed by Grilled Bacon, pork jowl with salted shrimp garlic aioli and katsuobushi, dried, fermented, paper-thin flakes of skipjack tuna that move about as they are placed upon the hot pork jowl.
Many of the courses are playful riffs on dishes common in other cultures; Spicy Pulled Pork Taco features pork shoulder with red chili, ginger, garlic, and lime. The Ricotta Cheese Ravioli is stuffed with pork belly and pork butt, and is accompanied with scallions, pork jus, and pickled red chili. Sausage Arancini features Arborio rice stuffed with house-cured sausage, deep fried and served with a creamy kimchi sauce. A fitting end to the savory portion of the meal is the Surf & Turf, pork belly with the catch of the day on top of a Miso Beurre Blanc sauce served alongside honey butter potato.
The show-stopping culmination of the experience is the Housemade Mille Crepe Cake, with layer upon layer of apple compote, Belly's signature secret 'smoky' whipped cream redolent of bacon fat, and topped with bacon chips. The combination of flavors is confounding but undeniably harmonious. It's served with an unexpected star of the menu: a refreshing cold Korean plum tea with an understated sweetness from a traditional Korean fermentation process, made and bottled in-house.
For those who wish not to commit to the full tasting menu, an abridged, 5-course version of the omakase is served during lunch hours. There are also four a la carte items available all day in the dining room that are simpler, yet just as meticulously-prepared, such as the Belly Sandwich, housemade gochujang-glazed pork belly with pickled cucumbers and Korean coleslaw on Balthazar bakery bread, and the Bohemian Wrapsody, a grilled wrap filled with salt & pepper pork jowl, mixed greens, white rice, pickled cucumbers and red chili pepper, with housemade miso walnut sauce. Two bowls round out the offerings: the Get In My Belly! features pork belly braised in housemade soy sauce over white rice, Korean coleslaw, potato salad and a fried egg, and the Slim Kim has pancetta-style pork jowl over glass noodles tossed with housemade chili oil, soy sauce, scallions, cilantro, sesame seeds and pickled cucumbers.
Guests who order the 9-course menu may also add (at additional cost) a wine, beer, soju, or sake pairing, crafted by Beverage Director Yannick Terquis (212 Steakhouse, Todd English Food Hall). Non-alcoholic options include the must-try housemade cold Korean plum tea, and two flavors of Sac Sac (pulpy Korean fruit punch).
Belly Gansevoort is located at 353 W. 14th St, NYC, NY 10014.
The original Belly is located at 219 Grand Street (at Driggs Ave.), Brooklyn NY, 11211.
Phone: 888-777-0087
For more information visit www.bellynyc.com
THIS ARTICLE IS WRITTEN BY