Romantic Culinary Journey in Rome's Hotel HASSLER ROMA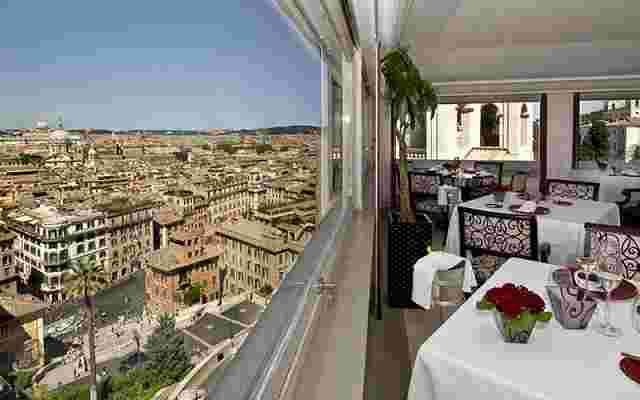 This Valentine's Day, Rome's iconic Hotel Hassler Roma is offering a "My Roman Valentine" package for a romantic break in the Eternal City, featuring a special internationally inspired dinner at the hotel's Michelin-starred panoramic restaurant Imàgo.
Exclusively created by Chef Francesco Apreda, the six-course dinner is inspired by the chef's travels and experiences through the rich culinary scenes in cities across the world. The menu embodies the tastes and local ingredients unique to its particular region, with Chef Apreda reinterpreting classic dishes in the cities he has visited with his own signature style and a newly created blend of spices to complement each dish.
The menu features dishes inspired by cities across three continents, including: London (Foie gras and Scones, Sweet Raisin Blend); Tokyo (Octopus and Seaweed Salad, Uma-Mia Blend); Mumbai (Penne pasta Arrabiata-Style, Spicy Bomb-ay Blend); Rome (Risotto with Cacio Cheese, Pepper and Sesame Blend); Naples (EVO Salted Cod, Salty Sand Blend); and New York (Pink Cheesecake, Big Apple blend).
The "My Roman Valentine" package also includes:
Two nights' luxury accommodations
Daily buffet breakfast
Romantic dinner for two on February 14th at the Michelin-starred Imàgo restaurant
One bottle of the Hassler's signature "Franciacorta" Prosecco and selection of fine chocolates
Bouquet of roses
Special gift for each guest from the Hassler "Amorvero" Collection
Late checkout at 4pm (if requested)
Based on double occupancy, the offer is valid for arrivals on February 13 or 14, 2014 and is priced from €1,052 (approx. US$1,430) for a two-night minimum stay.
For more than a century, Hotel Hassler Roma continues its legacy as Rome's five-star lodging of choice for the world's elite and discerning travelers. Set atop the Spanish Steps and featuring a panoramic view of the entire city each of the 96 rooms, 14 of which are suites, is individually designed with an elegant combination of classic and contemporary touches.
Highlights include the Michelin-starred panoramic restaurant, Imàgo, the Salone Eva and Palm Court restaurant and the Hassler Bar, as well as the neighboring, Hassler-owned Il Palazzetto: a hotel, wine bar and special event space.
For more information about the Hotel Hassler Roma, the Valentine's Package and dinner menu, visit www.hotelhasslerroma.com
THIS ARTICLE IS WRITTEN BY