CNET en Español Honors the Top 20 Most Influential Latinos in Technology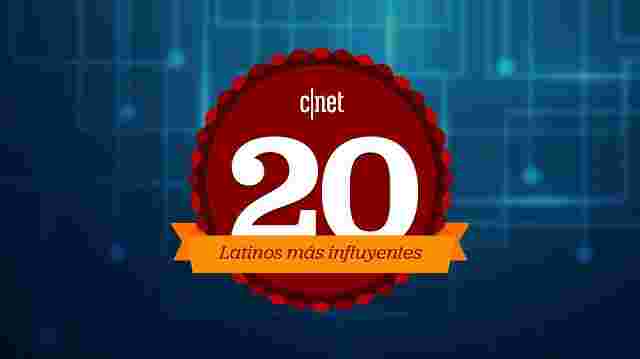 In celebration of Hispanic Heritage Month, CNET en Español, CNET's Spanish-language sister site, today continues its tradition of honoring the contributions of Latinos working in science and technology by publishing its annual list of the Top 20 Most Influential Latinos in Technology. In recognition of the prominent role diversity plays in the evolution of artificial intelligence and machine learning, this year's list includes six individuals whose work has made important strides in that space at Amazon, Apple, Facebook, Pandora, Mozilla, Qualcomm, Nvidia and Nuance.
"Our list shines a light on the vision and creativity of Latinos who play an important role in the tech industry," said Gabriel Sama, Managing Editor of CNET en Español. "This year, experts in artificial intelligence appear prominently on the list. As A.I. technology improves, we need a tremendous amount of data from diverse sources, including voices in a variety of languages and accents. In this way, our machines can learn to serve a wider cross-section of the world's population."
Selected by the CNET en Español editorial staff, the list is comprised of professionals in STEM or creative fields that meet the following criteria: born in Spain or Latin America, or in the U.S. of Hispanic origin; working in the U.S. or at a company with operations in the country; and those who are in senior positions and involved in the decision-making processes or play key creative roles in the technology space.
"To be part of CNET en Español's list of the 20 Most Influential Latinos in Tech for the second time is an honor," said Pilar Manchón, Director of Cognitive Interfaces at Amazon. "Diversity is a very important aspect at all levels, but even more so in the field of artificial intelligence. My experience tells me that the most innovative solutions and opportunities often emerge from the confluence of different perspectives, disciplines and experiences. Diversity of thought, gender, education and points of view enriches the ecosystem, allows us to widen our perspectives and helps us advance in the right direction."
This year's list includes the following (in alphabetical order):
Manuel Bronstein – Vice President of Product, YouTube
Òscar Celma – Head of Research, Senior Director, Pandora
Alberto Cerriteño – Principal Art Director 3D for Everyone, Microsoft
Nonny de la Peña – Founder and Chief Executive Officer, Emblematic Group
Serafín Díaz – Vice President of Engineering, Qualcomm
Luis Domínguez – Avionics Systems Engineer, NASA Jet Propulsion Laboratory
Carlos Guestrin – Director of Machine Learning, Apple
César Hidalgo – Head of the Collective Learning Group, MIT Media Lab
Daniel Loreto – Engineering Manager, Airbnb
Diana Macias – Software Engineering Manager, Mobile and Front-end Development, Twitter
Pilar Manchón – Director of Cognitive Interfaces, Amazon
Jessica J. Márquez – Research Engineer, Human System Integration Division, NASA Ames Research Center
André Natal – Senior Speech Engineer, Mozilla
Charlie Ortiz – Director of the Laboratory for Artificial Intelligence, Natural Language Processing Nuance
Carolina Parada – Principal Deep Learning Engineer, Nvidia
Santiago Pina Ros – Software Engineer, WhatsApp
Joaquin Quiñonero Candela – Director of Applied Machine Learning, Facebook
Enrique Rodríguez – Executive Vice President & Chief Technical Officer, AT&T Entertainment Group
Katia Vega – Assistant Professor of Design, University of California, Davis
Alberto Villarreal – Creative Lead, Consumer Hardware, Google
THIS ARTICLE IS WRITTEN BY