Dan Marino & Miami Dolphin Legends Give Back With Free Football Clinic & Game In Nassau, BAHAMAS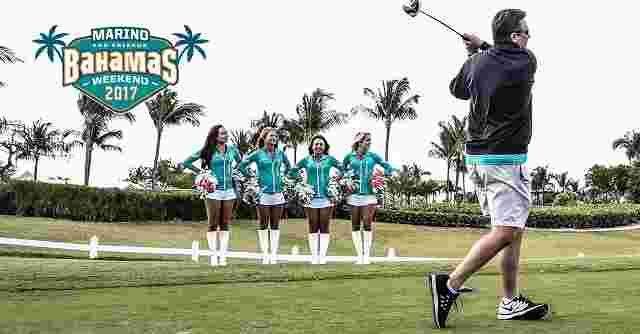 Famed NFL quarter backer Dan Marino and several legendary Miami Dolphin alumni will be in Nassau to celebrate the Dan Marino and Friends Bahamas Weekend experience (May 25-28). The Bahamas Ministry of Tourism has joined with Marino to create a memorable schedule that includes VIP receptions, a Golf Classic, Bahamas bash, Dolphins Academy Youth Football and Cheerleading Clinic, Dolphins Legends vs. Bahamas Legends Flag Football game, Junkanoo party, as well as other authentic Bahamian cultural experiences and destination activities. You can still register on line at www.marinobahamasweekend.com
A major part of the event's mission is giving back, and on Saturday, May 27 players will hold a free football and cheerleading clinic for Bahamian boys and girls, 6-17 years old.  The clinic will begin at 9 am and run through 12 noon at the Thomas A. Robinson Stadium. The youth can expect to receive one-on-one training on the fundamentals of football and motivational testimonials by some of the top professional players including Marino, along with Miami Dolphins Alumni Dick Anderson, Mark Clayton, Mark Duper, Sam Madison, Twan Russell, Nat Moore, JasonTaylor, Shawn Wooden, Troy Drayton, Ronnie Brown, Orande Gadsden, Jim Jensen, O.J. McDuffie, Terry Kirby, Joe Rose, Pat Surtain, Lousaka Polite, among others.  
The Miami Dolphins cheerleading squad will also conduct cheer training to students interested in the sport.
Immediately following the football and cheerleading clinic at 12 noon, students from Nassau, Abaco, Grand Bahama and Exuma will showcase their newly learnt skills in a fun mini flag football match.


To climax the festive evening at precisely 7:45 p.m. Dan Marino and the Miami Dolphins alumni will go head to head in a friendly flag football match against the Bahamas legends, comprising its government officials, athletes and celebrities.  A junkanoo rush and cultural display will close out the evening.
THIS ARTICLE IS WRITTEN BY