DAVIDOFF Chefs Edition Cigar – The Perfect Accent To A Fine Dining Experience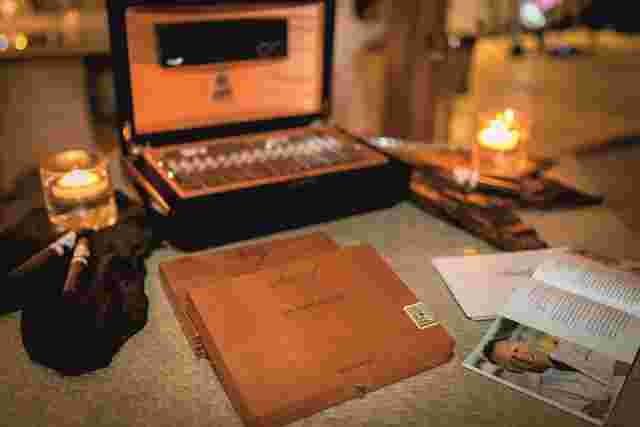 Davidof of Geneva, a world leader in fine tobacco and luxury cigars and accessories has created the perfect end note to an exquisite Michelin style dining experience. With the introduction of "Davidoff Chefs Edition" the company's masterblenders have collaborated with six of the world's top chefs to develop a magnificent cigar creation. We visited Davidoff's Cigar lounge in Brookfield Place, New York City to get a first taste of  a cigar crafted to be a perfect partner to a gourmet meal and augment the enjoyment of the memorable conversations that typically follow.
The fine cigar was introduced by Hans-Kristian Hoejsgaard, gourmet and CEO of Oettinger Davidoff AG at the VIP event. As he says, "The Davidoff Chefs Edition offers fine dining an exceptional cigar for connoisseurs to enjoy after a culinary experience. This unique partnership with some of the world's greatest chefs has been highly inspiring for our masterblenders to blend a memorable cigar." 
The limited Chefs Edition Cigar is a special cigar line, the result of a unique collaboration between Davidoff of Geneva's master blenders and six of the world's most renowned chefs. The internationally acclaimed chefs who participated are Peter Knogl, Cheval Blanc of Grand Hotel Les Trois Rois (Basel, Switzerland), Renato Wüst of Bad Ragaz Grand Resort (Switzerland), Ali Güngörmüs, of Le Canard HH Pageou (Münich, Germany), Léa Linster of Restaurant Léa Linster (Frisange,Luxembourg), Michel Trama of Relais & Chateau (Puymirol, France), Maria Marte of Club Allard (Madrid, Spain). Combined, the six chefs boast nine Michelin stars.
The Davidoff Chefs Edition is the equivalent to a culinary masterpiece. Just like the perfect meal, it begins gently with complex layers of subtle flavors and builds up to an unforgettable crescendo. The wrapper is oily and smooth and everything about it, from its flawless construction to its elegant color, wets the appetite for the cigar's initial flavors, both nutty and sweet. The flavors become richer and uplifting in the second third, with hints of citrus and bloomy fruit, conjuring up mountain grasslands surging with sap in spring. It offers a sensually rewarding, refined aftertaste that is both oily and creamy. In the last third, the cigar's beauty and vitality erupt into an intense, peppery yet meltingly sweet and gratifying grand finale, just as a gastronomic extravaganza is crowned by a superb dessert.
Speaking of the process Peter Knogl, from Cheval Blanc Grand Hotel Les Trois Rois, in Basel, Switzerland says, "When I was creating this Davidoff Chefs Edition, it was important to me that every connoisseur would have fun with the product. As a chef, my key aim is to deliver new delights and to make people happy, and that's why I love my job and the Davidoff Chefs Edition project."
Dominican chef Maria Marte from Club Allard Madrid in Spain adds, "The wonderful thing is that this cigar not only reminds me of my home, but also spurs me on to some special achievement in haute cuisine. After an outstanding menu, creating a high-quality finale with this Davidoff cigar is certainly a highlight of my career, which began very modestly and now, with two Michelin stars, makes me proud and happy."
"I like to compare the Davidoff Chefs Edition to chocolate melting on your tongue or the tingle of Champagne bubbles. I think a feast should never really end. And that's possible thanks to this cigar, because it allows you that certain something extra, letting you hold on to that moment of pleasure forever," says Léa Linster from Le Restaurant Léa Linster in Frisange, Luxembourg.
The Davidoff Chefs Edition will be available at selected Appointed Merchants in the US and at Davidoff Flagship Stores. Davidoff cigars are sold worldwide through a selective distribution system. The over 70 Davidoff Flagship Stores are designed according to a uniform concept and offer the entire Oettinger Davidoff AG product range. These shops are all ideally located and are distinguished by quality, competence and an elegant atmosphere.
Speaking of the Chef's Edition cigar Ali Güngörmüs, of Le Canard HH Pageou in Münich, Germany says, "When you work in high-end gastronomy, the perfect conclusion to round off any gourmet experience is a cigar. The exciting thing about the Davidoff Chefs Edition is the fact that there's never been anything like it before. It was a privilege to be able to create this in Basel, at the head office of Oettinger Davidoff AG, especially with such highly qualified colleagues. Time to treat yourself is a luxury, and that is something that's integral to cigars."
Michel Trama of Relais & Chateaux Michel Trama in Puymirol, France adds, "I love experimenting. I had dreamed of creating a gourmet cigar for all the senses, a cigar for connoisseurs. In this sense, I felt like a conductor before a concert, running through his complete score in his head before going on stage. I knew exactly how the cigars would be and what criteria they definitely had to satisfy. I have high standards in the kitchen, and it's the same for the Davidoff Chefs Edition."
Finally Renato Wüst, Executive Chef Grand Resort Bad in Ragaz Switzerland says, "As chefs, we allow ourselves to play with taste in a free and unique way. It is a pleasure to blend a cigar, because it's fun to expand your own horizons and not be limited to the same types of cooking or wines. We live for pleasure. This defines our food and drink, and our cigars too. Going to my favorite bar in the evening and lighting one of these cigars lets me treat myself to the gifts of time and inspiration."
To complement its robust and complex elegance, the Davidoff Chefs Edition pairs perfectly with an aged Cognac, Amarone, or Sauternes. At the launch event the cigars were served alongside Camus Cognacs Borderies and Camus XO Elegance.
For more information or a Davidoff location near you visit www.davidoffgeneva.com
THIS ARTICLE IS WRITTEN BY