'DESPICABLE ME 3' Hits Theaters This Weekend – With New Music From Pharrell Williams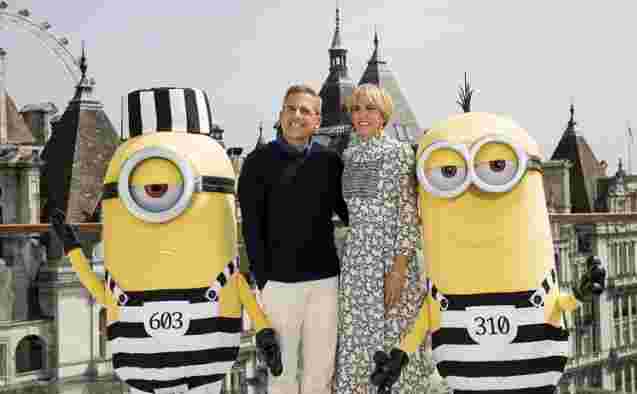 One of the biggest franchises for the entire family returns just in time for the Independence Day holiday, as  'Despicable Me 3' opens July 30th. The film comes from Universal Pictures and Illumination, who brought moviegoers 'Despicable Me' and the biggest animated hits of 2013 and 2015, 'Despicable Me 2' and 'Minions.' It continues the story of Gru, Lucy, their adorable daughters—Margo, Edith and Agnes—and the Minions in 'Despicable Me 3.' 
Steve Carell not only reprises his role as Gru, but also takes on a second part—that of Dru, Gru's long-lost twin.  Kristen Wiig returns as super-spy Lucy, while Emmy, Tony and Grammy Award winner Trey Parker voices new villain Balthazar Bratt, a former child star who has become obsessed with the evil TV character he played in the '80s.  Gru's most formidable and comedic nemesis to date, Bratt is out to take down Hollywood…and anyone who stands in his way.
In this new adventure, after he is fired from the Anti-Villain League for failing to take down the latest bad guy to threaten humanity, Gru finds himself in the midst of a major identity crisis.  But when a mysterious stranger shows up to inform Gru that he has a long-lost twin brother—a brother who desperately wishes to follow in his twin's despicable footsteps—one former super-villain will rediscover just how good it feels to be bad.
'Despicable Me 3' arrives with new music from Pharrell Williams, who has written and produced songs and themes for the entire 'Despicable Me' series. 'Despicable Me 2' featured the Academy Award-nominated and Grammy Award-winning global smash hit "Happy." The song inspired a worldwide movement of happiness, with its original music video spawning thousands of self-made videos from fans in dozens of countries. "Happy" has topped countless charts around the globe, with 14 million units sold. It has achieved seven-time-platinum certification in the U.S., making the song the best-selling and most successful single of 2014.
"There's Something Special" is one of five brand new original tracks Williams wrote and produced for the film. You can watch the video for "Yellow Light" here.
The film is directed by Pierre Coffin and Kyle Balda, co-directed by Eric Guillon and written by Cinco Paul & Ken Daurio, the animated film is produced by Illumination's Chris Meledandri and Janet Healy, and executive produced by Chris Renaud.   Along with Carell, Wiig, and Parker, it co-stars Steve Coogan, Jenny Slate, Miranda Cosgrove, Dana Gaier, Nev Scharrel and Julie Andrews.
Despicable Me 3 Tracklisting:
1. Yellow Light – Pharrell Williams
2. Hug Me – Pharrell Williams feat. Trey Parker
3. Bad – Michael Jackson
4. Take On Me – a-ha
5. Papa Mama Loca Pipa – The Minions
6. There's Something Special – Pharrell Williams
7. Tiki Babeloo – The Minions
8. Freedom – Pharrell Williams
9. Doowit – Pharrell Williams
10. 99 Luftballoons – Nena
11. Into The Groove – Madonna
12. Chuck Berry – Pharrell Williams
13. Fun, Fun, Fun – Pharrell Williams
14. Despicable Me – Pharrell Williams
15. Despicable Me 3 Score Suite – Heitor Pereira
16. Malatikalano Polatina – The Minions
DESPICABLE ME 3 – In Theaters June 30
Official Website | Facebook | Twitter | Instagram | GruTube | #DespicableMe3
THIS ARTICLE IS WRITTEN BY