Diving Excursions Reveal Capella Marigot Bay's Beauty Above and Below Sea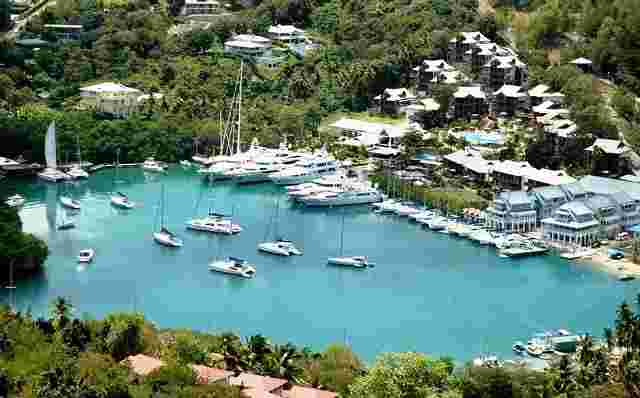 Saint Lucia is known for its soaring gorgeous Pitons. However, the island's beauty doesn't just stretch upward – its home to gorgeous reefs and even an ancient shipwreck awaiting to be discovered under the sea on your next trip to Capella Marigot Bay Resort and Marina. Capella's mission is to connect guests with the destination's soul and its "Capella Insider – Dive Package" does just that and more. A full service luxury marina plays host to stunning mega yachts and elegant vessels which can be used to sail to nearby diving spots. Check-out the following "Capella Insider – Dive Package" to discover Saint Lucia's hidden underwater treasures:
Capella Insider – Dive Package
·         This package is available for groups of four with the booking of a one bedroom suite or higher
·         Pristine and highly diverse coral reefs, steep walls, and pinnacles await at Capella Marigot Bay. Guests can embark on the ultimate aquatic adventure along the sheltered west coast of the island to visit shipwrecks in Anse Cochon or drift dive in Soufriere. This package includes:
·         Four nights (minimum) in a choice of  beautiful accommodations with resort or bay views – as you check-in you are welcomed by homemade Saint Lucian spiced iced tea
·         Six diving excursions over three days
·         A family style dinner in the resort's intimate Rum Cave
·         Two 90-minute indigenous spa treatments perfect to work-out those kinks from diving. (Choices include a Fiksyon Fwote' (Rub Massage), Panse' Body Exfoliation and Wrap, or Volcanic Stones)
Prices for the above package and inclusions begin at US $904 per night for two guests and US $1518 per night for four guests (kids and adults are the same price) in a resort view one bedroom suite.
Capella Marigot Bay also offers these unique experiences:
·         Beginner's Sailing Lesson's at The Capella Marina
o   Come up for air and enjoy the Caribbean Sea while learning to sail. This introductory class (which is a certified course) will cover the basics of sailing theory and include practice in a fun and interactive session. Take the helm, hoist the sails and read the wind and water while Capella's luxury resort paints a picturesque backdrop.
o   A full day of lessons (eight hours) starts at an all-inclusive price of $1,300 and includes the use of a boat, instructor, picnic lunch and non-alcoholic beverages. One weeks' notice required. This experience is suitable for children 10 years and older and is the best way to learn about the history of Marigot Bay and its role as one of the top Caribbean havens for yacht owners.
·         Marigot Bay Ridge Climb
o   Not everyone has sea legs, which is why Capella also offers guided tours on a trail across Marigot Bay which offers spectacular views of the resort. Towards the top of this mountainous hike you'll also see neighboring Martinique and the spectacular Caribbean Sea. The climb takes place every Thursday at 11:00 am and is suitable for children 10 years and older.
For more information visit www.capellamarigotbay.com 
THIS ARTICLE IS WRITTEN BY