Emmy Awards 2016: The Complete Winners List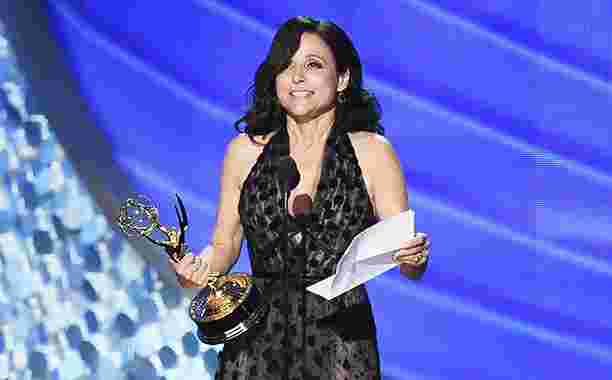 The 68th annual Primetime Emmy Awards were held last night at the Microsoft Theater in Los Angeles. The show, hosted by Jimmy Kimmel, celebrates the best in primetime television from the past twelve months.
FX's The People v. O.J. Simpson came out on top in five major categories on Sunday, bringing its Emmy total to nine. Fox's Grease: Live placed third with five total wins.
Network by network, HBO amassed 22 total wins, followed by FX's 18; Netflix and PBS were a distant third and forth with 9 and 8, respectively. Broadcasters ABC, CBS, Fox, NBC and The CW combined for 21 total Emmys, and only four during the Big Show on Sunday.
Emmy newcomers landing their first nominations this year include Rami Malek, Keri Russell, Tom Hiddleston, Cuba Gooding Jr. and Ellie Kemper.
Check out the full list of nominees — and winners in bold — below.
Outstanding Drama Series
Game Of Thrones • HBO •
HBO Entertainment in association with Bighead, Littlehead; 360
Television and Startling Television
Outstanding Comedy Series
Veep • HBO •
HBO Entertainment
Outstanding Lead Actress in a Drama Series
Tatiana Maslany as Sarah, Alison, Cosima, Helena, Rachel, M.K., Krystal – Orphan Black • BBC America •
Temple Street Productions in association with BBC America and Bell Media's SPACE
Outstanding Lead Actor in a Drama Series
Rami Malek as Elliot – Mr. Robot • USA •
USA Network in association with Universal Cable Productions and Anonymous
Content
Outstanding Supporting Actor in a Drama Series
Ben Mendelsohn as Danny Rayburn – Bloodline • Netflix •
Sony Pictures Television in association with KZK Productions for Netflix
Outstanding Directing for a Drama Series
Miguel Sapochnik, Directed by – Game Of Thrones • Battle Of The Bastards • HBO •
HBO Entertainment in association withBighead, Littlehead; 360 Television and Startling Television
Outstanding Supporting Actress in a Drama Series
Maggie Smith as Violet, Dowager Countess of Grantham – Downton Abbey • PBS •
A Carnival Films/MASTERPIECE  co-production in association with
NBCUniversal
Outstanding Writing for a Drama Series
D.B. Weiss, David Benioff, Written by – Game Of Thrones • Battle Of The Bastards • HBO •
HBO Entertainment in association with
Bighead, Littlehead; 360 Television and Startling Television
Outstanding Variety Sketch Series
Key & Peele • Comedy Central •
Cindylou, Monkeypaw Productions, Martel & Roberts Productions, Principato-Young Entertainment, Central Productions
Outstanding Directing for a Variety Special
Alex Rudzinski, Live Television Direction by – Grease: Live • FOX •
Paramount Television
Outstanding Variety Talk Series
Last Week Tonight With John Oliver • HBO •
HBO Entertainment in association with Sixteen String, Jack Productions and Avalon Television
Outstanding Writing for a Variety Special
Patton Oswalt, Written by – Patton Oswalt: Talking For Clapping • Netflix •
Generate
Outstanding Limited Series
The People v. O.J. Simpson: American Crime Story • FX Networks •
Fox 21 Television Studios, FX Productions
Outstanding Television Movie
Sherlock: The Abominable Bride (Masterpiece) • PBS •
Hartswood Films for BBC One in co-production with MASTERPIECE
Outstanding Lead Actor in a Limited Series Or Movie
Courtney B. Vance as Johnnie Cochran – The People v. O.J. Simpson: American Crime Story • FX Networks •
Fox 21 Television Studios, FX Productions
Outstanding Lead Actress in a Limited Series Or Movie
Sarah Paulson as Marcia Clark – The People v. O.J. Simpson: American Crime Story • FX Networks •
Fox 21 Television Studios, FX Productions
Outstanding Supporting Actor in a Limited Series Or Movie
Sterling K. Brown as Christopher Darden – The People v. O.J. Simpson: American Crime Story • FX Networks •
Fox 21 Television Studios, FX Productions
Outstanding Directing for a Limited Series, Movie Or Dramatic Special
Susanne Bier, Directed by – The Night Manager • AMC •
Ink Factory
Outstanding Supporting Actress in a Limited Series Or Movie
Regina King as Terri Lacroix – American Crime • ABC •
ABC Studios
Outstanding Writing for a Limited Series, Movie Or Dramatic Special
D.V. DeVincentis, Written by – The People v. O.J. Simpson: American Crime Story • Marcia, Marcia, Marcia • FX Networks •
Fox 21 Television Studios, FX Productions
Outstanding Reality-Competition Program
The Voice • NBC •
MGM Television, Talpa Media USA, Inc. and Warner Horizon Television
Outstanding Lead Actor in a Comedy Series
Jeffrey Tambor as Maura Pfefferman – Transparent • Amazon •
Amazon Studios
Outstanding Lead Actress in a Comedy Series
Julia Louis-Dreyfus as Selina Meyer – Veep • HBO •
HBO Entertainment
Outstanding Directing for a Comedy Series
Jill Soloway, Directed by – Transparent • Man On The Land • Amazon •
Amazon Studios
Outstanding Supporting Actress in a Comedy Series
Kate McKinnon as Various characters – Saturday Night Live • NBC •
SNL Studios in association with Universal Television and Broadway Video
Outstanding Writing for a Comedy Series
Aziz Ansari, Alan Yang, Written by – Master Of None • Parents • Netflix •
Universal Television, Oh Brudder Productions, Alan Yang Productions, Fremulon Productions, 3 Arts Entertainment
Outstanding Supporting Actor in a Comedy Series
Louie Anderson as Christine Baskets – Baskets • FX Networks •
FX Productions
THIS ARTICLE IS WRITTEN BY