Enjoy These Tasty Gameday Recipes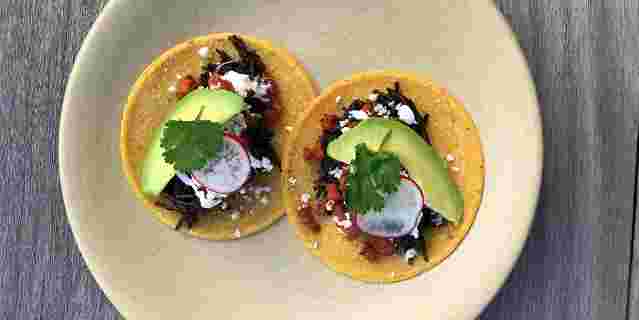 Football is a great reason to bring people together. If you're hosting friends and family for Thursday Nights or weekend games we have the perfect recipes for you to delight your guests with. Chef Santiago Gomez has created two unique, easy, and delicious pasta inspired dishes: Black Bean "Fideo Taco" and Rigatoni Nacho Pasta. With these two dishes you'll be the life of the party, and everyone will be ready to cheer on their favorite teams all afternoon!
To learn the benefits of pasta or for more recipes visit passionforpasta.com.
Black Bean "Fideo Taco"
Ingredients
1 box "Fideo Cut" spaghetti
6 corn tortillas
1 can black beans
1 smoked chipotle pepper
½ lb. precooked Mexican chorizo
½ cup Mexican cream (crema)
1 cup queso fresco
1 Mexican avocado
2 radishes, sliced
½ cup cilantro
1 tsp. salt
Instructions
Puree the black beans in a blender, adding a little water, smoked chipotle and salt. Set aside.
Add oil to pan and gently fry the pasta until golden brown, then strain the pasta.
Return the pasta to the pan and add the black bean broth. Cook for around 12 to 15 minutes, until the pasta soaks the black bean broth – then add the chopped chorizo.
To assemble tacos, put the black "fideo seco" on top of the tortilla, add Mexican cream, and queso fresco.
To finish, top with one slice of avocado, fresh cilantro and a couple radish slices.Enjoy!
Rigatoni Nacho Pasta
Ingredients
1 ripe avocado in slices
2 jalapeño in slices
For "Pico de Gallo"
2 plum tomatoes diced
¼ white Onion diced
1 jalapeño pepper diced
1 key lime (only the juice)
2 tablespoons chopped cilantro
Salt to taste
For cheese sauce
2 tbsp. Unsalted Butter
1 tbsp. All-purpose flower
1 cup whole Milk
2 cups Shredded Cheddar cheese
Salt to taste
Instructions
Bring 4-6 quarts of water to a boil. Add salt to taste.
Add pasta to boiling water – for an authentic "al dente" pasta boil for 11 minutes, stirring occasionally. Drain well.
Mix all "pico de gallo" ingredients in a bowl and set aside.
For the cheese sauce, add butter and flour to a small pot – heat and whisk, until they blend and form a nice gold color. Add milk and whisk until thick, then stir in cheddar cheese until fully melted. Add salt to taste.
Add cheese sauce to the pasta, and "pico de gallo" on top of pasta. Top off with avocado and jalapeno slices – enjoy!
THIS ARTICLE IS WRITTEN BY