HOMBRE Exclusive: EUGENIO DERBEZ Surrenders To Hollywood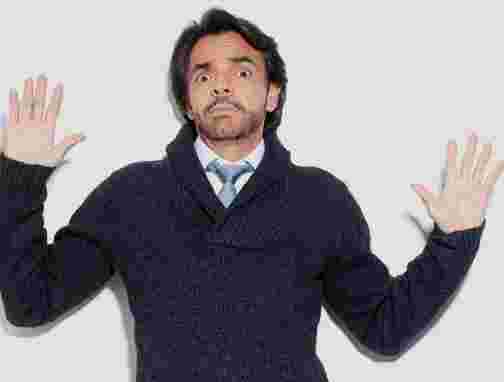 Eugenio Derbez is Latin America's most popular comedian. His Univision series "La Familia P. Luche" is a Sunday evening staple, and now he's crossing the fence and preparing for mainstream
success. His latest, "Girl in Progress" co-starring Eva Mendes is now available on DVD. We spoke with the multifaceted thespian during our exclusive photo shoot in LA's notorious Venice Beach.
HOMBRE: Let's start with the role that's making you a household name in America's living rooms, "Rob." How did you become involved in the series?
Eugenio Derbez: The series is based on Rob Schneider's life. He married Patricia, a Mexican woman last year and, in fact, the idea of the series comes from his wife. They found the cultural shock between Latinos and Anglos funny. They saw some of my clips in YouTube and my work in "Jack & Jill." Adam Sandler who is a very god friend to Rob recommended me. So both his wife and Sandler recommended me for the job.
H: How do you feel working on the series?
ED: It's been difficult. You have no idea how complicated it's
been to leave my life in Mexico, my family, my work… everything… to come to the
U.S. and gamble on this project. But fortunately it's paying off. The first
episode had the highest ratings CBS had in the past two years in that time
slot. We were very happy with the results and the following weeks the ratings remained
high.
H: After doing so much television in Mexico, how do you feel working in Hollywood now?
ED: It's very different. First there's a lot more
technology, the budgets are enormous and everything has great quality. I love
that about working here. The language is an issue for me. I have a dialogue coach.
It takes more time for me to learn my lines; I have to rehearse longer than
everyone else to accomplish what I accomplish in Spanish. It's sort of going over
twenty years back in my life when my career began. It's like starting from
zero, in another country, in another language, where nobody knows me. Every day
I have to prove that I can do it.
H: It must be exciting.
EG: Yes, it's not only starting from zero but to have that
hunger again at this stage in my life is exciting.
H: You are famous because of your comedy in Latin America, how is it to now translate that style of comedy to English?
ED: The comedy I've done is farce. Us Latinos like more exaggerated
comedy, with stronger mannerisms, broader, more physical. American comedy is more
natural, more measured. It's been difficult. I've had to adjust to that style
without losing my essence and I think I found equilibrium. I found a balance
between what they want and what I do.
H: As an artist that challenge must be stimulating.
ED: When you start something new like this it's very
gratifying because you have been so long in a comfort zone. Sometimes work can
become a routine and when life brings you the opportunity to reinvent yourself,
it's beautiful. I'm very thankful. It's been a huge change but I'm learning so
much. It's like going back to school.
H: With your growing success here, will "La Familia P. Luche" continue?
ED: I filmed a season prior to coming here and that was
good. Of course if "Rob" goes well I will be unable to continue with "La
Familia P. Luche." I left a season of six months filmed so we just have to wait
and see what happens. But 2012 is covered with both series, we just have to
wait and see what 2013 brings. That will determine whether I stay or go back.
H: And you're more involved in English language films, first "Jack & Jill" and now co-starring in "Girl in Progress." Talk to us about that film.
ED: Yes, I was in "Jack & Jill" and loved working with
Adam Sandler. It was a wonderful cast with Katie Holmes, Al Pacino. To do a film
with Al Pacino for any actor is a great accomplishment.  And now comes "Girl in Progress" which is a
film I made with Eva Mendes and Patricia Arquette. It's really a 'special appearance,' but I like it. It's a beautiful film from Patricia Reagan, the
same director of "La Misma Luna," which is one of my favorite films I've done. I'm there
sort of as Eva's suitor.
"Girl in Progress" follows the story of a mother-daughter relationship as they try to navigate life and what it means to grow up and become an adult. Matthew Modine and Cierra Ramirez, also star in this warm family comedy, now available on DVD.
H: And now that we've talked about reinventing yourself, let's go back; did you want to be a comedian as a child?
ED: I didn't know what I wanted to do. I remember when I made the decision to
be an actor, around 12 years old. I wanted to do so many things; I wanted to be
a fireman, tennis player, a bus driver, futbol player, a doctor. I asked my mom,
how do I decide? She said think about what you really want to do. I said, I want
to do it all. One day I realized the only way I can do it all is by being an
actor. I started acting in my mom's soap operas, but I never imagined being a
comedic actor. I never thought I was funny. I was prepared to be a serious
actor. I started doing comedy much later, when I was 27. That's when I learned
I could make people laugh.
H: How did you discover you could make people laugh at 27?
ED: There were many years where I was always in search of a job. And I never
got anything worthwhile. One day they called me for a show named "Anabel,"
which was a sketch comedy show. Doing the sketches I realized I was funny. They
asked me to be a regular part of the cast. That's when my career began to
shine. When I discovered I had the gift of comedy, prior to that I had no idea.

H: Who were your acting influences?

ED: First of all, my mother, Sylvia Derbez. She was a very well-known soap
opera actress, the queen of soap operas in Mexico. She made the first soap
opera in all Latin America. At the time, 90 percent of Mexican soap operas
starred my mom. She was my main inspiration. In comedy, those who've influenced
me the most have been Peter Sellers and Woody Allen. I like Allen because
he takes chances, sometimes he makes mistakes but he takes risks and I like
that. And I love Adam Sandler, Ben Stiller and now I've discovered Rob. I think
our series is his best work.
H: How does the idea of creating your own projects comes about?
ED: Two things. After two years of doing "Anabel" I learned they didn't let me
grow. I would tell jokes and they would censor me. They would tell me to stick
to the script, even though everyone laughed. They would say to me as they say
in Mexico, "No Produzcas!" I knew I had much more to offer, so I left the show.
Around the same time I was already doing live shows and was having great
success with a show written with a friend. It lasted around 5 years and won
many awards as the best live comedy show.
Everyone went to see me from Televisa (Mexico's most important television network), including Emilio Azcaraga (the company's president) and all
his people, and they loved it. Thanks to that show I met with Televisa executives
who had seen me there and presented them my first show which was "Al Derecho Y
Al Derbez" and they loved the idea. They offered me the opportunity to do my
own show.
H: How does "La Familia P. Luche" begin?
ED: "La Familia P. Luche" was born as an accident. It began as a sketch of a
couple who were always fighting. It was a very successful sketch. But let me
tell you, a week before it began I had a meeting with my production staff and
told them all to bring their ideas. I didn't want to be the only one incorporating
concepts to the show. When we were about to film the costume designer comes in
and tells me she has some ideas and shows me costumes in aluminum paper, in plastic, and another in peluche (plush), like a stuffed animal. She showed me five
suits. The next sketch was the one of the couple fighting, so she says 'try on
the peluche.'  So we dressed up in
peluche and the audience loved it. And then when we did the sketch again we
dressed up in the same costumes, another success.  We kept doing it more and more and we learned
we were seating on a goldmine. As the peluches continued we had to invent them
a son and a whole universe, and it kept growing and growing and growing but
initially it was an accident.
H: Talk to us about your fashion style.
ED: I love fashion. I always try to dress well. Over many years I was on the
worst dressed list in Mexico. You can't imagine how terrible I dressed. I would
wear fluorescent colors. I could wear very bright purple pants, with purple shoes
and purple suspenders and a bright yellow shirt and I would combine all those
colors (laughs). It was terrible.
You can't even imagine.  Then in
97 / 98 I met a fashion designer who was my girlfriend for 6 years and she was
the one who changed my style and taught me how to dress. Since then I learned
how to dress and what clothing to buy!
H: She forbid you to wear yellow pants?
ED: She came into my closet and just started raiding everything, having a field
day. I thank her enormously.
H: What designers do you like?
ED: It depends on the garment. I think the only one I would go with
automatically, especially for suits is Hugo Boss or Armani. Besides them, a
little bit of everything. From designers to non-designers, from expensive
stores to not expensive stores. One can dress well even with little
money.  That's what I learned from my ex-girlfriend.  You don't have to spend thousands of dollars.
You just need to have good taste.
H: You've always had success with beautiful women, what advice can you give our readers?
ED: It may seem that way, but I'm somewhat shy in reality. But I'll give you
some advice: The best aphrodisiac there can be is humor. A woman will always
prefer to laugh than to be with a handsome man. I bet you.  The good looking guy can be okay for a while,
but then becomes boring. The important thing is to have a sense of humor.
H: And finally what advice would you give someone starting in their career?
ED: Discipline. Success is a combination of many factors. I know I'm an
extremist but I've never tried alcohol, never tried a cigarette, never tried
drugs. I'm constantly preparing. I remember when I was 20; my friends would always
go out on weekends. I would spend the time studying. Learning whatever I could;
singing, dancing, film, acting. I studied everything, day and night while my
friends were partying.  And I knew one
day I would be having more fun than them. Fortunately now I have a beautiful
career and everything is going well and I'm very happy with what I've
accomplished.  And I've accomplished it
because of discipline, hard work. And I'll give you another piece of advice.
Don't ask for work. Offer work. That's the secret. For many years I would go
and leave my photos and say 'Don't be mean, give me a role, you can help me…'
The day my life changed is when I discovered I could create. I could
write.  When I went to Televisa I went
with a script. I came to offer them a series. That's when doors finally opened
for me. And it's always been like that. What I've accomplished has been because
I've offered instead of asked.
Eugenio Derbez photographed exclusively for HOMBRE by John Hong
Location: Venice Beach, California
THIS ARTICLE IS WRITTEN BY