EXCLUSIVE INTERVIEW: One-on-One With GERALD BUTLER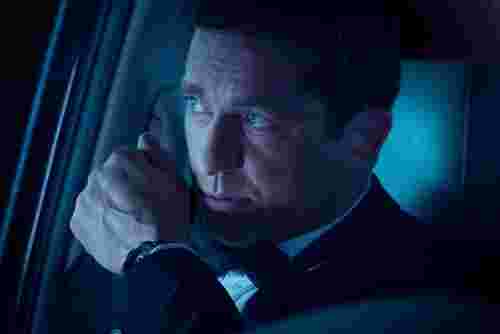 If you're looking for an exciting, thrill a minute film, put Olympus Has Fallen on your 'to do' list for the weekend. Producer and star Gerald Butler is joined by a prestige cast that includes Academy Award winners Morgan Freeman and Melissa Leo, along with Angela Bassett, Aaron Eckhart and Dylan McDermott. The film is a welcome surprise in the world of fast paced, action filled dramas. I spoke with Butler about the very demanding task of bringing a so called '"Die Hard" in the White House,' to theaters, March 22.
In the thriller, North Korean terrorists do the unthinkable and take down the White House (code name "Olympus"), holding the president and cabinet members' hostage. To the rescue comes Mike Banning (Butler), a disgraced Secret Service agent fighting inner demons and looking for a new start. Butler's character becomes the only option for resolve. Trapped without backup in the decimated building, Banning engages the terrorists in a game of cat-and-mouse with impossibly high stakes.

Born in Scotland, Butler made his stage debut at the age of 12. He took a break from acting and went on to study law before returning to the stage in London. The talented actor first gained recognition as a leading man as heroic King Leonidas in Zack Snyder's blockbuster film "300." This period-action spectacle broke box-office records in its opening weekend and went on to earn more than $450 million worldwide.

Since then Butler has continued to win audiences with his blend of humor and charm. Among his best known films are "The Bounty Hunter," with Jennifer Aniston; Robert Luketic's "The Ugly Truth," with Katherine Heigl; and "P.S. I Love You," opposite Hilary Swank. He is currently reprising his voice role as "Stoick the Vast" in the sequel to the hit "How to Train Your Dragon." The Oscar-nominated film grossed over $490 million at the box office and the second installment is due out in 2014.


In addition to acting, Butler formed a production company in 2008 with his longtime manager Alan Siegel. Their debut project, "Law Abiding Citizen," grossed more than $100 million worldwide and co-starred Jamie Foxx.

HOMBRE: : What made you take on this project?
Gerald Butler: The idea
of an attack happening at the site of our Olympus, the place where our
god sits, and for that to be taken and have that standoff situation
where basically we are being held for ransom, if you can make that
plausible you have something great and then it's about making those
characters more interesting. We knew that if we got it right, it would
blow the audience's mind and they would take this ride with the
characters. But every moment had to be justified and real.
H: As producer, how did you choose the director?
GB: When we got this script, I immediately thought of Antoine (Fuqua). Of all the great directors working today, I thought he was the one who would absolutely kill it. I love his movies from "Training Day," which I think is one of the best movies ever made, to "Tears of the Sun" and "Brooklyn's Finest." He does gritty action and realism like nobody else.

H: Tell us about your character, Mike Banning?
GB: There is a lot of humor in my character and I wanted to push for that. To find humor in tough situations. You can't beat that. You need that in a movie like this. When you talk about '"Die Hard" in the White House' it's an updated "Die Hard," and you try to give it as much meaning and substance which is why we got such phenomenal actors. We have Oscar winning actors, Oscar nominated actors …and me (laughs). It was like another movie… Oscar winner Hillary Swank …and Gerald Butler. Oscar winners Morgan Freeman and Melissa Leo…and Gerald Butler. Oscar nominee Angela Basset… and Gerald Butler (laughs).


H: How much of Mike is you?
GB: We have a lot of the same ideals, probably screwed up to the same extend. Always haunted by the past. There are many themes running through this movie. For me one the greatest themes as an actor and as an audience is payback. But there is a personal element of when I'm in there as Mike or as an audience member – because we witnessed the same things – is people dying, heroes dying in service of their country, innocent people just dying for no reason; it's becomes about going there and taking care of business. But taking care of business with menace. Wanting people to suffer and that is an interesting concept to grasp on emotionally, as an audience and as my character.

H: Do you envision a Mike Banning series?
GB: Hey you never know. You have to wait and see how it goes. Hopefully audiences will love it. It feels like "300." "300" was based on a graphic novel but it wasn't a franchise. There wasn't much to build on. This is an original idea. If it gets to take off who knows, but it's something I haven't thought about for more than 5 seconds in the last year and a half. It's all about this movie. We want this movie to do the best possible, and get people to go see it.

H: How do audiences react at the screenings?
GB: Audiences dig it, they're laughing, they're gasping, they're screaming, they're shouting, they're clapping. Actually I read a review from an audience member who said, "I always wondered why they called movies 'edge of your seat' but I actually, genuinely was at the edge of my seat. Now I get it'"


H: Secret service agents are supposed to be almost robotic, how did you get in that mind set to make it believable?
GB: By the time I get to start filming this movie it's been a three to four month process, especially when you're producing. I was really working a lot on the script. You're taking the advice of navy seals and secret service agents, including one who's been in presidential detail. So I'm always asking them, what the hell do I do here? What is my position as I turn a corner? What am I looking for? And that is something we brought to the script. We added that my character had been a Navy Seal before. Navy Seals are all about attack, Secret Service is all about avoidance, recognizance, finding information and that's what I thought was gripping and compelling about this movie.

H: As producer, did it give some validity to the script when these respected actors signed on?
GB: Absolutely. Sometimes you champion a script but champion it for the wrong reasons. But in this case from the second I opened the first page I thought, this is outrageous! It takes you by surprise in a big way and I just loved that idea.

So when we started giving depth to those characters that's when everybody came on board. And then, when you bring Morgan Freeman on board you know you're taking it to the next level. Melissa Leo, Aaron Eckhart… I couldn't believe the quality of the cast. Everybody is great, Rhada Mitchell, Angela Bassett, who I just love in this movie. And it didn't stop there. We have Ashley Judd, Dylan McDermott, Robert Forster, Cole Hauser and Rick Yune. I think we have an embarrassment of riches with the cast and you put that together with a great story and you have something special. We have a great script and a great director, which attracted great actors. People really wanted to work with Antoine.

H: Will it be difficult to just be an actor now that you've produced?
GB: No, it will be a weight off my shoulders. When you have to train, you have to get the fight sequences right, you have to look good; and then you have to work with all the specialists, and then you're working on the script, you're working with the other producers and then you gotta do the fucking role. Sometimes that can be overpowering. It works on this situation because this is not a normal situation.

H: What are you working on next?
GB: Nothing. Taking a break.
I've been traveling. In the last 6 or 7 weeks I've been to Scotland, England, France, Italy, Thailand, Mexico, Panama…. A lot of it is just seeing friends, talking about projects. In Thailand I was thinking of becoming a monk (laughs).
THIS ARTICLE IS WRITTEN BY