Extend The Holiday Season With These Smirnoff Cocktails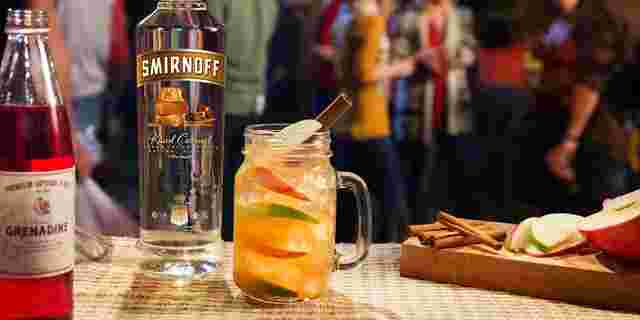 The holiday season may be nearing an end, but the cocktails below are designed to extend the celebrations deep into January. Try the seasonal limited time offering of Smirnoff Peppermint Twist or classic, and oh so versatile Smirnoff No. 21 and enjoy.
1.5 oz Smirnoff Peppermint Twist
.75 oz pomegranate syrup
.75 oz fresh lemon juice
8 mint leaves
2 oz Club Soda
Instructions: Muddle mint with syrup, and add lemon juice and Smirnoff Peppermint Twist. Fill with ice and shake.  Strain over ice in a rocks glass and top with club soda.
Pomegranate syrup: mix 4 oz POM with 4 oz sugar


Cranberry Pineapple Punch – Courtesy of Karly Gomez from A Simple Pantry
1 gallon 100% cranberry juice (not cranberry cocktail)
1 46 oz can pineapple juice
3 cups lemon-lime soda
3 cups Smirnoff No. 21 vodka
Sliced oranges, oranges, lemon (optional)
Fresh cranberries (optional)
Instructions: In a large drink container add the cranberry juice, pineapple juice, lemon-lime soda, and Smirnoff No. 21 vodka, stirring gently to combine. Toss in the optional fruits and serve chilled, or room temperature over ice.


  Chocolate Peppermint Martini– Courtesy of Kendra Darr fromSimply Darrling
4 ounces Smirnoff Peppermint Twist Vodka
2 ounce crème de cacao
1 ounce chocolate liquor
2 ounce cream chocolate sauce & crushed peppermint for garnish
Instructions: In a cocktail shaker, add ice, cream, and liquors. Shake, Shake, Shake. Strain into a martini glass rimmed with chocolate and crushed peppermints.
Kissed Caramel Apple Punch – Courtesy of Karly Gomez from A Simple Pantry
1 ½ gallons spiced apple cider
1 12.2 oz bottle caramel syrup
3 cups Smirnoff Kissed Caramel Vodka
Sliced apples (optional)
Cinnamon sticks (option)
Instructions: Pour the apple cider into a large drink container, then stir in the caramel syrup. Add the Smirnoff Kissed Caramel vodka and stir gently to combine. Add the sliced apples and cinnamon sticks, and serve either chilled or room temperature over ice.


The Original Mule
1.5 oz Smirnoff No. 21 Vodka
Fresh lime juice
3 oz. ginger beer
Instructions: Build all in copper mug and stir gently to mix.
Cardamom Pear Punch ( 12- 16 drinks) 
3 cups Smirnoff No. 21 Vodka
6 cups pear juice ( from a jar)
1-2 teaspoons orange bitters
2 red pears, sliced thinly horizontally
Instructions:
Cardamom Ginger Syrup
1/4 cup honey
1/4 cup water
10 cardamon pods crushed ( or sub 1 teaspoon ground cardamon) 
1/8 cup sliced ginger root, peels ok
1 tablespoon vanilla 
Make the Syrup. Place honey, water,  cardamon, ginger and vanilla in a small pot and simmer gently for 5 minutes. Turn the heat off and let this steep one hour, or overnight for the best flavor. 
In a medium punch bowl or beverage dispenser, pour in the Smirnoff Vodka, pear juice, bitters and sliced pears. Stir in the Cardamon ginger syrup.
Refrigerate until ready to serve, and serve over ice. 
This can be made a day ahead or the night before the party and refrigerated, allowing the flavors to meld.  
THIS ARTICLE IS WRITTEN BY