FERNANDO ALONSO Launches Fashion & Lifestyle Brand KIMOA In The U.S.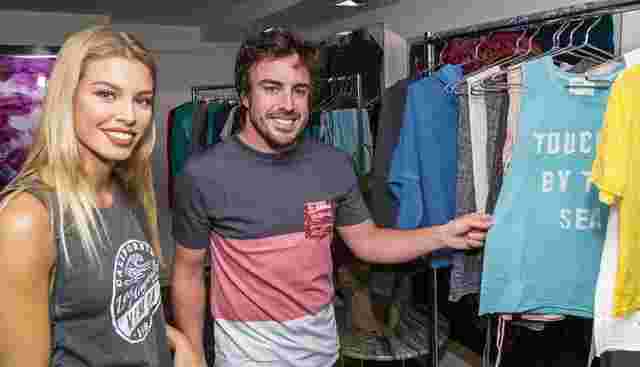 After his recent debut at the Indianapolis 500 over Memorial Day Weekend (where he won the Rookie of the Year award), Formula 1 race car driver Fernando Alonso  now introduces KIMOA, his first line of apparel & accessories to the U.S. market.

Based in Madrid, KIMOA is a collection for men & women inspired by the relaxed beach culture of Southern California. The collection is comprised of soft, easy to wear tanks, t-shirts and sweatshirts, as well as dresses for women and swim shorts for men.
The new collection also includes a complete line of sunglasses, ball caps, beach towels, skate boards, and surf boards. All wearable apparel and accessories within the collection are priced at under $100, with skateboards running around $300 and surfboards around $675.
The official U.S. launch was held at the S'Zen Lounge at Hotel on Rivington. Invited guests were treated to a cocktail hour with lite bites, and a walk through of the collection in the assembled showroom. Domingo Zapata, a Spanish artist and close friend of Alonso,  gave a warm introduction to the crowd, followed by a short speech from Alonso and the premiere of the KIMOA campaign video.
Notable attendees included Italian model Linda Morselli (R) and Spanish model Jessica Goicoechea (L).
To learn more or to shop the collection visit www.kimoa.com
THIS ARTICLE IS WRITTEN BY