FOUR SEASONS RESORT Costa Rica: Five Reasons Why We Love Their Wellness Program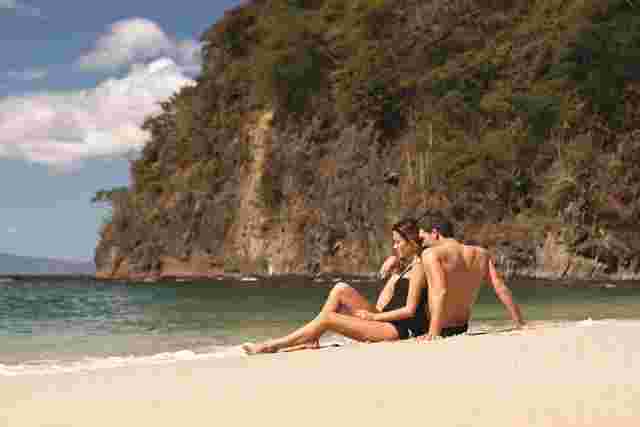 There's never enough time in the day to accomplish everything you've set out to do. And as the days, weeks and months go by, you slowly start to realize that you've made time to take care of everyone else except yourself. Here's where The Pura Vida For All Wellness Program at Four Seasons Resort Costa Rica comes in to save the day—actually, to save your life.
Designed by Kelli Ricco, fitness and wellness coordinator for Four Seasons Resort Costa Rica, this four-hour session, which will expand into a full-blown 5-day series of events early next year, will get you thinking about what's most important in life. Everything from what you eat and how often you exercise to your dependency on all things technology related, the resort's carefully curated program will have you on your way to a better you in no time.
With a full lineup of health and wellness activities to engage in, your time at the gorgeous 45-acre property will be both refreshing and enlightening. Here, we've selected our top five favorites from The Pura Vida For All Wellness Program. Take a look and then get ready to book your flight to the sun-and-sand-filled Papagayo Peninsula.
Getting To Know You   
The first part of the program involves you sitting down with Ricco (or another wellness specialist) to discuss your overall well-being. You'll be asked about daily stressors while you sip on fresh coconut water straight from the half shell. Ricco helps you feel at ease when probing into your personal life to determine what areas take precedence over others. It starts feeling like a mini therapy session when you tell her the reasons behind why you only get five hours of sleep every night and how the sight of your beer belly disgusts you.
"The consultation is a key component to the program because it allows me to get to know the guest on a more personal level, where I can understand his/her life from day-to-day routines to nutritional habits to relationship struggles," Ricco says. "By having this overall, cohesive view of the guest's life, I (as well as the guest) can start to see where the areas of concern may be. Once we break down those walls, this is when we can move forward in the healing, recovering, improving process. With these realizations of certain obstructions in life, we can then begin to tackle goals that the guest wants to attain," she says.  
During this one-on-one meetup, Ricco will also highlight essential fruits that you should incorporate into your diet during the Natural Remedies class. Thanks to a table she's set up in one of the resort's rooms, you'll love tasting gooseberries, star fruits, mamon chino and guayaba. Next to each item is a notecard listing the benefits of the product. For example, guayaba aids in improving skin elasticity and the antioxidant-rich star fruit is high in fiber and Vitamin C.  
Fun In The Sun
You'll have an opportunity to engage in an energizing activity while you're on the property, which sits between two gorgeous beaches, Blanca and Virador. As part of the journey to achieving a more well-rounded lifestyle, we opted for the 90-minute SUPfit lesson with Ricco. Once you've checked out a life jacket from the recreation department at Blanca beach, you'll be lead by a team member who will have your board and paddle ready for you to use during the stand-up paddleboard lesson.
Using her expertise, Ricco teaches guests how to get on the board in the wave-filled ocean with ease. And even if your balance isn't up to par and you fall off the board into the Pacific Ocean a few times, Ricco does a nice job of remaining patient while helping you build your confidence when moving from the comfort of kneeling on the board to standing on it. As an added bonus to strengthen the core, we did planks and mountain climbers on the board too. But if you're just not into SUP, choose from other activities like Pilates, yoga, boot camp and a wellness walk to get your body moving.
Give Back
Working toward being a better you doesn't just consist of doing ab exercises. This is why another part of The Pura Vida For All Wellness Program promotes mental wellness through its Creciendo Juntos initiative. The local organization works to raise funds and awareness for schools and communities in need within the Guanacaste region. You can do something as small as filling up a book bag with school supplies (think pencils and notebooks) and dropping it off in the hotel lobby for delivery or you can visit places like Playa Hermosa Escuela to help paint classroom walls. Other options include letting your creativity loose by doing arts and crafts with kids (make a hand puppet, anyone?).
Say Adiós to Your Cell Phone
Are you so attached to your iPhone that you sleep with it tucked under your comforter? Well, if this is you, the Disconnect to Reconnect program will be just what you need. Here's how it works: you'll hand over your phone to the staff at the spa front desk and they will lock it in a safe deposit box for 24 hours. The added incentive here? Once they have your cell, you'll receive a brand new custom iPhone case decked out with local scenery. Then, you'll be given 24 things to do around the property like taking a Latin dance class or experiencing an early morning kayaking adventure. Should you choose not to do any of these activities but prefer to relax, we recommend hanging out at the adult pool and ordering a plate of warm chips and fresh guacamole from the pool attendant.
With at least five dining options on property, it will be easy to satisfy your craving for delicious fare while unwinding poolside.
Hit The Spa
Taking care of yourself means spending quality time at the resort's spa. As part of the wellness program, you can choose from two rebalancing energy spa treatments like the Costa Rican hot stone massage or Thai yoga stretching. We opted for Thai stretching, which takes place on a giant mat on the floor. As the therapist uses his hands to help release tension in the muscles (just imagine your body being pulled and pushed in many different directions) and align your chakras to create balance, your body, which is in a jelly-like state, goes with the flow. Since Thai stretching has been around for more than 2,500 years, it's safe to say that it works. Expect better flexibility, improved blood circulation and the release of blockages. The treatment is a total win for wellness.
FOUR SEASONS RESORT COSTA RICA
Address: Liberia Guanaste 26Km al Norte del Doit Centre, Peninsula Papagayo, Costa Rica
Phone: +506 2696 0000
For more information visit www.fourseasons.com/costarica
THIS ARTICLE IS WRITTEN BY