Ford Introduces The All-New EcoSport, Their First-Ever Subcompact SUV For North America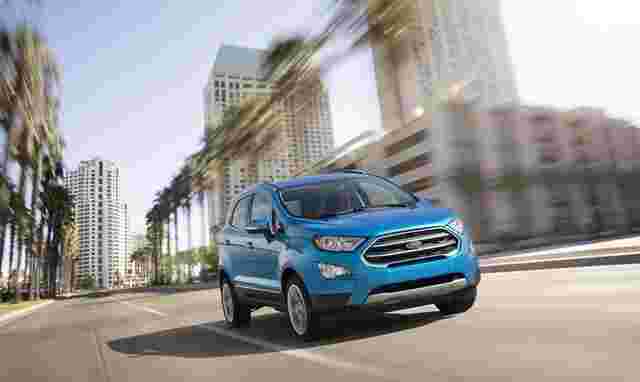 To kick off 2018 in a big way, Ford Motor Co. is introducing their first ever subcompact SUV for North America, the all-new Ford EcoSport. Today we attended the New York City launch event and had a chance to get behind the wheel of this exciting and revolutionary vehicle.
"The all-new Ford EcoSport is a unique vehicle that is perfect for those who are looking to get the most out of their day," said Cristina Aquino, Ford EcoSport marketing manager. "It offers space-saving convenience, SUV capability and complete connectivity."
The Ford EcoSport is sized just right for city commute and packed with innovative technological features that are destined to improve your ride. Your life is about to become easier, whether through enhanced connectivity that enables you to listen to their favorite podcasts, technologies that allow you to optimize your journey by avoiding traffic jams, or the ability to control home features from the road.
For optimal connectivity, EcoSport offers an embedded 4G LTE modem with Wi-Fi hotspot, allowing customers to connect up to 10 devices up to 50 feet outside the vehicle. Two fast-charging USB ports and a 12-volt power outlet help ensure gadgets are always juiced.
Arriving later this year is the ability to operate the popular community-based traffic and navigation app Waze from the all-new EcoSport. New to Ford, the app can project real-time traffic and navigation information onto the vehicle's SYNC 3 touch screen, and allows drivers to access its services by voice commands to help them avoid traffic jams and improve their commute.
EcoSport's SYNC AppLink – an enhanced voice-recognition communications and entertainment system – enables the new Ford+Alexa app, giving customers access to all 25,000 of Amazon's Alexa skills, including the ability to play music, check news reports, and add items to a shopping list from the driver's seat. Search for available parking ahead of time with FordPass Park, available in select cities. Customers can even reserve and pay for parking – online or from the FordPass app.
"With the flexibility of SYNC 3, AppLink and smartphone access with FordPass and FordPass Connect, EcoSport customers can save time and energy in their day," said Liz Halash, Ford Connected Vehicle & Services supervisor.
Along with a vehicle that offers versatility and stamina, today's road trips require plenty of space for people and ample storage for travel bags, digital devices and gear. For adventure-ready storage and clever use of space, the all-new EcoSport offers as many as 30 stowage pockets, bins and hooks to make efficient use of every inch of the interior.
When a trip takes a turn off the beaten path, Intelligent Four-Wheel Drive is available for off-road trekking, while Ford's available award-winning 1.0-liter EcoBoost engine can help keep the adventure going for longer without sacrificing performance.
Whether joining a club, participating in a sport, doing community volunteer work, or making the effort to spend more time with friends and family, EcoSport offers several ways to help customers improve their social life. Its movable floor board and fold-away second-row seats provide a flat area to safely haul objects of all shapes and sizes – whether equipment to the big game, flowers to a weekend gardening club or homemade cupcakes to a bake sale.
Spending more time with loved ones means more travel, and EcoSport's available B&O PLAY premium audio system by HARMAN features 10 speakers and nine amplified channels to ensure every sing-along is the memorable bonding experience customers signed up for.
Ford is launching a multiweek marketing campaign as EcoSport arrives at dealerships, starting with its EcoSport Life Hack Academy in New York City. The life hack conference and immersion brings to life a fun experience where attendees can learn simple hacks that allow them to do things they've never done before – both inside and outside the vehicle.
Ford will also expand its ad campaign with a digital component aimed at helping consumers experience various first-ever adventures. Visitors to the campaign website answer the question, "What do you want to do for the first time?" and Ford responds by making some dreams a reality. All-new EcoSport ads will debut during the upcoming Winter Olympics. To experience more, people can visit www.firsteverecosport.com.
"EcoSport delivers the ability to help people do things they've always wanted to try, but haven't yet been able to," said Aquino. "Our new campaign sets out to connect with those consumers who are looking to do just that."
For more information visit www.ford.com
THIS ARTICLE IS WRITTEN BY