Get In The 'Día De Los Muertos' Spirit With This Tequila Cocktail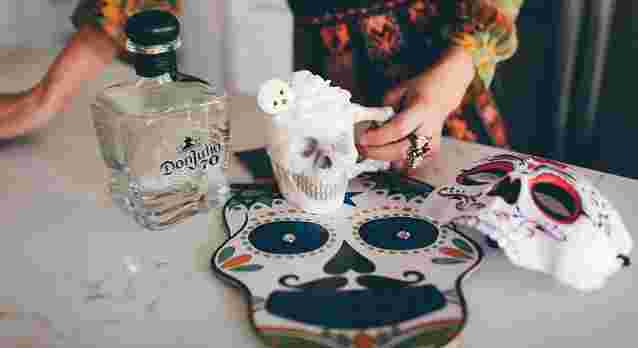 This November 1 join our Mexican neighbors to commemorate Día de los Muertos. Believed that the souls of the dead return for the night, this holiday is a festive and joyous celebration that combines food, drink, and activities to honor your ancestors.
Perfect for November weather, Natalie Suarez of Natalie Off Duty created her own take on a spirited Mexican hot chocolate using Tequila Don Julio, dark chocolate, coconut milk, and bright raspberry purée. This deliciously warm cocktail is made with Mexico's drink of choice, Don Julio 70 – the world's first añejo claro tequila.
Gather your friends this upcoming holiday and take part in this important Mexican celebration of life with the Sweet Spirit.
Sweet Spirit
Created by Natalie Suarez of Natalie Off Duty
Ingredients:
1 1/2 oz Don Julio 70
1/2 a bar of dark chocolate
1 oz raspberry purée
1 tsp pure vanilla extract
2 cups coconut milk
Dash of ground cinnamon
Topping:
Whipped cream
Preparation:
 Combine the chocolate, raspberry purée, vanilla extract and cinnamon in a heated pan and whisk with amolinillo   (Mexican chocolate stirrer).
 Serve into acalavera mug and add in the Don Julio 70. Swirl.
 Top with whipped cream.
Ideal Serving Glass:
Mug
THIS ARTICLE IS WRITTEN BY