Habla Español with Nayara Springs' New Spanish Language Immersion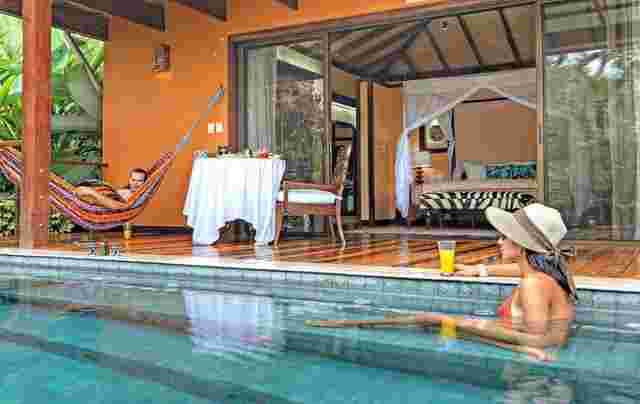 With Nayara Springs' new Spanish Immersion Package, guests at the intimate Costa Rican property can hone their Spanish language skills while relaxing in the rain forest. The staff will be alerted to speak only in Spanish and guests will get to practice through conversation and Spanish lessons. The resort recently unveiled its new sloth sanctuary, currently home to over 15 sloths, following a largescale addition in January adding a new yoga pavilion, restaurant, swim up bar and pool, and espresso bar.
Nayara Resorts is a collection of two properties set in Arenal Volcano National Park, Nayara Resort, Spa & Gardens and Nayara Springs. Nayara Resort, Spa & Gardens is a tranquil, five-star oasis set amongst 15 acres of lush gardens and Costa Rican rainforest overlooking the Arenal Volcano, the world's third most active volcano. An exclusive and luxurious retreat, Nayara features just 50 spacious and private casitas (bungalows), all with private terraces with outdoor showers and Jacuzzi tubs for two.
Nayara Springs expanded in January 2017 and now offers 35 luxury villas with views of the Arenal Volcano. Each villa is equipped with a private pool fed by mineral hot springs and an expansive private garden with exterior shower, sleek four-poster bed wrapped in soft cottons, and indoor and outdoor sitting areas. Nayara Springs is connected to its sister hotel Nayara Resort, Spa & Gardens by footbridge.
The package includes:
A handful of Spanish books available in the room upon check-in, along with a Spanish/English dictionary
Spanish word of the day delivered daily with room service breakfast
A private birdwatching tour (in Spanish) with lunch
A one-hour Spanish lesson focusing on Costa Rican culture
One Spanish lunch with a resort host
Price: $300 (on top of the cost of a stay – starting rates at Nayara Springs are $488 per night, not including taxes)
THIS ARTICLE IS WRITTEN BY