HEINEKEN Delivers Soccer's Best Players To The U.S.A. As Presenting Sponsor Of the International Champions Cup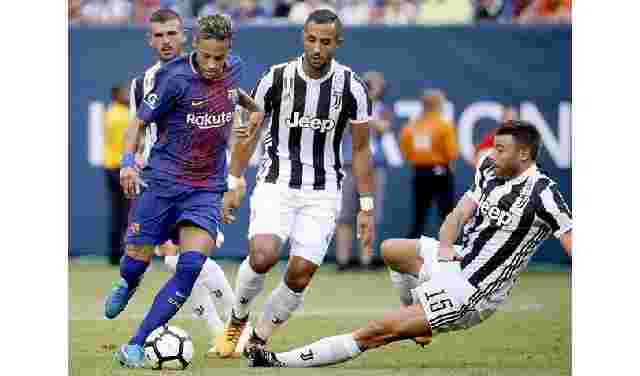 The International Champions Cup has lived up to all the hype, delivering exciting soccer games with some of the best players in the world, playing in the USA's premier stadiums, to capacity crowds eager to scream, shout, jump, and take it all in. We witnessed all of this thanks to presenting sponsor Heineken at the thrilling match between Juventus and FC Barcelona. History was made as the game attracted the biggest soccer audience in the history of New Jersey's MetLife Stadium.
The game had Barca's Neymar, Messi, and Suarez, versus Higuain, Buffon and Cuadrado from the Italian side.
Heineken provided an unforgettable experience by inviting a select group of guests to the field to witness up-close the pre-game drills from outstanding players. At the end Barcelona emerged victorious 2-1, with two spectacular goals from Neymar.
The 2017 International Champions Cup presented by Heineken runs until July 30 and features 12 matches played across 11 cities throughout the United States. In total, eight teams from around the globe, including England (Manchester United F.C., Manchester City F.C., Tottenham Hotspur F.C.), Italy (Juventus F.C., AS Roma), France (Paris Saint-Germain F.C.) and Spain (FC Barcelona, Real Madrid C.F.) are competing in this year's tournament. Each team plays three contests and the club with the most points at the end of the tournament will be crowned champion. Each win in regulation will result in three points and a tie will go straight to a shootout; the winning team in a shootout will receive two points and the losing team will receive one.
This Saturday will mark the first time 'El Clasico' is played outside of Spain as FC Barcelona faces Real Madrid at HardRock Stadium in Miami.
For the second consecutive year, Heineken is the presenting sponsor.  In addition to Heineken, the 2017 tournament features a leading line-up of sponsors, including Ally, Nike, Orlando, Chevrolet, AON, Groupon, VividSeats, Gatorade and Xyience.
All matches for the International Champions Cup will be carried on ESPN networks including ESPN, ESPN2, ESPN Deportes and streaming network ESPN3, accessible through WatchESPN and the ESPN App.
Fans can follow the ICC on social media at @intchampionscup for exclusive content and announcements, and join the conversation using #2017ICC. Fans can sign up for up news, updates and ticket information at www.internationalchampionscup.com.
For the latest information visit HEINEKENUSA.com.
THIS ARTICLE IS WRITTEN BY