History Made! DANIEL SUAREZ Becomes First Latino To Win A NASCAR Championship Title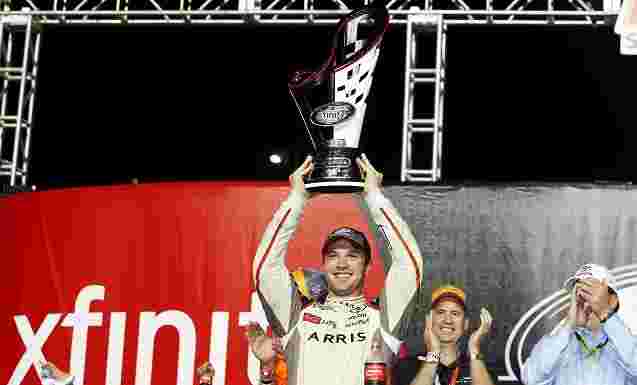 In the final weekend of Stock Car racing for the year, history was made when Daniel Suárez became the first Hispanic driver ever to win a NASCAR national championship when he claimed first place in the NASCAR XFINITY Series. We at HOMBRE were there for this momentous occasion and here we bring you exclusive interviews with Suárez, along with the man behind the winning team – Joe Gibbs.
Suárez began driving competitively in Mexico and now competes full-time in the NASCAR Xfinity Series, driving the No. 19 Toyota Camry for Joe Gibbs Racing and part-time in the Camping World Truck Series, driving the No. 51 Toyota Tundra for Kyle Busch Motorsports. Previously he drove in the NASCAR Toyota Series in Mexico for Telcel Racing, and the K&N Pro Series East for Rev Racing as a member of the Drive for Diversity program.
This is only the second season for Suárez driving in the United States. In his impressive first campaign he captured the XFINITY Series Rookie of the Year Honors. The 24 -year-old Monterrey, Mexico native concluded his 2015 season with eight top-five, 18 top-10's, three pole awards and led 83 laps en route to finishing fifth in the final points standings.
In 2016 his fast track to the top continues when on November 19 he was crowned champion of the 2016 NASCAR Xfinity Series.
HOMBRE: How does it feel to make history and become the first Latino to ever win a NASCAR Championship?
Daniel Suarez: I'm definitely very happy; for my team, for all those that made this possible, my friends, my family, my sponsors, all the people who helped me get here. This is definitely a dream and I hope we have more days like this.
H: You participated in NASCAR's diversity program, how did that lead to this moment?
DS: They helped me a lot to be able to be here now, by giving me the opportunity to come to the United States when I didn't have money or sponsors or any of that. Today all that help is reflected here.
H: After racing 200 laps, how will you celebrate today?
DS: First with a good shower (laughs). Then there's a lot of my family here; my mom, my dad, friends from Mexico, a lot of people. I'm sure we'll celebrate big tonight.
H: What does your win mean to Latinos?
DS: It feels great. It's only the beginning and I want to thank all Latinos for their support.
Joe Gibbs
Suarez is a member of Joe Gibbs Racing headed by the legendary Joe Jackson Gibbs. Gibbs is a former American football coach, NASCAR Championship team owner, and two time NHRA team owner. He was the 20th and 26th head coach in the history of the Washington Redskins. Well known for his long hours and work ethic, Gibbs constructed what has been called, "The most diverse dynasty in NFL history." During his first stint in the National Football League, he coached the Redskins for 12 seasons and led them to eight playoff appearances, four NFC Championship titles, and three Super Bowl titles.
After retiring at the end of the 1992 season, he switched focus to his NASCAR team, Joe Gibbs Racing, which has won four Sprint Cup championships under his ownership.
HOMBRE: You've won other competitions, including three Superbowls, how does it feel to win this NASCAR Championship?
Joe Gibbs: This is a thrill for everyone. What's special about this is that in this sport you need to have a sponsor and all these companies that support us are part of this. They're in the sport, they're riding in the car. It's great because they decided to come racing with us and then they get something like this is, it's very special.
H: How does it feel to make history by having the first Latino champion on your team?
JG: We had a meeting two years ago, Arris was there, and to think that today we're experiencing a championship. It's special for our sport and we're thrilled to be a part of it. It's a breakthrough and hopefully we have many more Hispanics that become heroes up here. But I know Daniel is a great representative of the whole Hispanic market and to our NASCAR fans.
THIS ARTICLE IS WRITTEN BY