HOMBRE Exclusive: ALAN TACHER Wants To Make You Laugh As Host of Univision's "El Festival Internacional del Humor"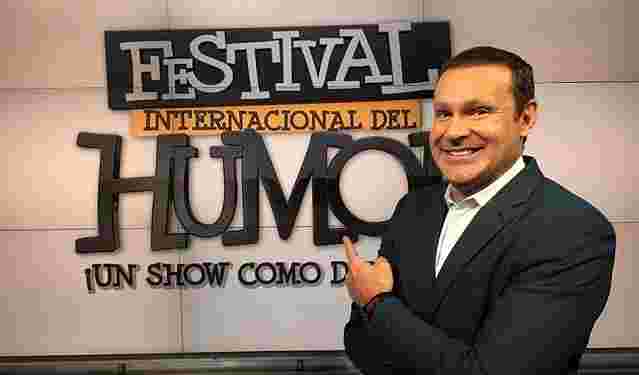 If you speak Spanish, Sundays are about to become the funniest day of the week, thanks to Univision and their new series "El Festival Internacional del Humor." The program airs at 7:00PM ET and kicks off a new Sunday lineup designed to bring the entire family together though entertainment. Hosting the series is Alan Tacher, who many may know as current co-host of the popular morning show "Despierta America," also on Univision. We spoke to the charming multi-host to learn all about the series and the ins-and-outs of life in Spanish language television.
As co-host of "Despierta America," Tacher leads Univision's highly rated daily morning show over four hours of entertainment, news, and practical information. Before joining the program in 2012 he was co-host of "Hoy," Mexico's top rated morning show.
Tacher has gained his success in Spanish language television thanks to his vast experience in a variety of genres including morning shows, reality, children's programming, award presentations, and game shows.
HOMBRE: What can you tell us about the program?
Alan Tacher: The program is "El Festival Internacional Del Humor." It has humor, sketches, stand up comedy, and magic spectacles that people can see Sundays at 8:00PM on Univision. The interesting thing is that there are different nationalities, that's why it's an international festival. But ninety percent are Latinos, from Venezuela, Puerto Rico, Dominican Republic, Mexico, Colombia, Argentina; and that's what's incredible. Humor is uniting us all, and our families.
H: Is the show filmed live?
AT: It's a program that's being filmed in Colombia. The show has aired in Colombia and other markets, it's already known for several seasons and it's been a great success. I fly to Bogota to film it, and everyone flies to Colombia to be a part of it.
H: How about if someone wants to participate?
AT: Our production company works on finding the best comedians, the best entertainers; those that already have a trajectory and do a great job. We are filming little by little so that as new talents emerge they can be called upon to participate.
H: Are there performances that stand out to you?
AT: What I love most is that now more than ever people have the need to laugh and to spend time with family and if you see a program that brings you laughter you stay glued to that show. My favorite moments will always be stand up comedy. Performers who stand there for 4 or 5 minutes doing their routine and telling these marvelous jokes. It's incredible because different countries have their idiosyncrasies, their humor, but at the end of the day we're all united through a bridge that is laughter. Many of the performers are known world-wide. A Mexican comedian is known in Colombia, one that's Colombian is known in the United States. It's artists that are recognizable and people that are very professional in what they do.
H: You're also doing "Despierta America," how do you manage your time?
AT: I fly a lot (laughs). When they offered me this show I said yes immediately because I love family programming. "Despierta America" is the number one program in the mornings, and when they offered me this one it also felt right. I love when families laugh. I love to be a part of this, on a Sunday. I'm very proud that they thought of me to host this program.
We're in a time of nostalgia, outside of the cell phone and technology. There was a time when kids went out to play outside, in skates, in a bicycle… This show reminds me of those times when you would sit around with friends and tell a good joke. I enjoy it.
H: How has your experience been in "Despierta America"?
AT: It has been a wonderful experience. I cant believe how fast the time has passed. I'm coming from morning shows in Mexico where I've done it all. "El Festival Internacional del Humor," has similarities with "Despierta America." It's so great that we're able to reach so many Latinos that live here in the U.S. It's really beautiful. I've learned so much from people and they've learned from me. I love reaching so many places. Each time we're stronger, the program continues to grow. I imagined it would be like this, but not as much.
H: What is the difference between doing television in Mexico and doing it here?
AT: First, it's a great responsibility to do this show. But what I've learned is that here you really have to be careful with language because a word that in Mexico maybe it's normal, here it could be a bad word for Venezuelans or Colombians or Costa Ricans. You have to be careful with words and their meaning. Also in Mexico you can play more with double entendres, here you have to be careful. You have to be careful with the sensibilities of the different nationalities.
H: You've achieved so much success, what would you say is the secret?
AT: Thank you, but I've never thought about that. I try to do all the programs with much love and I think the key is to be how I'm being in this interview with you, or on the street or on TV; without a mask. I'm the same person in front or behind the camera. To me that's very important and I feel that is what has kept me working for over twenty years. Just the way you'll see me on the street, I'll say 'hi' and give you a hug, that's how I am. People know that and appreciate it.
H: What advice can you offer young people that have followed your career?
AT: I'd thank them if they follow my career. I'd say to be patient, to focus. This is an amazing career. I'd say to study a profession, and if they start to feel that itch to perform, then they should learn exactly what it is. But they should always have a foundation, a career, a diploma. That could help you when you least expect it. I studied while I was working on this. At the end I chose this, but I had a career that protected me. I'd say to insist, to knock on a lot of doors. There may be a door that closes, but a window may open and they should take advantage of opportunities when they present themselves. When that happens they should be prepared for the moment.
H: Finally, why should audiences see the show?
AT: Because they will have fun, they'll laugh a lot, they'll be surprised. And like I told you, with so many bad news all around it's good to sit and forget all the problems. Our aim is to find things that will relax you, something for the family, something that will leave a good taste in your mouth, and it airs on a Sunday, you can go to bed with a happy smile.
"El Festival Internacional del Humor" airs Sundays, 7:00PM ET on Unvision. 
THIS ARTICLE IS WRITTEN BY