HOMBRE Exclusive: Clarins Group President SANDRINE GROSLIER Creates Your 'Weapon Of Seduction' – Azzaro Wanted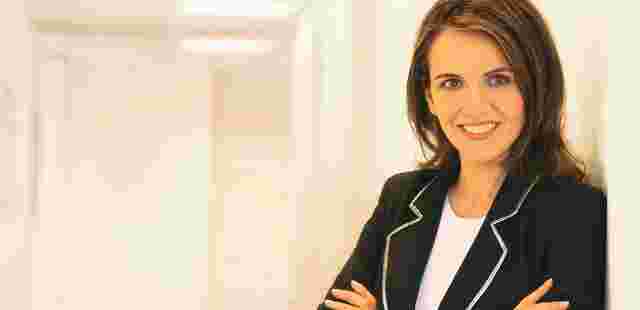 Sandrine Groslier is a charismatic, powerful woman who carries her strength with beauty, elegance, and charm. She rose from a marketing trainee to lead one of the most important cosmetics empires in the world and now oversees the Clarins Group. The French luxury company manufactures worldwide prestige skincare, cosmetics, and fragrances including Clarins, Thierry Mugler, and Azzaro brands. We spoke with Groslier during her rare visit to New York on the occasion of the exciting launch of new fragrance Azzaro Wanted.
A very young president, Grosslier has been with the company for over twenty years. She is an example of extreme professionalism and determination. After being an International Senior Product Manager at Thierry Mugler France, she went on to become the company's Marketing Director, moving on to Deputy General Manager. In 2006 her skills were needed elsewhere and she moved to Spain as General Manager of Clarins Spain. She rebuilt the company to great success and returned to her native France in 2011 as General Manager of Clarins Fragrance Group France. It was in 2013 when she ascended to her current role as Clarins Group president. She is often characterized as passionate about her work, daring, hard negotiator, and an admired leader.
HOMBRE: What can you tell us about the development of Azzaro Wanted?
Sandrine Groslier: We wanted to create a fragrance that would work well in Europe, and also in the U.S. There's a huge difference between both. In Europe they like fragrances with spices, with lots of character; in the U.S. they like them more fresh. It's very difficult to create a fragrance that works well in both markets. The U.S. is the number one fragrance market in the world, but in Europe they have the remainder of the top 10, so to have worldwide success you have to make a fragrance for both.
H: How would you describe the breakdown of the fragrance?
SG: We worked on everything; the character, the scent of masculinity, the scent of how women would like a man to smell, that has sex appeal. A classic masculine cologne with elegance. That's why we chose vetiver, it's a classic woody scent but elegant. We used spices, we added cardamom and citrus to make it something you can wear daily and has character.
H: What about the bottle design?
SG: Azzaro is designer fragrance. The bottle is as important as the fragrance itself. We wanted an object that represented a true man, and something that showed strength. This mechanism, of watches, of cars, something even us as women don't understand. We made it so that everyone can find the image that they choose. It could be a gun barrel, machine spokes, mechanism of a watch, whatever you want. It's a bottle truly for men. The Azzaro Man is a true man, there is no doubt about it, and his fragrance represents him. This is a daring fragrance. When a man puts it on it arouses a desire and it's something that attracts. It's addictive.
H: What is the process that brings us to today?
SG: We began with the bottle, then we worked on creating the fragrance, and finally we arrived at the name. It's like a puzzle. Azzaro is brand that every man has to want, but women have to love that man.
H: How long did the process take?
SG: The process is three years of work. The concept, the story. We asked our internal team to create a bottle, but before that you arrive with an idea, a vision. We wanted an Azzaro Man. We thought of Loris Azzaro (the company's founder). He passed away at the age of 70 years old, but what would he be like today? We thought about this man who had a lot freedom, who could do what he wanted. We thought of Largo Winch. It's a European fictional character who has a lot of money and is an orphan, but everyday he does what he needs to do; and we thought a little of James Bond. We said to the team we're going to create the perfect object for this man. A man who gets what he wants but doesn't need a weapon. We're going to create his weapon of seduction. That was the idea. An object of strength. A man who knows who he is. A man who loves women and women love him. That was the vision of Loris Azzaro.
H: How do you select the face of this fragrance?
SG: We looked at a lot men. We wanted a man with humor, a man with a classic elegance but modern at the same time, an Azzaro Man of today, a man who could be a modern hero. And what we liked about Nikolai (Danielsen) is that he does what he wants. What he wants he gets. He's done it in the film. He's a man who enjoys life.
H: What are your objectives with the fragrance?
SG: We want to enter the top 10 of male fragrances. We know it'll be tough because there are lot of brands. But we believe in the name, and the product. We've always created fragrances that continue after ten, twenty, or even thirty years. Azzaro is the number one fragrance in Brazil and has been around more than thirty years. We know how to do this.
H: How do you accomplish that?
SG: At the end it's the customers that decide, not the advertising. Of course advertising and PR helps, and can allow for this product to succeed in the beginning, but not to be a worldwide success for over twenty years. Azzaro clients are very loyal so what we want to do is make a fragrance that creates that addiction in consumers, because of the bottle, then comes the fragrance. Maybe you want to try different fragrances, but then you come back to the bottle that you're attached to. That's the story we want to create.
H: Who is the consumer?
SG: To me it's everyone. The good thing about this bottle and this fragrance is that everyone sees their own story. Every man understands because since childhood they understood. No matter the age. To me a fragrance is a theme of attraction, you see something. To me this bottle is like a woman. You see it has character, a spark.
H: How do you come to Azzaro?
SG: I've been with the company twenty years. I started as a baby. I loved fragrances since I was very young. I wanted to join a very authentic company with daring products, distinct products, but with authenticity. And behind Clarins, Mugler and Azzaro there are always men and people that are very authentic. That's why we continue to have such great success on a world level. At the end it's the consumer who decides and I've been a consumer before joining the firm.
H: What is the advice you can offer aspiring entrepreneurs?
SG: To believe in your dreams, think that everything is possible, and little by little trust in the people that you find. There will always be someone to help you. And when your intuition tells you something, listen to it. Life will take you where you should go.
H: Who did you admire growing up?
SG: My parents, who were business people with their own company, that helped me. But there was a person at the start of my professional career who was the creator of Angel at Thierry Mugler, a woman who told me, 'one day you will be the president of this brand and this Group.' I looked at her and thought 'What is this lady telling me? I'm 23 years old.' Years later she was right.
H: What is the best advice you ever received?
SG: To follow your intuition, to have character and follow your dreams and your vision. To launch a product like this you have to have guts. If you follow your dreams you may not get to where you think you would but you'll go high and you'll have enjoyed your life and that's important because life is short. My husband passed away a few months ago and here I am. So I know the price of life. You have to move forward and enjoy life every day.
H: Why should a man buy this fragrance?
SG: Because this fragrance is like a woman, it's a fragrance of desire. 
THIS ARTICLE IS WRITTEN BY