HOMBRE Exclusive: CRISTIANO RONALDO – On Top Of The World With Multiple Titles And Launch of CR7 Denim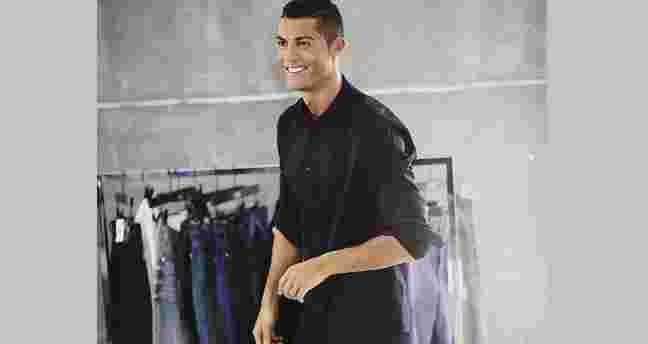 Cristiano Ronaldo, is having one of the best years ever. As a key component of Real Madrid, the 2016–17 season has been one of the team's greatest campaigns in the history. The club attained four titles, including the UEFA Champions Cup, and just this week, the UEFA Supercup. On a personal level his family is expanding. And on the business front the international soccer phenomenon and most followed athlete on social media has officially launched his full denim collection on CR7.com. We had the opportunity to exclusively interview the megastar and learn all about this new enterprise and his keys to success.
Let's start with his brand new venture, the CR7 Denim line philosophy is steeped in the desire to create a brand without limits, pushing the boundaries of innovation and performance while setting the new standard in comfort and luxury.
CR7 Denim combines all the image and style you'd want from a premium denim brand with unrestricted, unrivaled levels of movability at an affordable price. By locking cotton and elastane in an advanced weaving process CR7 "Flex" marks a new era in the world of technology and fashion with a fabric that is created for superior stretch and recovery.
Ronaldo is often considered the best player in the world and widely regarded as one of the greatest of all time. He has four FIFA Ballon d'Or awards, the most for a European player, and is the first player in history to win four European Golden Shoes. He has won 24 trophies in his career, including five league titles, four UEFA Champions League titles and one UEFA European Championship. A prolific goalscorer, Ronaldo holds the records for most official goals scored in the top five European leagues (369), the UEFA Champions League (105) and the UEFA European Championship(29), as well as the most goals scored in a UEFA Champions League season (17). He has scored more than 600 senior career goals for club and country.
Born and raised on the Portuguese island of Madeira, Ronaldo was signed to Manchester United at age 18 in 2003. After winning his first trophy, the FA Cup, during his first season in England, he helped United win three successive Premier League titles, a UEFA Champions League title, and a FIFA Club World Cup. By age 22, he had received Ballon d'Or and FIFA World Player of the Year nominations and at 23 years old, he won his first Ballon d'Or and FIFA World Player of the Year awards. In 2009, Ronaldo was the subject of the most expensive transfer at the time when he went from Manchester United to Real Madrid in a move worth $132 million.
In Spain, Ronaldo has won two La Liga titles, two Copas del Rey, three Champions League titles, and two FIFA Club World Cups. After joining Real Madrid, Ronaldo won back-to-back Ballons d'Or in 2013 and 2014. In 2015, he became the club's all-time leading goal scorer. In 2016, Ronaldo won his fourth Ballon d'Or by a record voting margin after sealing Madrid's 11th European title, and winning Euro 2016.
Playing for his native land, Ronaldo is Portugal's all-time top goalscorer. One of the most marketable sportsmen, he was ranked the world's highest-paid athlete by Forbes in 2016 and 2017, as well as the world's most famous athlete by ESPN in 2016 and 2017.
HOMBRE: What made you launch a line of denim wear?
Cristiano Ronaldo: When I'm not playing football, you'll most likely find me in a pair of jeans. Denim has always been an important part of my wardrobe, so when I started thinking of what was next for CR7, it felt like the right place to go. I wanted to create a denim line that's both stylish and comfortable.
H: What does the launch of this line mean to you?
CR: The launch of CR7 Denim is an important milestone in my life as an entrepreneur because I always wanted to have my own brand in a range of products that I consider essential to any man's wardrobe. Jeans are so versatile and combine style and comfort in a way that no other clothing can do. I am delighted to be able to launch in the market several options.
H: How involved are you in the design process?
CR: CR7 Denim was inspired by my on-the-go lifestyle, and very much rooted in my philosophy in life. I worked closely with a talented design team to bring that vision to life. We use stretch fabric throughout the collection to make sure the denim can be worn no matter what you need to do that day. You'll also see elements from my personal style throughout – for example, my favorite color white is used in the signature white rivet that's on every jean. I've been able to really see my ideas come to life through the design process. And I think the collection will pleasantly surprise even the most discerning denim wearer.
H: What made you partner with Uniti Fashion?
CR: Uniti Fashion has over 20 years of design, sourcing, and manufacturing experience, in my opinion they're the best in the business, so it was really a no brainer to partner with them to create this line.
H: Are there plans to expand the line into other garments/ fabrics?
CR: We'll be launching with our jeans in a variety of fits, along with some shorts in time for summer. From there, maybe someday we'll do a junior's line – who knows? The sky is the limit.
H: What separates your collection from other denim on the market?"
CR: This collection is for anyone who lives a limitless life. It was important to me that the denim be comfortable, so when we started the design process, we started with comfort in mind. As a football player, I understand how the garments on your body can restrict or enable movement, and that gave rise to creating something that is quite unique in the market. Our brand campaign is also built off this idea of living limitlessly, pushing yourself to do your very best each day, and CR7 Denim allows you to do just that.
H: You have a strong fashion sense, who inspires you, who are your 'fashion icons'?
CR: Throughout my career I've been lucky to be dressed by different fashion labels. I don't have a favorite, but definitely I love trying new labels and experimenting with my style here and there.
H: Was getting into the fashion industry always a goal for you?
CR: No, my goal was always to be a professional footballer. My desire to get into the fashion industry didn't develop until much later. Not until I developed the CR7 brand and my appreciation and understanding of fashion grew.  Now though, I have a clear understanding of what I like from a fashion perspective, and I can't wait to share it with the world.
H: Besides your natural talent to what do you attribute your success?
CR: Much of my success is attributed to hard work. When it comes to my training, I'm a firm believer in being the first one on the field and the last one off.  I know that to be the best at what I do, I have to train hard, every day. I brought that same philosophy when it came to launching CR7 Denim, and it's also made for those with the same mindset.
H: What advice can you offer young people who look up to you?
CR: Work hard, and never be afraid to chase your dreams, only you are in control of where your future takes you.
The full collection is available at CR7.com – the official home of CR7 Denim, denim designed to move you.
THIS ARTICLE IS WRITTEN BY