HOMBRE Exclusive: DAVIDOFF CEO Hans-Kristian Hoejsgaard On The Expansion of A Worldwide Luxury Brand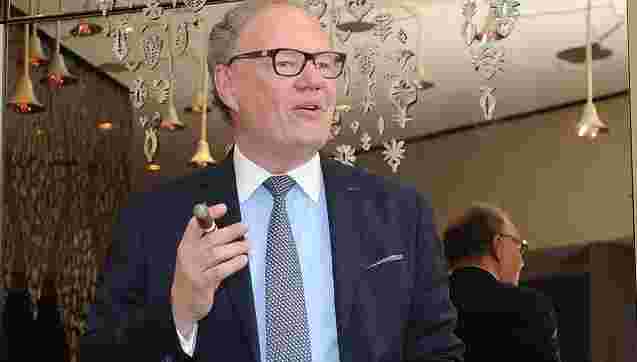 Davidoff is one of the most respected international luxury brands, with over 70 flagship stores distinguished by quality, competence, and an elegant atmosphere. Leading Oettinger Davidoff AG into a new era is CEO Hans-Kristian Hoejsgaard. In an exclusive interview he discusses new offerings, the secret to the brand's success, and future expansion plans.
Hoejsgaard has been global CEO of 140-year-old Oettinger Davidoff AG since early 2011, and Member of the Board since May 2014. He oversees a world leader in premium handmade cigars with sales of over CHF 600 million. Based in Basel, Switzerland he leads over 3,500 people across the globe in a vertically integrated "crop-to-shop" operation – from the tobacco fields in the Dominican Republic, Honduras and Nicaragua to Flagship Stores in retail locations worldwide, including the original Davidoff store in Geneva, to Madison Avenue in New York, and the Peninsula Hotel in Hong Kong.
Hoejsgaard has over 30 years' experience in consumer goods and retail, including 20 years in luxury goods. At Davidoff, he is driving a transformation from product-focused to a brand and experience-led global company. He is leading the company through an ambitious phase of brand renewal, growth, retail expansion, farmland acquisitions and a new direction, including spearheading the global partnership with Art Basel, and the launch of the Davidoff Art Initiative.
Previously, Hoejsgaard was President and CEO of Timex Corporation, based in Connecticut, USA, as well as of Georg Jensen Ltd., based in Copenhagen, Denmark. He also served as president of Parisbased Lancaster Group Worldwide, a division of Coty Inc. Prior to that, he was Managing Director Asia Pacific of Guerlain, based in Hong Kong, and before this held senior management positions at Joseph E. Seagram & Sons in Rome, Hong Kong and Bangkok.
HOMBRE: We have just enjoyed "Davidoff Chef's Edition," how did the idea for this cigar come about?
Hans-Kristian Hoejsgaard: Enjoying a cigar has always been a part of this world of gastronomy, good food, good wine. We got the idea since a lot of chefs are enjoying cigars themselves. We decided to bring six European Michelin Star chefs to help us create what they think would be a great cigar to complement a fabulous meal. They loved the idea and we worked with them on the blend.
H: How did you decide on the chefs?
HKH: Basically we wanted a good variety of European chefs with this first one and we have a good connection with them, so we knew who were interested in cigars. We have one from France, one from Spain, two from Switzerland, one from Germany, and one from Luxembourg. It was an easy sell, they loved the idea. Now we are planning a 2018 edition where we will work with American and Asian chefs.
H: How would you describe this cigar?
HKH: It's a full bodied cigar, meant after a great meal. It starts off a little creamy, rather light, then it develops into more nutty, full bodied, with dark chocolate starting to come through. It's a blend of aged tobaccos, there's no tobacco in there that is less than six years old. It's a masterpiece, a very complex blend with six types of tobaccos.
H: To what do you attribute the long term success of Davidoff as a brand?
HKH: It's always been very reliable on its quality, on its consistency and what people like, particularly younger people. I'm talking 28 – 35 in age, consumers who are into new blends and taste sensations. It's more complexity, a little like wine tasting. People like the idea of different origins blended together, not a one dimensional cigar. That is our hallmark, that's our history. We are known for this ability to blend.
H: You recently opened this space in Brookfield, across from the World Trade Center, how did you select this location?
HKH: This is now our third store and lounge in Manhattan. We felt we needed a space not only in Midtown, but also down here. It was very important for us to have a space with a lounge so you could have the complete experience. Retail is all about location and we are in a space where the brands match in luxury. You are very much defined by your neighbors. (Neighbors include Gucci, Hermès, Bottega Veneta and Burberry, among others)
H: What are your expansion plans?
HKH: We are expanding significantly. We just opened stores in Atlanta, Houston, Tampa, Las Vegas so we are definitely in expansion mode. As I said, it's all about location. Even if we have a wish to open in other cities we obviously have to find the right place.
H: What are some of the accessories you offer?
HKH: Luxury accessories are very important. The development of humidors, lighters, cutters, cases; all these things are very important and we try to be innovative with new materials, new designs. We are working with external artists. We feel everything we do is art, because everything is by hand. We have no machines, it's all craftsmanship.
H: I know you're not directly involved in the process, but how are your leaves for cigars selected?
HKH: Our agronomists, our master blenders who travel are responsible. Most of it we grow ourselves. We have our own fields. We experiment with new seeds, with new soil conditions, it's a science as you know.
H: On a personal level, to what do you attribute your success?
HKH: You need a good portion of luck. It's not about yourself, you need a good team. Nothing is done by one person and in my case it's about understanding the longer term. We rigorously focus on what is the long term vision, the strategic future. It's very important that you keep the ship in the right direction because you can easily get distracted about doing things outside of what you should be doing. Being true to your heritage, understand your history but not become a prisoner of that history. You have to always develop and be innovative, otherwise you would not be relevant for the consumer tomorrow.
H: What advice can you offer aspiring entrepreneurs?
HKH: Live out your passion. Do what you really want to do because there is nothing like in five years or ten years saying I would have liked to do that, and you didn't do it. You have to live out what you have passion for, that is what's important.
THIS ARTICLE IS WRITTEN BY