HOMBRE Exclusive: Expanding A Worldwide Brand – with POPEYES CMO Hector Muñoz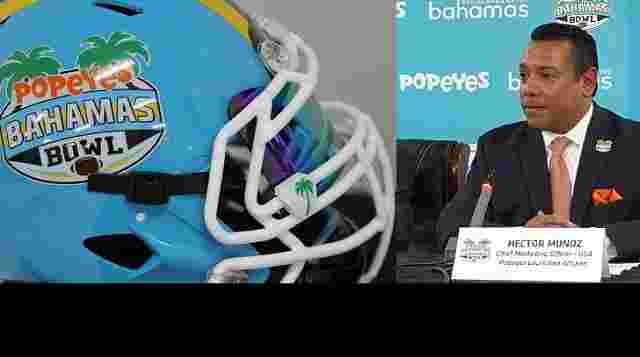 As Popeyes Louisiana Kitchen, Inc. readies to arrive in the Bahamas for the Third Annual Popeyes Bahamas Bowl, we spoke with Hector Muñoz, the brand's vice president and Chief Marketing Officer – and the man most responsible for making the successful branding event a reality. This year the game will be held on Friday December 23 at Nassau's Thomas A. Robinson National Stadium, pitting together teams from the American Athletic Conference, Conference USA and Mid-American Conference. The event will be televised live on ESPN and co-sponsored by the Bahamas Ministry of Tourism.
As Vice President & Chief Marketing Officer of Popeyes Lousiana Kitchen, Inc. Hector Munoz leads and directs all U.S. marketing initiatives including advertising, calendar promotional planning, long-range marketing goals, brand positioning for product innovation and core menu items, and all other marketing communications, including Popeyes digital strategy. He joined the company in 2011 after more than a decade with Burger King. Earlier in his career, he worked at Long John Silver's, Taco Bell, Bruegger's Bagels and Church's Chicken.
When he was first appointed to his current title Dick Lynch, Popeyes Chief Brand Experience Officer said, "Hector has proven to be instrumeMuños attributed the company's success to a mix of new and familiar menu choices at the 44-year-old restaurant chain, which has more than 2,500 locations throughout North and Central America, Asia and the Middle East. ntal in driving consecutive quarters of positive same store sales at Popeyes. He has successfully demonstrated his leadership capabilities, executing our promotional calendar, increasing our social media presence and managing the team and multiple agencies that support these efforts. He was also the architect of the Popeyes Bahamas Bowl."
Popeyes, the multinational chain of fried chicken fast food restaurant was founded in 1972 in New Orleans, Louisiana. The company is the second-largest quick-service chicken restaurant group, measured by number of units, with more than 2,500 restaurants in more than 40 states and the District of Columbia, Puerto Rico, and 30 countries worldwide. Muñoz attributed the company's success to a mix of new and familiar menu choices at the 44-year-old restaurant chain.
One of Popeyes main initiatives is college football, and no destination is perhaps as tempting as the Bahamas Bowl. For the third year in a row Popeyes Louisiana Kitchen will be the title sponsor for the game scheduled in Nassau, Bahamas for Friday December 23 at 1pm.
HOMBRE: What does it mean for Popeyes to be involved in the Popeyes Bahamas Bowl?
Hector Muñoz: It means a lot for us. It's easily one of the best marketing events we have ever been associated with. That's the reason why we renewed our agreement for another two to three years. Obviously it's wonderful for business back in the States as well as our new restaurant here in the Island, but more importantly it really helps us instill this great sense of pride for our employees, over 60,000 employees all over the world and our franchisees. They all are proud of this event and because of that we have around 150 people that actually made the trip to the Bahamas. It's a wonderful event. It's great for us to be able to see this wonderful athletes, not only prepare for a great game, but also be exposed to things they would otherwise not have had the opportunity, so it feels good.
H: What's next for the Popeyes as a brand?
HM: Well, I tell you like I tell people, we're becoming a big brand, and big brands do big things and what better place to do something big than here in the Bahamas. I'll tell you, over the last 5 years we expanded our restaurant count by 25 percent. We expanded our sales volume by 25 percent, 90 percent of our restaurants have a new design, so we're not the same brand we were five years ago. We're a much different brand, a brand that can rightfully be a title sponsor for an event of this magnitude.
H: What advice can you give aspiring executives to reach the top of their profession, as you have?
HM: Think big. If you can dream it, you can do it. What I tell people whenever they ask me what's that one thing – not that there is one thing – but always go beyond what's expected. Always in everything I do, whether it's preparing or setting expectations, I always try to do more than what's expected and it's worked out for me.
For more information visit www.bahamasbowl.com or www.popeyes.com
THIS ARTICLE IS WRITTEN BY