HOMBRE Exclusive: FERNANDO ALONSO Races To His Next Challenge With Fashion Brand KIMOA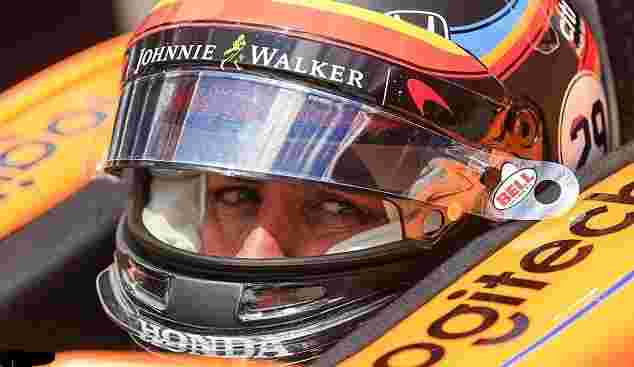 Formula One champion Fernando Alonso is on a quest for new challenges. That may explain why after so much success, this year he raced the Indianapolis 500, winning Rookie Of The Year in the process. Currently racing for McLaren-Honda he is often regarded as one of the greatest drivers in the history of the sport. He now follows his winning form to launch his first fashion brand KIMOA. We spoke with the two time Formula One world champion during a recent visit to New York.
Alonso was born in Oviedo, Asturias where he started in karting from the age of 3. He won three consecutive karting championships in Spain from 1994 to 1997, and became a world karting champion in 1996. He made his Formula One debut in the 2001. On 25 September 2005, he won the Formula One World Drivers' Championship title at the age of 24 years and 58 days, at the time making him the youngest Champion. After retaining the title the following year, Alonso also became the youngest double Champion at the time.
With the Scuderia Ferrari team he managed to finish runner up on three occasions (2010, 2012 and 2013) as well as winning eleven Grands Prix. Nicknamed El Nano, Alonso acts as a Goodwill Ambassador for UNICEF. As of May 2017, he is the only Spanish driver to have won a Formula One Grand Prix and is the driver with the sixth highest number of Grand Prix wins, with 32.
Now he launches his first line of apparel and accessories. Based in Madrid, KIMOA is a collection for men and women inspired by the relaxed beach culture of Southern California. The collection is comprised of soft, easy to wear tanks, t-shirts and sweatshirts, as well as dresses for women and swim shorts for men. The new collection also includes a complete line of sunglasses, ball caps, beach towels, skate boards, and surf boards.
HOMBRE: Congratulations on being named "Rookie of the Year" at Indianapolis 500, and now to be here in New York launching the KIMOA brand. It's a very exciting time for you.
Fernando Alonso: It was a beautiful experience. It's an important competitive moment in my career, to lead 500 miles of Indianapolis, and now with KIMOA. It's a new brand, a new project in my list investments. I have many but in this one I'm very involved since I share many of the values that the brand has.
H: What made you launch a fashion brand?
FA: I love America, I love the USA. I spend all my vacations here. I believe the USA has a way of life, a desire to always experience new things, to never give up. People come here in search of a dream and this is something KIMOA wants to project, the desire to experiment, to never give up, to always follow your dreams. And then there's the good climate, the sand, beach, sun, good friends… All these things always had an impact on me every time I came to America and I wanted to find a way to share it with all my followers. I feel that a clothing line is the way to reach a huge audience.
H: How involved are you with the design and production?
FA: Fortunately, not much (laughs). I'm a a race car driver, so I leave that to professionals in that field. But in all that I can be involved with, in promotion, in getting the brand known due to my popularity in certain sectors, that's what I want to do. I want people to go to www.kimoa.com , to see new things every time, and find surprises when they enter the site, new collaborations, things that are interesting. People will get to share those values with me.
H: What are your plans now?
FA: Return to Formula One for the rest of the year, try to get good results. This year my contract with McClaren ends so I have to make decisions for the new year. Decide what my future will be. I haven't thought about it. After the summer I will decide what will be my best option. Right now I'm returning to my normal job.
H: After accomplishing so much, what would you say is the key to success?
FA: To always try, always take risks. To have success, to accomplish something in life there comes a time when you have to take a risk. There comes a time where you're facing something new, something unknown; sometimes things work, sometimes they don't but for them to work you have to give it a try.
For more information on KIMOA visit www.kimoa.com
All photos of Fernando Alonso exclusively for HOMBRE by Paul Tirado
THIS ARTICLE IS WRITTEN BY