HOMBRE Exclusive: GENESIS' Erwin Raphael On Launching The Only New Luxury Automotive Brand Of The Decade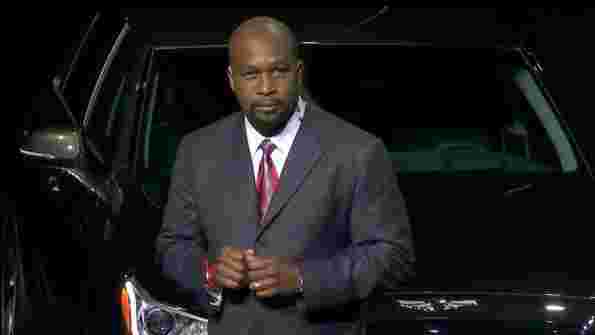 Earlier this year Erwin Raphael was named General Manager for the new Genesis brand in the United States. He is responsible for the strategic direction and management of Genesis operations, including sales and marketing. This new brand comes from Hyundai, and is only the second luxury automotive name to launch this century (Tesla arrived in 2003). After test driving Genesis' vehicles over a weekend in Vancouver, we sat down with Raphael to discuss  the innovations that distinguish the signature G90 from other luxury automobiles, and his plans for this exciting entry into the automotive landscape.
Upon making the announcement naming Raphael to lead the new brand, Dave Zuchowski, President and Chief Executive Officer of Hyundai Motor America said, "The position of Genesis General Manager is a critical one to the growth of this brand in the United States and I couldn't be happier to have Erwin take this key position. Erwin's depth of product knowledge, broad dealer experience and skill at flawless execution all will be called upon as he drives success for this new brand."
Raphael assumed his duties March 1 this year, forming a team of individuals to assist with the on-going launch of the Genesis brand in the United States, including the introduction of the Genesis G90.
Formerly, Raphael was the Western Region Director and General Manager for Hyundai Motor America where he was responsible for overseeing the operations of more than 165 Hyundai dealerships in the 12 Western-most states. He has worked for Hyundai Motor America since 2010 and has also served as the Director of Engineering and Quality at Hyundai, where he was responsible for all new vehicle engineering, overall improvement in quality of production vehicles, technical training and support, as well as warranty planning and operations.
Prior to joining Hyundai, Raphael held a number of leadership positions in vehicle development, engineering, manufacturing, sales and marketing with Chrysler LLC, Toyota Motor Manufacturing, and the International Truck and Engine Company.
HOMBRE: What can you tell us about the Genesis' G90?
Erwin Raphael: The G90 is the Genesis brand flagship car. It makes a statement everywhere it goes. It's a large car in the large luxury segment, the same segment as the Mercedes S Class, Lexus LS or the BMW 7 series. The car was designed from the ground up beautifully. You look at its interior or exterior and it has all the accouterments of luxury. In particular it's phenomenally quiet, it's the quietest car in the segment. It has a very smooth body with structural rigidity, it's as tight as it gets, and we have lots of technology. All of it was designed with the customer in mind.
H: How does it differentiate itself from the competitors you mentioned?
ER: One is our overall take on luxury. All of these brands are great competitors and competing with them makes us better, to see guys who have been around a very long time making great product. We like it because it gives us a lot of motivation to make our product better.
We have an opportunity of wrapping our arms around the customer in an experience that is physically broader than just being in a vehicle. The experience even begins when the customer starts to explore the brand and explore our products, and continues long after they've purchased our vehicle. Our goal is to make the customer's life easier, to make the customer's life more fulfilled by providing them more of the services and technology that they need to do what they do and to do it in style.
H: What do you offer in terms of technology?
ER: We can start with the newest significant innovation which is our 3.3 litter electronically controlled twin turbo engine that generates 365 horsepower 383 pound of torque. If I didn't tell you it was turbo charged you wouldn't know it. Because there is no turbo wind whatsoever, no turbo lag. You get all the turbo power when you need it and you get all the efficiency, it's the perfect combination and makes the car incredibly responsive.
Another thing is that we have been able to package a full suite of advanced safety equipment that's standard in the G90. There is no other brand that has as many standard safety equipment in their brand as Genesis does in the G90.
There are in total 11 safety features such as including Automatic Emergency Braking (AEB) with Pedestrian Detection, Driver Attention Alert (DAA) and Smart Blind Spot Detection. Eleven that come standard, the next established brand has three that come standard and that's second in line. We really went all out and said we're going to put our arms around the customer. That's the ultimate respect. No matter who you are, if you drive a Genesis car we're going to put our arms around you and make sure we take care of you and your family. And even the people outside the car.
H: What about the other services the car provides?
ER: Every Genesis car comes with 3 years of maintenance included, but more than that, the 3 years also include 3 years of valet service. If you never want to go into a physical dealership to have your car serviced, you don't have to. We will come to you, at home, at work, or any address; and pick up the car, leave you a loaner car, so your life continues. We take care of the car for you and bring the car back and deliver to the location you want to make your life easier.

We've also included things like map-care, so you can get annual updates on your maps at no charge included. Sirius XM, traffic and data, the car is connected with your Genesis app. You can do things like start the car remotely from your phone, you can turn the AC on to a particular temperature, you can flash your the lights, honk your horn. If your car is stolen you can have it retrieved with the information that goes directly to the police. It's three years because 80 percent of the cars will be leased, and 3 years is the most popular length of time. If you run out of gas, get a flat tire, or need roadside help we have premium roadside assistance.
H: How does it feel to create a completely new car brand?
ER: This is big, this is huge, it's not something that is done every day. In 1970 Audi came to the U.S. as a new brand. About 15 years later Acura first, and then Infiniti and Lexus. And then 15 years later Tesla, and then here we are about 12 years later launching this brand. It's only the second luxury brand in America this century. It's a huge deal and this is a great opportunity for us to present ourselves to a market, understanding the high expectation of that market, and that luxury. What luxury customers want is changing, it's not static and it continues to evolve so our focus is to evolve ahead of it and anticipate where luxury is going and to meet the customers where they're going to be.
H: What are the next vehicles you have coming down the pipeline?
ER: Right now we have the G70, you drove the G90, it's a phenomenal car. The G80 is in the mid-luxury segment that's the segment of the BMW 5 Series or the Mercedes E Class. Next we'll launch the G70 which will play in the near luxury segment that's the BMW 3 Series or Mercedes C Class, that size and class of car. We'll have 2 CUV's, one will be based on the G70 platform, think of it in the BMW X3, and then there will be  a larger one in the segment of the X5 . Then we'll have a Sports Coupe as well a Performance car, and right in the heels of that we'll launch the G80 on a new platform, so we have a lot of cars. I'm supremely confident our product is going to be not only one of the strongest accepted but also superior in whatever segment we play in.

H: So that's 6 cars by 2021
ER: We'll be very busy between now and 2021!
H: Having achieved so much success in your career, what advice can you give other businessmen?
ER: It all starts with dedication and hard work and being able to be open minded. The world is big and there are a lot of opportunities out there so we have to be open minded and take advantage of every opportunity that's presented to us. Be patient and good things will happen. I love america because I truly believe that if you work hard and you're patient and have the right mindset and right attitude you really can achieve anything. When I say that I never dreamed of this it's the truth. I could never see this far to legitimately say that one day I dreamed of this. This is amazing.
H: As a kid, what career did you want to follow?
ER: As a kid I wanted to be an engineer. Initially I thought I would be in aerospace or aeronautical engineering. I always loved planes. I love rockets. I envisioned working on the space shuttle. I thought it'd be cool to fly a spaceship into space and fly it back home. I went through a period of time when I wanted to be in medicine, more the research and innovation side. But by college I was pretty focused on engineering. I spent a little time on the military but even then I was in engineering. It was always engineering, always solving problems. I love challenges, whatever the challenge is I like to find a way to innovate and solve problems. Here I have an opportunity with this brand to help. And it's not only me, there are thousands of people out here but it feels good to be a part of a group that's doing things to innovate and make life better.
H: What do you think made you successful?
ER: Being focused on results. At the end of the day people don't care if you work that hard and you're not getting results, you have to work hard but you have to be focused so you are able to get the results you need after.
H: Finally, why should a car buyer purchase a Genesis vehicle? 
ER: Genesis is a fresh look at luxury. I like to think of it as a breath of fresh luxury, as a breath of fresh air. It's really something different, it's a great product. We're forward thinking, so if you take the blinders off and think "if there were no luxury vehicles in the world what would I want," and that's exactly what we offer.
THIS ARTICLE IS WRITTEN BY