HOMBRE Exclusive: 'Gotham's BEN MCKENZIE Brings Order to a Mad City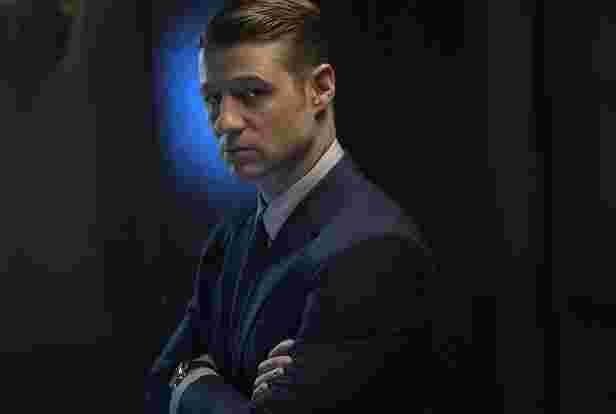 "Gotham," airing on FOX Mondays at 8PM ET, is one of the most original programs on television.  The American crime series was developed by Bruno Heller, based on characters published by DC Comics and appearing in the Batman franchise, primarily those of James Gordon and Bruce Wayne. Ben McKenzie stars as the young Gordon, while Heller executive produces along with Danny Cannon who also directed the pilot.
Originally the series would have related Gordon's early days on the Gotham City Police Department, but it subsequently included the Wayne character and the origin stories of several Batman villains, including the Penguin, the Riddler, Catwoman, Poison Ivy, Two-Face, Scarecrow, Mr. Freeze, and Hugo Strange.
For those who follow the series, now in its third season, Gordon has become a bounty hunter as he works to track down Indian Hill experiments that escaped six months earlier, while planning to get his love interest of Leslie Thompkins (Morena Baccarin) back.
At only 38 years old, the star of the series is McKenzie who has already  achieved great success. As a young kid he got into acting during his first few years at the University of Virginia.  After graduation he moved to New York and appeared in off-Broadway plays; then relocated to Los Angeles in late 2001.
It was in 2003 that FOX premiered the television series The O.C., about affluent teenagers with stormy personal lives who reside in scenic Orange County, California. The show became an overnight success and it put McKenzie on the map as Ryan Atwood.
While appearing in 'The O.C.', McKenzie made his feature film debut in 'Junebug' opposite Amy Adams. Other prominent work includes high praise for '88 Minutes', which starred Al Pacino, and his first starring role in a feature film was in the 2008 indie release 'Johnny Got His Gun.' After starring in NBC's cop drama, Southland, as rookie police officer Ben Sherman, McKenzie went on to play Jim Gordon in the Batman-themed series Gotham that began in September 2014. We caught up with the busy actor at a recent premiere party for the series in New York City.
HOMBRE: What can you tell us about the new season of "Gotham"
Ben McKenzie: It's titled 'Mad City' and the monsters that were unleashed on Season Two are running amok in Gotham. It's pretty much total anarchy and our man Jim Gordon has come back to Gotham with not very good news. He's at a low point, he's now a bounty hunter and he's decided to make some money by bringing in these monsters and getting paid. He's not a cop anymore, he's more of a businessman. Throughout the season we have some great characters including Mad Hatter, a man that uses mind control to manipulate people; Poison Ivy; and Bruce Wayne's evil dopelganger. There are some great characters and that's just the first half of the season so there's a lot to look forward to.
H: How did you feel coming into the series in the beginning?
BM: I felt good. I felt a little apprehensive because the characters are so iconic. You don't want to mess it up, you want to be sure the fans are happy, but we were in good hands. I've worked with Bruno Heller who created the show before and he had written the part for me. I knew he wanted to collaborate and make sure we did everything right, and the addition of Danny Cannon – who directed the pilot and is responsible for the look of the show – is very special. The combination of Bruno and Danny and this amazing cast has really elevated the show. There are a lot of superhero shows but this has a unique feel. It's a little bit more dangerous, a little bit more sinister, and yet the humor is very specific and dark and twisted. I'm very proud of it. Its a show I would watch even if I wasn't on it, which is the best compliment I can give.
H: Did you watch Batman programming as a kid?
BM: I watched the old Adam West show in the afternoons with my brother in Texas. It was on reruns when we got off from school so I remember seeing that. And then I fell in love with Michael Keaton's Batman from Tim Burton. That was when I was a teenager. And I love the Chris Nolan films too, so yeah for sure.
H: You've accomplished so much in your career at such a young age, what advice can you give someone on the keys to achieving success?
BM: I would say keep working. There isn't a magic piece of advice I can give you. I would say you have to be very prepared for when opportunity strikes, and then take advantage of that opportunity as best you can. I've certainly been lucky in my career, but you can only be lucky once, at the end of the day you have to do the work. I've been lucky a couple of times and I've run with it.
H: What can people expect from the new season?
BM: This new season has a lot of these new villains, there's a new love interest for both my character's Jim Gordon, and Leslie Thompkins (Morena Baccarin), so there are love triangles that emerge. It has that telenovela romance angle. And in the second half of the season more twists and turns.
H: Finally, you just became a new dad, what's the most challenging part of that role?
BM: The most challenging part is trying to find sleep (laughs). We're both very involved parents and I couldn't ask for a better partner. My daughter is six months old, so especially those first few months you're just trying to get some sleep whenever you can.
THIS ARTICLE IS WRITTEN BY