HOMBRE Exclusive: JENCARLOS CANELA Adds Latin Rhythm to NASCAR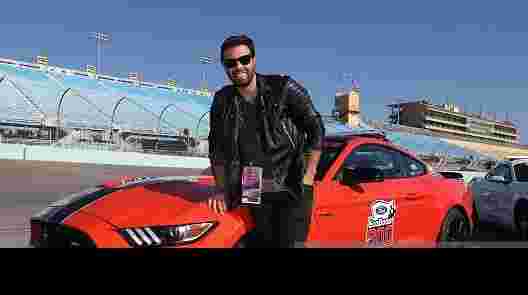 As we prepare for the first NASCAR race of the year with the Daytona 500 taking place on February 26, we bring you our exclusive interview with Miami native Jencarlos Canela.  During NASCAR's Sprint Cup Series Ford EcoBoost 400 championship race at Homestead-Miami Speedway, Canela was chosen to sing the National Anthem prior to the televised race. We caught up with the multifaceted singer/actor to talk racing, and a little politics.
Canela's hit single "Pa'que Me Invitan," remains high on the charts, as he continues to tour the world.
HOMBRE: Tell us about NASCAR, and what brings you here today?
Jencarlos Canela: My heart is beating fast and these cars are about to go right now. I'm pretty excited to be here. I think a lot of people that see the races think it's a one man sport, but it comes down to the pit crew, it comes down to all members, it's really a team sport. When you start learning about the sport and see that there are some amazing athletes and some amazing stories behind these guys and these pit crews, it's really something. I just did a 'pace lap' before singing the National Anthem and the adrenaline that runs through your body it's heart stopping and we were only doing 100 miles per hour. These guys are going to do upwards of 190 miles per hour. That excitement brings me to my hometown.
H: How do you feel about the controversy surrounding the National Anthem?
JC: There's all kinds of controversies going on right now and I respect everyone's opinion. Everyone's entitled to do as they wish. I believe that in sports there's already naturally a divisive environment, you like this driver or that river; you're rooting for this team or that team, and the National Anthem is the only moment when we all come together and it's the only moment that represents unity in a divisive environment. If we can all come together and have a bipartisan moment despite our differences, we need to do it. We need to stand by that. I respect everyone's opinion but I believe it's something we should all stand for and it's an honor for me to sing it.
H: What advice can you give Latinos with the current political climate?
JC: There is no better government than the uniting of people and we need to come together. We always fight on elections about who we want to win and it's always the same thing regardless of who wins. Not everyone is happy and we need to come together as a nation. We can't depend so much for the system to do things for us, for our communities. Our mayors and our local politicians have a bigger impact on our daily lives than the President of the United States. We need to worry a lot more about those elections than the presidential elections. At the end of the day we win some, we lose some and we're not enemies. We go at each other during elections and then it's all good. A battle within ourselves is not worth it. We need to love each other, we need to come together as one, as a nation. We say USA and we forget what it stand for. It's the United States of America. That's all I can say.
H: Daniel Suarez made history by becoming the first Latino to win a major NASCAR championship, what does it mean for the sport and for Latinos?
JC: It's huge. That means a lot to all minorities in general. Anyone can have a dream, pursue it, work hard, and achieve it. I applaud NASCAR for standing behind Suarez and standing behind all the drivers.
THIS ARTICLE IS WRITTEN BY