HOMBRE Exclusive: JESSY J Brings Sensuality to Smooth Jazz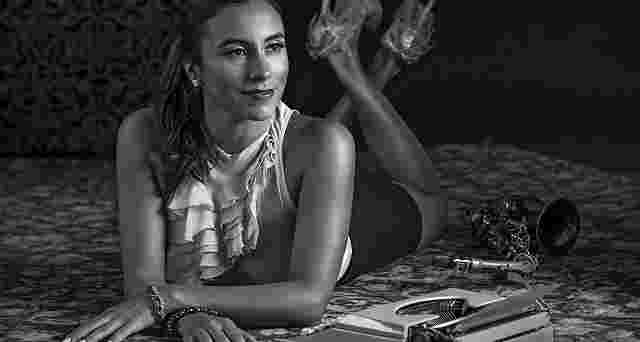 Saxophonist, vocalist, songwriter Jessy J is one of the brightest stars on the Smooth Jazz scene. Her newly released "My One And Only One" is Jessy J's most sensuous, and creative work to date. Inspired by her travels to Cuba and Africa and produced by the Grammy Award Winner Paul Brown, the album breaks new frontiers of Jazz and Latin music. We spoke with the talented artist to get the lowdown on her ascending career and some dating advice to guys.
Jessy J, was born Jessica Arellano to a native Texan mother and Mexican father. She began playing piano and saxophone as a child. After graduating from USC, she worked in the studio with Michael Bublé and toured with The Temptations, Jessica Simpson, Michael Bolton, and Seal. Jessy J's recording career began after producer/guitarist Paul Brown listened to her demo and gave her a spot on his tour. She soon began making solo appearances. Since beginning her career, she has toured with other jazz artists, including Jeff Lorber, Jeff Golub, Paul Brown, and Gerald Albright.
The Mexican American musician has built up a Latin following, lending her hand in Hispanic music programs and performing with the Hispanic Musician Association Orchestra. Jessy J had the opportunity to perform at Carnegie Hall with Paquito D'Rivera as part of the Latin Jazz Project. In Mexico she has worked with Gloria Trevi, Armando Manzanero, Cristian Castro, and Sheila E.
Jessy J's combination of extraordinary musical talents and exciting live performances have garnered her several Smooth Jazz radio #1s, a #1 Billboard Contemporary Jazz chart position, Billboard's and R&R's Contemporary Jazz Song Of The Year Award. She also performs before millions as the saxophonist on television's "The Voice" and has recorded and toured with music giants like Aerosmith and Michael Bolton.
Her new work includes Jessy's sensitive re-imaginings of Adele's "Lovesong," Toni Braxton's "You're Makin' Me High," the R&B classic "Strawberry Letter 23" plus 7 Jessy J originals, including the first single, "Tango Boy," which is already climbing up the Smooth Jazz radio charts, and the perfect fusion of jazz and Cuban Son "Paraíso Mágico."
HOMBRE: Tell me about the new record
Jessy J: It's called "My One and Only One," it's a romantic title and the songs are inspired by my traveling last year. I had the chance to visit Africa and half of the songs are romantic and half are Africa or Latin influenced. It's all a mix of jazz, vocals and Latin percussion.
H: How different is this record from your previous works?
JJ: I think it's a more mature sound. This year I really feel comfortable of where I am in my life and it really comes across in the music.
H: What were your musical influences?
JJ: My father is from Sinaloa, Mexico and my mother is from Texas so we grew up listening to a wide variety of music; like Trio Los Panchos, Carlos Santana, Celia Cruz, everything you could think of. But I started playing the saxophone when I was 9 and that's when I started listening to jazz. I wanted to hear saxophone music and it's a popular instrument in the jazz world. I listened to the greats like Charlie Parker and started imitating their style and improvisation.
H: Why is it so rare to find women who play the saxophone, or Jazz in general?
JJ: Well, initially because it's a big instrument and it's difficult to carry mainly because of the weight. And in Jazz maybe because of the traveling and scheduling, I don't know really. More women should play Jazz, it's great fun.
H: Do you sing on this record?
JJ: I'm singing on two songs, 'Paraiso Magico' which is a song about Cuba and the other is called 'Siempre,' which is more like a Samba. They're both Latin inspired. Seven of the songs are my own composition and we did three covers.
H: You have toured for a long time, what was the highlight of your touring days?
JJ: I remember doing a concert with Michael Bolton in Puebla and it was Mexican Independence Day and it was so much fun. It's those things that I remember. The hospitality and sharing with people. I also remember being in Cuba when they announced the embargo would be lifted. Historical days and sharing those moments with special people, those are the highlights.
H: How does the traveling affect your personal life?
JJ: It's hard. It's difficult in relationships because I'm gone. I'm on the road. I miss some of my friend's weddings. It's a big sacrifice. but I feel that now it'll be better. Now when I plan my tour I have more freedom to choose the dates. When I started I felt I had to do everything I could do, while now I can enjoy life more.
H: Do you have plans to tour?
JJ: Now that the album is out I'll be doing some promotional events, some radio stations. I'm going to be traveling many places; Indiana, Detroit, the Jazz Festival of Cancun, Aruba and also London later this year. It's going to be a great year. I'm excited because I feel this is my best work.
H: Now let's get a little personal, tell us, what's the best date you ever had?
JJ: When I was in Cuba my boyfriend was there and I had an awesome birthday because I got a chance to drive in this awesome pink convertible Chevy from the 1950's. We drove around for like 2 hours, just cruising down Cuba and it was beautiful. After that we went to a rumba club and I played with some Cuban musicians and I had a birthday cake. It was the best birthday for me and I really enjoyed it. It was romantic because we were on a tropical island. It was cool that the cellphones don't work there, no internet, it was like we were there by ourselves. Very special.
H: What advice would you give guys to romance woman like you?
JJ: You have to put a lot of effort into a date. Sometimes guys don't plan the date, they don't make reservations, they don't dress up. For me, I like to feel special. So when a guy dresses up, makes reservations, shows up on time and I love flowers. The little things go a long way. As long as it's a date that has a lot of feelings, that's what I prefer.
THIS ARTICLE IS WRITTEN BY