HOMBRE Exclusive: OLIVIER MARTINEZ on His Early Days, "Mars," and Mankind's Exploration of Space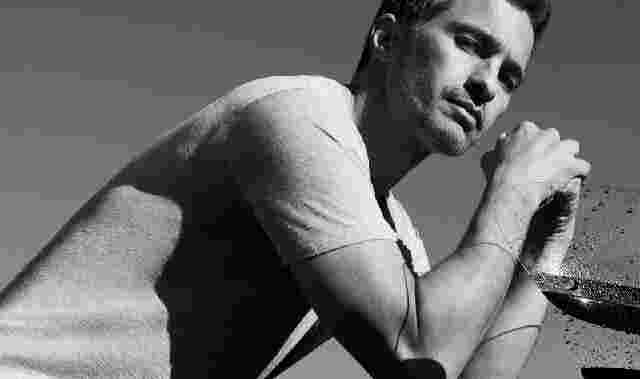 After first earning France's prestigious César Award for "Most Promising Actor" in 1994, Olivier Martinez has gone on to fulfill that promise in American cinema. This year he turns his attention to the small screen in the role of Ed Grann in National Geographic's highly acclaimed "Mars," airing on the network Monday's at 9PM ET. We spoke with the talented actor – sometimes best known for his romantic liaisons instead of the brilliant quality of his work – about the innovative series, his early days, and mankind's future exploration of space.
Martinez first garnered U.S. mainstream attention for his featured roles in "Before Night Falls" opposite Javier Bardem and Johnny Depp (2000) and "Unfaithful" costarring Diane Lane and Richard Gere. Since then he's starred in "S.W.A.T," "Dark Tide," opposite future wife Halle Berry, as well as the television series "Revenge," "Texas Rising," and the current  "Mars."
HOMBRE: You've worked on so may feature films, why do television now?
Olivier Martinez: First of all it was the director, Everardo Gout is a very dear friend of mine. We always wanted to work together and that was a big plus for me. I came on the project not really knowing much, but I trust the director and I like the idea of the project.
When I learned more I was very happy about what I see. It's a new concept when you mix documentary with fiction and it works pretty well. It's different and I hope people will like it. I like to do things that are different one from the other and this was a great experience.
H: Why does the combination of fiction and documentary work so well?
OM: It's special because we take the reality of today and try to project the future based on the scientists that are working on the show side by side with us. In "Mars" we try to predict what will happen 20 years from now when we really try to colonize Mars, and that's very original. It's an interesting way of learning, it's not a science fiction movie. It's very real. It's also the first time an American network has so many foreigners, a cast of people with accents. We don't know how it will be received by audiences but it's very ambitious. The thing is if we want to conquer space we have to do it together. We're stronger together.
H: How did you prepare for the role?
OM: In this case the history side is very real already for my role. I just had to be credible in the part and that's what I try to do. Every part is different from the other.
H: Is your role based on a real life personality?
OM: It's inspired by Elon Musk, he wants to colonize Mars for real, but since we have Elon Musk speaking in the series it was very hard to imitate him so what we do is a depiction of Elon Musk. He's a French guy but it was nothing to do with the real person, the part is based on his history. It's inspired by him but we try not to imitate him and reinvent the part.
H: How is it to do television after working on so many feature films?
OM: I've always done films but TV has become much more interesting and as an actor I don't have a problem in doing my job. I came from stage in the beginning. I was doing theater then I went to movies now I go to TV but for me is the same. The key is to have a part that's different than what you have done and to be surrounded by people you find interesting and that's why the choice of the director was so important for me. I like having the same director for all episodes, it provides continuity; it's the same as film, I don't see a difference.
H: What is it about a character that makes you say, yes I'm going to do this?
OM: Now I'm an older actor and I've done so many characters in my life I like to change as much as I can. I like to do things that are different. It's not easy, that's why I don't work that much.
H: What advice can you offer on having a successful career?
OM: I don't know if I can give advice to young actors because for everybody the story is different. In my experience I do it because I love the work. I never thought about being rich and famous. It's like being a soccer player, you do it because you love to run on the field and go after the ball. An actor is the same, don't think about the results because you don't know where you will end up. I was lucky but I was always passionate about my work. Don't think too much about a career plan. Try to do what you really like if you can. Things happen by themselves. I don't feel I have any control of my destiny anyway. I just enjoy it.
H: What's next for you?
OM: I don't know yet, first a movie happens then it doesn't happen. You never know but I have two projects I'm waiting on to see if they'll happen. Hopefully we will have a season two of "Mars." It's part of my life, you don't know what is next.
H: I'm curious about your heritage, everywhere I read you're French, but you have a very Spanish last name and when we met for the first time we only spoke in Spanish.
OM: It's a little strange because I'm half French and half Spanish. My mother is French and my father Spanish from Andalusia and Morocco. He was a boxing champion from North Africa, Algeria and then he went to France. It's a story of immigrants. I was born in France to a French mother. That's why I speak Spanish in a strange way, I never learned the language, I speak it the way it comes out (laughs).
H: Did you ever want to be a boxer?
OM: When I was young, yes. All my family were boxers, I grew up in a gym. I'm a professional actor. I was a boxer more than 25 years ago. I did want to be a boxer, but I had a car accident and that put an end to my boxing career. When I see my friend who was a champion and now he has nothing, I consider myself lucky because as an actor I can continue my career. Boxing is a lot tougher than acting.
H: Why should audiences watch "Mars"?
OM: Because they want to (laughs). I always tell people do what you want, watch what you want. Hopefully they will watch. I respect their choice. I think it's interesting because of this narration, also the director is great, great cast, and the story is original. You'll learn, for real, what can happen. It's interesting to see the reality of today and what we predict will be the future in the series. I like the bridge. For people who like technology, and space, you learn a lot of things. I know I learned a lot of things. We hope it'll be entertaining and you'll also learn something. It's a great subject.
H: Now that you've worked on this series and done some research, do you think the exploration of Mars will happen and how long for it to happen?
OM: I think it will happen because it's on the DNA of humans. We always have to go somewhere else and conquer it. That's our history. The next thing to conquer is space, and technically we are very close to achieving it. Now will it be in twenty years, forty years, I don't know. Depends on how much money we invest and how people can work together. But it will happen. Hopefully for the best.
For more information visit National Geographic's Mars.
THIS ARTICLE IS WRITTEN BY