HOMBRE Exclusive: RITA MORENO – An Extraordinary Life – In Her Own Words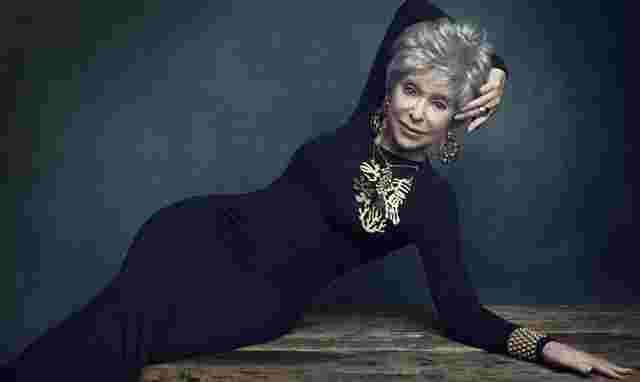 As is the case with most of our exclusive interviews we like to devote a few paragraphs to our subject's achievements, so that everyone that comes to HOMBRE learns what makes them – Latin or not – fascinating profiles. With Rita Moreno this is a daunting, almost impossible task. If you saw the SAG Awards last night you witnessed a lengthy standing ovation by industry heavyweights (including Robert De Niro, Nicole Kidman, Gary Oldman) as she stepped on the stage to present Morgan Freeman with a Lifetime Achievement Award. He presented her with the same award five years ago. Moreno is the true definition of an icon, a legend, and the only Latina to be a member of the very exclusive 12 member EGOT club (winners of an Emmy, Grammy, Oscar, and Tony). At 86 she returns to the television screen for the second season of the very popular Netflix series "One Day At A Time."
Rather than spend too much time reciting her credits we'll instead devote our time to sharing her words. We believe this is one of our most important and significant interviews and because of that reason we decided to limit the editing and take in all of the wisdom that comes from the most decorated Latin entertainer of our time. A woman who has persevered, and succeeded at the highest level, in one of the most competitive industries with a limited time span. Through it all she remains humble and continues to work regularly. The second season of "One Day At A Time" premieres on Netflix on January 24th.
Besides her role of Lydia in the critically-acclaimed Latino remake of Norman Lear's classic sitcom, Moreno also lends her voice to the character, 'Abuelita' in the children's animated series, "Nina's World," which airs on NBC-TV's Sprout Network.
Her countless credits span more than six decades, beginning with her Broadway debut at age 13. She has starred on Broadway; London's West End; appeared in more than 40 feature films (including the 1961 classic "West Side Story"), and countless television shows; has performed in numerous regional theaters including her one woman show, "Life Without Makeup" at the Berkeley Repertory Theatre.
Moreno was awarded the Presidential Medal of Freedom in 2004 and the National Medal of Arts by President Obama in 2010. In December 2015, she received a Kennedy Center Honor for her lifetime contributions to American Culture. In 2013, her first book, 'Rita Moreno: A Memoir' instantly became a New York Times Best Seller. In January 2014, she received the Screen Actors Guild Life Achievement Award, and in 2015 she released her first all Spanish language album, 'Una Vez Más,' produced by Emilio Estefan.
HOMBRE: What can you tell us about the character you play in "One Day At A Time"?
Rita Moreno: Lydia is a piece of work (laughs). She's a widow. She is very vain, which I love. She really thinks she's God's gift to men (laughs). She's opinionated, she always thinks she's right. But she's not always right, of course, that's the fun. She is shamelessly sexual with men. I mean, if you let her, she would flirt with a fence post. The women is incorrigible.
H: How did the role evolve?
RM: That's my fault because when Norman Lear, our producer, invited me to play Lydia, I said on one condition. I said, 'She has to be a sexual person.' She's supposed to be 70 something and I said – just because you are old or older doesn't mean that all of that stuff goes away. It doesn't. I want her to be a sensual, sexual woman. And boy did I get a sensual, sexual woman!
H: How are audiences reacting to the character?
RM: I love it (laughs). The audience loves it. The young people in the audience adore her. She comes from another time in some ways, but she is also very contemporary.
And the audiences just dig her. The older people love her because she's older and contemporary and the younger people love her because she is older and contemporary. And she is still caught up on things. She does go to a, what does she call it….chatsnap. She calls it something really weird. Her accent is my mommie's accent. It is not invented it is the way my mommie talked. And she was hilarious. My mommie would talk about changing the "shit" from the bed. So that's what we have Lydia doing in the show. She makes these wonderful mispronunciations that I just adore.
H: It sounds like you have a wonderful rapport with the character.
RM: Listen, we sit there rehearsing and we laugh a lot. And I suddenly stop and say to myself: I'm getting paid for this. I'm getting paid for laughing a lot and enjoying myself. It's fantastic. We also have a fabulous cast. Justina Machado is just a superb actress and comedian. Everybody is so good in the show. And also to be working with someone like Norman Lear…it's such an honor, and a privilege.
H: How is it working with him?
RM: You know that guy is 94? And he's at the rehearsals all the time. More than that, we do an audience show every Tuesday. You know we do it with a live audience. And he talks to them for about 15 minutes before we start doing the show. He's just a remarkable man. He was 94 years old last July.
H: Had you worked with Norman Lear before?
RM: No, no. I didn't know anybody. But I'll tell you something interesting. The very first day that we read the script – I don't know if you know how it works in television – but every, let's say, at the beginning of the week we sit at a table and its called a 'table read.' And the cast reads and performs the script out loud. And then you get up on your feet and start staging it and all that. And I cannot tell you, sometimes it is just so hard to do the lines because it is so funny.
And sometimes it's not so funny and the only way the writers know they need to re-write is when the jokes don't work. In television this is how it works. They re-write constantly. Even to the extent that when we are shooting in front of an audience, and we do 'take one,' 'take two,' the writers will re-write and give us new lines. When you're 86 years old that can be very tough. You know what I'm saying? (Laughs.)
H: But I guess it must be such a joy to do it that it comes easily to you, right?
RM: Absolutely, absolutely joyful. Something very interesting happened. I was very nervous about learning a half hour show when we first started. And something wonderful happened. The more I worked my brain, the more alert and nimble it became. So this year, in the second season, I've had no problem at all. You know, when they tell you to use your brain when you get older, believe them! Use your brain.
H: It's hard to believe your age because of your vibrancy, it's amazing. You talk about Norman Lear, but you're a true example of aging gracefully.
RM: I'm a very energetic person. I have good skin for someone my age. I turned 86 in December.
H: To what do you attribute your continuous energy?
RM: I swear to God, I think it's genes.
H: La sangre latina, la sangre boricua.
RM: And you know, also la cosa Caribe. We all have pretty fabulous complexions and skin. It's really genes and I'll tell you why I know its genes. When I was younger I used to live in the sun. I should be looking like an old wallet at this point (laughs). The people who do that, if they don't get skin cancer, they get very wrinkled. I'm not really wrinkled. Not the way that many people at my age really are. So I say, it's got to be genes. I think with all of that comes a very positive outlook. I'm a very positive person. I'm filled with hope always. I'm one of the happiest people I've ever met. Really!
H: I believe it. In terms of advice, for well being, to be healthy and energetic at any age, what advice can you give? 
RM: I think the most important thing aside from diet, because diet is obviously important, is your outlook. That is everything. If you see the glass half-empty all the time, that's how you feel. Old people sometimes tend to hang on to bad feelings and regrets. Regrets, I don't think about that. Whatever happened that was bad, happened. You're not going to correct that. I think it's absolutely stupid to linger on things like that. It's stupid! What good does it do you except make you sad about something that you can't do anything about anyway? Right?
H: Exactly.
RM: I'm a very practical person. My thing is to always think about what is positive. God knows I have a temper, like everybody else. But I don't hang on to negative thoughts.
H: Have you always been like that? Have you always had this outlook?
RM: Always. That is my nature, that is my character.
H: So, it's served you well.
RM: I think it's what saw me through some very bad times in my life. I did try to end my life many, many years ago.
H: Really?
RM: When I was having a very, contentious relationship with Marlon Brando.
H: How did you overcome that?
RM: The only way you can, which is first of all, stop seeing that person. It was an eight year relationship, a long relationship. And after you stop seeing that person, you just start doing things that make you feel good. And with me that was acting and it was performing. And just looking around me and saying, 'My God, life is just so wonderful.' It can be horrible but it can also be wonderful and it is up to you. If you decide that everything is bad and everything is dark and that nobody loves you because you're Puerto Rican and that kind of stuff, well, that's how you are going to feel.
H: I think that's wonderful advice.
RM: It's hard to do it, but it can be done. I mean, look at me!
H: Yes, you are the perfect example. You've had so much success throughout your life, it's incredible what you've accomplished. You're such an enormous inspiration. Not just for Latinos, for everyone, but especially for Latinos.
RM: I do talks and lectures and I did a talk in Omaha for 1,000 women. None of whom were Latinas. And they fell in love with me because of my attitude about my life. I told them the sad parts and I related the happy parts. They stood up and applauded and applauded, and cheered. And they were all ages. Some of them were about my age, some were in their 40's, some were in their 20's. And everybody got something out of that talk. I think they get a lesson in what I am now; that despite all of those things that happened, and there were a lot of bad things, that here I am, smiling and laughing and making jobs.
H: Would you say that that was the most difficult period of time, that stormy relationship?
RM: Well, that was the most difficult, but there were plenty of difficult ones – when I was trying to get work in Hollywood and all I could get was native girl roles. That was so depressing. It made me feel so bad about myself.
H: But then you came back with an Academy Award!
RM: That's it. I came back with an Academy Award and playing a Latina interestingly enough. Not just an Academy Award, I also got the Golden Globe.
H: And then everything else!
RM: That's right and ever since then I've been getting nothing but prizes (laughs). I have a lot of hardware on my shelf.
H: I can imagine, it's an incredible career.
RM: The Smithsonian Institute honored me (recently). That's pretty fabulous! They honored me and Spike Lee, and Bill T. Jones, the great choreographer. Pretty fabulous.
H: So, you visited the East Coast for that.
RM: Well, I have a little apartment across the street from Lincoln Center. Are you kidding? I'm a New Yorker, I have to get my fix.
H: So how often do you travel East?
RM: As often as I can. Sometimes it's twice as year and that's all. As often as I can and then I see plays. I love New York.
H: Let's talk a little bit about the situation of Latinos in Hollywood. You talked about how difficult it was when you began. How do you see the situation now?
RM: It's changed a lot. It hasn't changed enough but it's changed quite a bit. There was a time when they used to say the door is ajar. That's not so anymore. Thank God. We just have to persevere. I think we can take some mighty good lessons from the Black community. They have persevered and they have insisted. You know, I was shocked. I was at the Emmy's this year and there was one Latino on stage. One. That was Gina Rodriguez.
H: That's sad.
RM: And I thought that's hard. We have to raise a fuss about this. The Black community knows how to do that.
H: Well, look at what happened with the Academy Awards a couple of years ago. Complain about the Oscars and the following year the landscape changes and you have Black nominees.
RM: That's right. They got embarrassed and shamed.
H: And the situation changed.
RM: That's how we have to do it too. We have to be more vocal and be adamant.
H: Very true. You began in radio, and then film, theater, television, and now the show is streamed to your home. You can even see it on your phone. How do you see the evolution of communications?
RM: I'm still an old fashioned person so it's strange to me (laughs). The whole idea that we just did a whole season and we don't get to see it on the air until next year, it absolutely mystifies me. I don't get that. I do not understand that at all. But what are you going to do? That's how it is. I accept it, but I'm not thrilled.
H: And you can even see all episodes at once, you don't have to wait week after week to see them.
RM: That part is nice. Because apparently that's happened a lot with our show. People go see one and they say, 'Oh my God, this is funny' and they say, 'Well, I'll see another one.' And before you know it they've watched the whole season. That's terrific. Nothing wrong with that.
H: You talked a little bit about the outlook, what advice can you give young people about success, and achieving success?
RM: Perseverancia. You just have to really believe. You have to believe in what you think is important for you. And to me it is always perseverance. Persevere. Keep seeking what it is that you're after. Don't ever give up. I know that seems easy to say, but I'm a walking example of the efficacy of perseverance. It does work. Obviously you need to have talent, and some people don't know that they don't have talent, but eventually they find out. You have to persevere. You have to believe that what you want for yourself is doable.
H: Very true. Do you think that's what kept you going?
RM: Absolutely. I'm a believer. No matter how many times I fell down, I got up again. I'm a believer in dusting yourself off and keep moving.
H: Perseverance and a positive outlook.
RM: Absolutely.
H: Now, your contemporaries, who are you seeing on screen or on television that you like?
RM: Oh God, I love a lot of people's work. I love actors and actresses. I love the whole idea of acting. Of course Gina Rodriguez, I adore her. You know, when I have to think about it, I can't remember one damn name.
Anyway, there are a lot of wonderful actors and actresses that I just adore. The men are so gorgeous. You know, someone like Brad Pittt, who is just such a handsome man, and also Bradley Cooper for that matter. And they also manage to be terrific actors. There used to be a day in my time when actors were beautiful and handsome and were big successes but were terrible actors. Terrible. Clark Gable was a personality not an actor. People like that. But now you have really superb actors that are also handsome. How fabulous is that? They're gorgeous. I love them. I feel like a dirty old lady.
H: You're staying in character (laughs). And musically, who do you like?
RM: I'm crazy for Bruno Mars.
H: Boricua.
RM: I know, I know. Prince, who else do I love. God I love a lot of them. I like Beyoncé. Marc Anthony. A mi me encanta la musica Latina, of course.
H: Finally, why should people tune in to the series?
RM: Because they will identify with the characters. There is nothing more wonderful than saying, 'Oh yeah, I recognize that attitude' or 'My God that's so hilarious I can't believe it.' The whole theme of "One Day At A Time" is that it's not just Hispanics, it's not just Cubans, it's not just Latinos, it's everybody. And that was the whole idea that Norman Lear had that it's a very universal theme. It's a family. They happen not to have a husband because of a divorce. But other than that, it's two teenagers, a crazy diva, and her daughter. It's terribly, terribly funny. The whole idea is that it will distract you because it's funny but it always has something serious in it. Every single episode has a social issue. Every one.
H: When it was presented to you, did they already have the concept of a Latino family as the center of the story?
RM: That was Norman Lear's idea. Nothing to do with me. He and his partner just thought about it and were like, 'Why not? Let's do it! Netflix loved the idea and there we are.
THIS ARTICLE IS WRITTEN BY