HOMBRE Exclusive: Reinventing a Multi-billion Dollar Brand – with ALANA FELD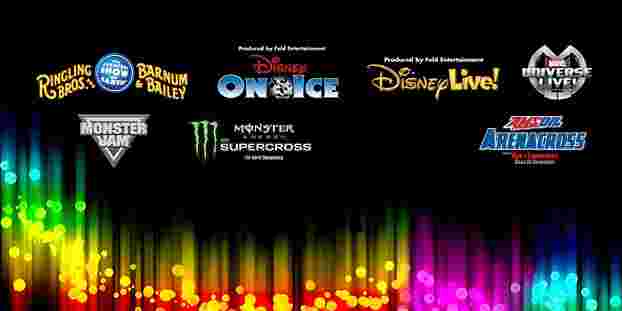 With a slate of mega-productions that includes Ringling Bros. Barnum & Bailey Circus, male entertainment staples Monster Jam, Super Cross, and Arena Cross, along with family friendly Marvel Universe Live, Disney Live, and Disney on Ice; Feld Entertainment has established itself as a world leader in live entertainment. The company -founded in 1967 – produces over 5,000 shows, bringing joy to 30 million people in 75 countries on six continents every year. Now the Ringling Bros. brand is moving into the future under the leadership of Alana Feld, along with sisters Nicole and Juliette. In an exclusive interview Alana Feld speaks about the importance of the Hispanic market, her keys to success, and the inner workings of 'The Greatest Show on Earth."
Alana Feld is executive vice president and producer of Feld Entertainment's stage shows. In her role she is responsible for the design, planning, casting, creative story development and marketing of the company's Ringling Bros. and Barnum & Bailey Circus, and Disney Live! shows.
The Circus remains the company's biggest moneymaker and the major live show. This year the entire production has been overhauled into a completely new, thrilling, interactive experience creating – hyperbole aside – a show unlike anything you've ever seen before. Ringling Bros. and Barnum & Bailey Presents Out Of This World is now traveling throughout the United States on a multiyear tour.
HOMBRE: How did the idea come to completely recreate the circus?
Alana Feld: When we made the decision to retire our elephants we knew we wanted to do something different and use it as an opportunity to re-imagine the whole Ringling Bros. experience for families. That's really where the idea, the thought to think differently and create a whole new experience came about.
H: How long did it take from show conception to what we see today?
AF: It's about two years in the making. It all started with a concept and the idea of adding ice and skaters to the show. It's something that really set us off for this vision of "Out of this world."
H: Did your experience with ice shows influence this new direction?
AF: We do have a lot of experience with ice which helped us with the whole process in terms of understanding what it's like to work with ice, just having an expertise and a knowledge of ice in general. But we wanted a different style of ice skating and we didn't want it to be what people typically think of, figure skating. We wanted to do something really different that could only be done at Ringling Bros. We introduced what we called 'thrill skating,' a new style of skating which is acrobatic, that's edgier, that definitely has an energy to it that is very novel.
H: How did you find the acts?
AF: Our talent scouts travel all over the world looking for the most talented performers, and our director of talent was in China, in a city called Harbin which is in the north and really known for ice skating. He saw these incredible performers doing unbelievable acrobatics on skates, like skating on stilts, and he knew they had to be a part of the show. That's actually where the idea of the show and incorporating the ice came as well.
H: How do you feel about taking the circus legacy into the future?
AF: Growing up around Ringling was amazing, and experiencing that as a child was unbelievable, but the show I grew up watching is not necessarily the show families would enjoy seeing today. For me it's great because I grew up around it and I get to create a new experience like my dad did for me as a kid. I get to do that for my daughter. It's fun and it's exciting, but certainly we wanted to create something that's for families of today and this generation.
H: What can you tell us about the new technology you're using as part of the show?
AF: Some of the biggest changes to the show are the technological elements. One of the main is the inclusion of the 3D video projection mapping on the arena floor, on the ice surface. Because we have this beautiful ice surface we are able to use a video projector. It adds a whole new element of theatricality to the show, but it really helps with the storytelling and creating an immersive environment, transporting audiences out of this world to all these incredible planets we visit throughout the show.
H: What about the new app?
AF: The other cool piece of technology is our app that we are launching with this production. It's the first ever app for Ringling Bros. It's fun for families to use at home, so you can play with it at any time, take circus selfies, be silly and goofy, play games, get content on what the show is about and the performers. It also allows for further engagement at the show itself. When families arrive and they download the app they will get a welcome message, and will interact when they meet performers. They will get points, unlock content, there's even cool elements in the show. So there's a lot that is exciting and will allow people to engage with the Ringling brand and stay in touch with us outside of just the one day they visit the show.
H: How important is that for you?
AF: It's very important because families today want more of an experience. They don't just want to go to a show and watch something passively, they want to be a part of it and have more of an experience that extends beyond the show. When you have that kind of experience it's something you remember, something you want to continue. That's what we're allowing people to do now.
H: Why is the Hispanic market such a key demographic for Ringling Bros.?
AF: If you look at America it's made up of so many kinds of people and there are so many Hispanic families that are a part of Ringling Bros. and enjoy coming to the show. There's also something very special about the Hispanic culture and that's the importance of family, and that's what Ringling is about. About bringing families together. And I don't think there is any entertainment out there that has something for everyone in the entire family, from the youngest child in the family to the oldest grandparent in the family, there's something for everyone here and that's what makes Ringling so special.
H: Speaking about families, you are taking the company's reins from your father, what is the best advice he gave you?
AF: My father gave me a lot of advice, and he's still giving me advice. The best I would say is to be decisive and to always make decisions. If you don't make decisions you can't move forward. If you make a decision ninety percent of the time you'll be right, the ten percent you're wrong that's okay, at least you made a decision and are moving forward. Being decisive is one of the best lessons he taught me.
H: Now that you, along with your sisters, are overseeing such a successful brand, what advice can you give aspiring entrepreneurs?
AF: I would say find something you love and learn to do it well. Enjoying something you do is important to being successful. It's hard to be successful at something that isn't your passion. Spend time realizing what you love and that's probably what you'll be good at.
H: The focus of our story is the future of Ringling Bros. but tell us about your other shows. 
AF: Feld Entertainment is the largest producer of live entertainment in the world. We perform for 30 million people across 75 countries ever year. That's about 5,000. performances we do every year. Our brands include Ringling, Disney on ice, Disney Live, Marvel Universe Live, Monster Jam, Super Cross, and Arena Cross.
H: Guess you have your hands full, what are your expectations for this new 'Out of this World' production?
AF: I'm so excited, we're going to see the first ever audience reaction. That's what's great about live entertainment, you get that instant gratification, you get feedback right away. It's not like a movie where you have to wait, you get that immediate reaction.
H: Why should audiences see this show?
AF: It's light years beyond your expectations, it's unlike any experience you can get anywhere else. It's the most exciting show I ever produced and the most exciting show I've ever been to.
Ringling Bros. and Barnum & Bailey Presents Out Of This World arrives in Chicago (Nov. 17 – 27), Miami (January 6 – 15) and Atlanta (Jan 15 -20) with dates in New York, New Jersey and the Northeast to be announced. For a complete list of tour dates and locations through April 2017 and to purchase tickets, visit www.ringling.com
THIS ARTICLE IS WRITTEN BY