HOMBRE Exclusive: Secrets To Success With 'Vanderpump Rules' GUILLERMO ZAPATA – Co-Owner Of SUR, One Of LA's Hottest Restaurant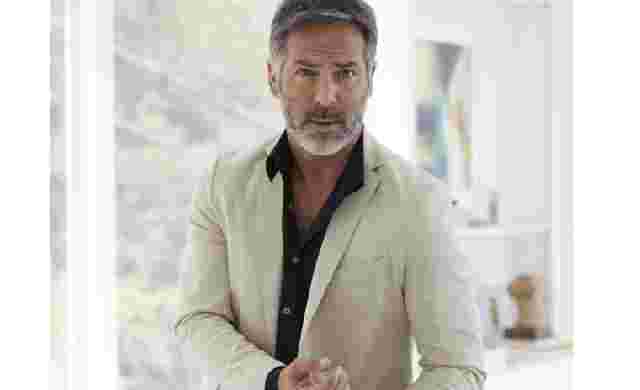 One of the hottest shows on television is "Vanderpump Rules," the "The Real Housewives of Beverly Hills" offshoot that stars Lisa Vanderpump and follows the adventures on her very dramatic and entertaining staff. Most viewers don't realize that the man behind the successful venue is an hombre from Argentina. Guillermo Zapata, who sometimes appears on the show, founded SUR Restaurant & Lounge in 1997. Since then he has managed to turn it into the place to be and the place to be seen in. So much so that in 2004 the newly arrived British couple of Ken and Lisa Todd decided to invest, expand, and optimize its potential. In an exclusive interview Zapata shares how a non-English speaking immigrant from Argentina went from busboy to owning one of Los Angeles hottest restaurants.
Zapata was born in Argentina, and worked as an actor and model before deciding to leave it all behind and start a new life in the United States. He is now a triumphant restaurateur, model, and entrepreneur. He founded SUR Restaurant and Lounge in West Hollywood almost two decades ago which it's now one of the most popular restaurants in the area and is also the basis for Bravo reality TV show.

HOMBRE: How do you come to open SUR Restaurant?
Guillermo Zapata: I came to the U.S. in 1992, and I had to put the acting and modeling career on hold. My first job was with restaurants. I wasn't able to speak English but I wanted to be here. I decided to work as a dishwasher, but I studied and learned English. Then I became a waiter, then a manager, and then I opened SUR in 1997. We started with a small restaurant and not many tables. In this city if you have the passion and you work hard you can do it.
H: How difficult was it to open and find funding for the restaurant?
GZ: This is the land of opportunity. When you work hard and people see that, there are people that want to invest. I was modeling also so I was able to save money. When you're secure and you have the passion and you want to do it, especially in Los Angeles, you can win. I put everything that I had. I convinced the chef where we were working to follow me and become my chef, and let's do it.
H: What was the concept for the restaurant?
GZ: Me as an Argentinian, my chef, Jose Martinez, was from mexico and my wife is French so we created an eclectic menu and it did well and was successful. Together the combination of the three of us was great. It was successful and over the years I was looking to expand. After growing and proving we were in a great location with a great menu I became involved with this couple that came from England which is Ken and Lisa Todd. We became partners and afterwards we grew and expanded. Today I can say we have 10,000 square feet, 3 bars, and it's one of the most successful restaurants in town.
H: When did Lisa and Ken become involved?
GZ: That was in 2004. They accepted my concept and we became partners. We grew the restaurant and in 2011 the TV series began.
H: How did the TV series come about?
GZ: My partner Lisa was getting popularity through "The Real Housewives of Beverly Hills." She started to get a name and Bravo was looking to do something else with her so we came up with this proposal. I'm actor and I get all these kids to work for me, they work in a restaurant because it's the perfect way to survive, work a few hours and have cash. The potential was there. Me as an insider I understand it. I think it's a great show.
H: Was the staff hired for the show or were they already working there? 
GZ: We did an open call with my old employees and told them that we were planning to do a pilot for this show. We invited them to see who would be interested. Many said yes, many no. Whoever said yes we auditioned, we talked to them to see who would be the right character. Working a reality show you need to have something extra, you have to put your stuff on the table, some people accepted it some people didn't. We chose 7 people from the restaurant and we started from there.  It was successful because it's entertaining and it's real.
H: Do you plan to expand the restaurant to other markets?
GZ: The idea is to franchise. But it's not the right time now. We have 10,000 square feet of space and I have a family. I want to enjoy my family. I have an acting career and I'm working with different projects so I don't think it's the right time for me to focus and open all over. I want us to be strong the way that we are. When it's the right time I would like to expand it.
H: How do you balance your family, and a modeling and acting career with the restaurant?
GZ: I have to give credit to my wife. Having my wife in the office helps me to focus on the daytime, to keep training, keep going to auditions. My wife helps me a lot.
H: You produced a short film, are there plans to produce other projects?
G: I did "Tango Amargo," which is a short film. I'm exited to go back to my roots. When you have a passion, you work hard, and don't stop then dreams come true.
H: What would you say are the keys to your success?
GZ: I thinks it's motivation and passion. For the past 18 years I've owned SUR I see myself working almost every night giving the same passion to the employees, to the customers. I think that's mostly what it is. Be humble, be smart, and you need passion or it won't work.
H: Why has the restaurant been so successful for so long?
G: I have to give credit to my wife, to my partners Ken and Lisa, and we still have the same chef. Sometimes restaurants are changing chefs or changing partners. When you find the balance of having great communication with your partner and with the chef and you as an owner are 100 percent responsible it works. Having a reality show was risky because at that time nobody had something like this. When I decide to do something I put all my energy, all my focus on that. And the results show. It's five seasons with the show. Customers love it when they come to the restaurant and they see filming but as an owner the success is to be there and participate with the customers and employees.
H: And what are the keys to a successful partnership?
GZ: It's a lot about respect. When you respect each other you listen to each other. Ken and Lisa came with a lot of passion and a lot of knowledge. They used to own a place like SUR in London. We have been together many years and we're friends.
H: What advice can you offer aspiring entrepreneurs?
GZ: Never stop dreaming and work hard. And always be motivated. If you're a dishwasher be the best, if busboy be the best, because people see that. And always set goals. What do I want to be in 5 years. If you're 25, by 30 I want to be the owner. Set goals and every day think about them and think about what I have to do to get there. I'm living proof that it's possible. I love to give that message.
H: Your father was an accomplished musician in Argentina, what was his greatest lesson to you?
GZ: My family has a trajectory in show business. My father is Rodolfo Zapata, well know in South America, with more than 50 years as a musician and singer. I grew up upper middle class but when you come to another country and you have to be a dishwasher you have to be humble enough and say if that's what it is right now lets do it. You have to give up the ego you have and start anew because things will change. My grandfather came from Italy and Spain to Argentina and worked hard. And my father was a worker as a youngster so the story repeats itself.
My father had the motivation to be a singer and to be famous. He is a legend in Argentina and he taught me to be humble and even when the refrigerator is filled with food you still have to earn it. My father didn't give me anything, He said, 'I will give you the round-trip ticket if you want to return. I'm not giving you anything, if you want it earn it. You have the ticket and my heart will be waiting for you if you want. This is your decision but you can't count with my money.' And that was the best advice he gave me.
H: What would you say is your biggest success?
GZ: I'm not there yet. At 48 my great success is to form a family, to have my 2 daughters. That's my major success but in the personal level I still fight and maintain the same motivation to move forward. You should never say I'm here, I'm satisfied.
H: What's next?
GZ: We finished Season Number 6 (of "Vanderpump Rules"). In December there will be new shows where people will be entertained through the restaurant and that implies that the restaurant will be busier than it's now. So the success of the restaurant is enormous. I'm focusing on the reality show, I'm participating producing and acting. I can focus on my projects and people can be entertained.
THIS ARTICLE IS WRITTEN BY