HOMBRE Exclusive: UNITI FASHION EVP Angela Curry Previews Cristiano Ronaldo's CR7 DENIM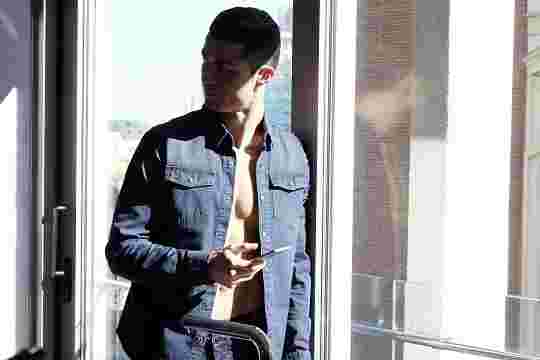 As we prepare for the worldwide unveiling of Cristiano Ronaldo's new fashion line, here we bring you an exclusive interview with Angela Curry, Executive Vice President of Uniti Fashion, the global sourcing, manufacturing and design leader that has partnered with the world's most popular athlete to create CR7 Denim. Curry offers details on the designs and working with Ronaldo in what is expected to be a top selling blockbuster collection. The line will launch in a few weeks and we will then bring you our exclusive conversation with the man himself… stay tuned….
The collection balances both comfort and movability with image and style. By partnering with Uniti Fashion the CR7  brand is able to deliver garments made from the latest technology, and delivered for a price that's accessible to everyone.
HOMBRE: What differentiates this denim collection from others?
Angela Curry: When we first started discussions with Cristiano, he emphasized how important it was that the collection was designed with comfort in mind. With his athletic build, he had trouble finding premium denim cut for his body. Naturally, he didn't want to compromise on style or functionality, so that was the challenge we were given. We drew inspiration from Cristiano's limitless spirit and used carefully designed fits along with the latest in stretch fabric technology.  The result is a line that allows the wearer to move freely wherever their day takes them.
H: How long was the process from signing the agreement with Cristiano to create the line, until now that it's going on sale?
AC: As with any project done well, there were challenges that we faced, and it was a long process. But the important thing is that we're finally launching the collection in July. Our team is so excited to finally see it out in the world being worn by real people.
H: What are the plans to market the collection?
AC: We have a robust marketing plan to support the launch, with a focus on social and digital channels as that's where our audience spends most of their time.
H: Where will the garments be available?
AC: The first collection will be launching on CR7.com in late July, for those in the U.S., U.K. and select countries in Europe. We've also partnered with three global online retailers – Zalando, Namshi, and Zalora – so CR7 Denim will also be available in the markets that our partners serve.
H: Are there plans to expand the collection and offer different styles each new season?
AC: Definitely, the full collection has a variety of fits and styles, ranging from jeans to shorts to jackets, so there will be plenty of new styles to satisfy our shoppers each season.
H: How involved is Cristiano with the development of the collection, and how is he as a partner?
AC: The whole line was inspired by Cristiano, so certainly he was very involved in the process and was a great partner to work with. He has an amazing work ethic, and through working with him we really saw his tenacious drive that has contributed to his success on the field.
H: Why should our readers try these garments?
AC: We have a premium denim range which we are selling at an attainable price point, so we hope shoppers will appreciate the value.
CR7 Denim comprises of 3 types of fabrics, all with comfort in mind. Rigid fabrics are washed down and allow for full movement, stretch capabilities allow for a variety of authentic styles and looks, and the tech stretch is enhanced for added recovery. The denim jackets and shirts are also cut with the natural bend of a torso, in addition to woven shirts offering cool touch and easy iron features for next-to-no upkeep.
TYPE R: MODERN STRAIGHT Mid-Rise Straight Leg Jean comfortable through the hips, relaxed at thigh and slightly tapered to the ankle
TYPE C: SLIM STRAIGHT Mid-Rise Slim Jean fitted through the hip with a slim thigh that goes straight down to the ankle
TYPE T: TAPERED Low Rise Arced Leg Jean with comfortable hip and slight drop crotch that tapers down to the ankle
TYPE S: SUPER SKINNY Low Rise Skinny Jean that fits snug at the hip and has a tight fit around thigh all the way down to the ankle
THIS ARTICLE IS WRITTEN BY