HOMBRE Exclusive: JAMES MASLOW – Last Man Standing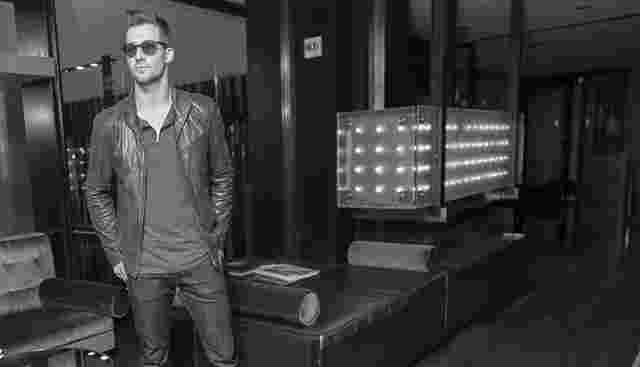 James Maslow is best known as the star of the award winning music group BIG TIME RUSH and the Nickelodeon series of the same name. In the recently completed season of ABC's "Dancing With The Stars," he was a fan favorite, fourth place finalist and the show's last man standing. Maslow and his group last toured Latin America to sold out performances. His new series, "Sequestered," premieres on Sony Crackle the week of August 5th followed by his first solo music project release in November. In an exclusive interview the young heartthrob reveals some DWTS secrets and his plans for a very bright future.
HOMBRE: Last man standing! How was your experience in "Dancing with the Stars"?
James Maslow: Unlike anything I've experienced and a lot more fun. A lot more of everything. It was more difficult, more frustrating at times than I could have expected, but ultimately it was more rewarding.
It actually opened up a lot about myself. It helped me to further discover why I am the way I am today. And I think America was able to perceive me as the young driven man that I am, versus the young character and kid that I played for so many years on TV, so I'm really grateful.
H: Did choreography for Big Time Rush prepare you for DWTS?
JM: We never did a ton because we were singing live and it had to be as complicated as all four of us could do well together, but it helped having a basis. Ballroom dancing and partner dancing is entirely a different story so understanding music and musicality which came from those aspects of my life was actually a lot more beneficial than any of the choreography and dance I've done before.
H: What performance stands out from the show?
JM: I have to pick a few because it's hard to pick just one. "Frozen," the contemporary dance we did turned out to be one of the coolest dances and experiences I've ever had. It was the first dance where I didn't have to learn specific techniques for ballroom dancing, rather it was subject to what I was capable of doing and what I was comfortable. It was the first dance where I expressed myself in the best way possible. It was the first perfect score of the season.
And lastly the freestyle once again because it was expressive of what I like. I felt that I got to tell a little bit more of my story to America which was really athletic and fun and adventurous and willing to take risks. Basically it's fair to say that we won the freestyle because that's the one dance that was voted back.
H: Who were you excited to share the stage with?
JM: Honestly I was excited to see Drew Carey. He's been around for so many years. I used to watch 'Whose line is it anyway?" and was a fan of his work as a comedian. He was an absolute gentleman. He's more successful than most people realize. He committed each time he was there, he tried really hard. Ninety percent of the cast really wanted to be there and the ones who stayed at the end absolutely did, but Drew was a great example of that. Even though technically he wasn't a great dancer he was sure entertaining and he committed.
H: What can you tell us about your last tour in Latin America with Big Time Rush?
JM: The day I flew back from tour in Latin America was the day I started "Dancing with the Stars," so it was perfect timing. You know, the band is still a band. If we go out and tour again, which is a possibility, we're going to be the same band we were before. However, now is the first time we've been free to do our thing. I'm ecstatic that "Dancing with the Stars" helped to elevate me to another level in terms of recognition and even in terms of confidence with dance. Now I want to incorporate more of a dance feel into my music.
H: How is it performing for a Latin audience?
JM: I don't mean to belittle any of my american fans or worldwide fans but the Latin American fans go the craziest and that's a great thing. I have to tell you, every performer loves that. That's exactly what we want to see when we're on stage. I get chills just thinking about it. Not to say that playing in the States or in Europe isn't great because it really is, but there's something special. I feel like Latin America holds a special place for me.
H: To what do you attribute the different reaction in Latin America?
JM: I think the big thing is that over here for Big Time Rush we had Nickelodeon attached to it and there seems to be a young connotation so adults and mid twenties almost felt like 'o they must be young.' We're older than One Direction which opened for us a couple of years ago and they're homies but they're perceived as older. The first time they played in the States it was opening for us. My point is that Latin American fans do not put any connotation, any stigma, anything negative attached to it.
H: What's next for you musically speaking?
JM: I've been writing all along the process of Big Time Rush. Many of the songs have ended up on the album and a lot of them haven't. Some of them are going to work for me, but frankly the direction I want to go in I'm still discovering. I'm trying new things, I'm trying crazy sounds. I'm trying to mix my piano and guitar with electronic sounds. I'm trying to break things down and make them funkier and I'm finding really cool niches. I don't think I've found the one song I want to revolve my album around but that's the process I'm going through right now. My goal is to have an album in the next year. Still going to be in the realm of pop but it could be pop R&B, pop and electronic. Like I said, I've gone in so many directions lately I need to hone that in. That's what I'm doing now.
H: Who do you admire musically?
JM: I look to Jared Leto and Justin Timberlake as examples of people who maintain and are very successful with acting and musical careers. They're very smart about picking one or the other to dedicate their time and their craft to make sure they're great at both. That's something I'm still figuring out. Sound wise I still listen to like Brian McKnight and even Donnie Hathaway and Michael Jackson. I think that there may be more of an R&B influence in some of the stuff I write.
Michael Jackson I've always been inspired by, especially with this new album. I was given the opportunity to dance, to perform to 'Love never felt so good,' and it made me realize how big of an honor that was. I even incorporated some of the Jackson moves. Man he was such an inspiration.
H: What's next in terms of acting?
JM: I'm finishing up a series called "Sequestered," which is going to be for Sony Crackle Online which is a streaming service like Netflix. I'm excited about that. I have a recurring role so I'm going to keep filming that.
I also just finished writing my first feature which I'd like to produce in the next couple of years. I'm giving myself a long time frame because it does take a while. I have big goals, I have big ideas. There's a couple of films I'm looking at but until they come to fruition is not worth talking about.
H: Ho do you feel now that the show is over?
JM: Now is the first time I've been free in almost seven years, pretty cool day to have a conversation with you because even though I have a couple things lined up, it's the first time I've been free from work which is exciting and scary at the same time. But I look at it as mostly exciting because it's the first time that I get to actually implement these ideas and all this creativity that I've been yearning to exude beyond the projects that I've done. So knock on wood everything goes half as I expect it to, you'll be talking to me for the next many years.
H: What advice can you give young artists coming up?
JM: You have to believe in yourself. First and foremost you have to believe you can get somewhere before you get there. The truth is if you put your mind to anything and you're persistent even if you're not the most naturally or gifted in that field if you continue to work and work hard that perseverance will carry you beyond the people who just want to rely on their natural talent. I say that humbly because there are better singers out there, there are better actors out there, there better looking people out there, whatever it may be; that's the truth for all of us, but I guarantee there is not going to be anyone that will work harder than I will. That is what has gotten me so far in my life and my career and that's what I want to pass on to anyone who looks up to me.
H: What did "Dancing with the Stars" mean to your career?
JM: "Dancing with the Stars" was an extraordinary experience for an entirely new demographic to discover who I am and in the light of who I am at 23 years old young man. Even though it was dancing, it wasn't acting, it wasn't singing those are things they still have to decide whether they like about me or not. They know who I am, they know that I'm a young, hard working excited guy and it's an audience that not necessarily watched Big Time Rush so I'm complimented that I got so far.
Yes, I have a large young fan base but that doesn't get you far enough when you got 20 million people who've been watching the show for 10 years. It just gave me the encouragement to continue to pursue my dreams. And back to the advice I would have given to people before, if you believe you can do something, you can. I was hesitant the first week in doing ballroom dancing, I've never done it before so its kind of a scary idea but after week one I said screw it, I'm going to commit to this I'm going to give it my best and if I try my hardest I'm not going to look silly, and frankly I think that's what happened.
H: What will you do on your time off?
JM: After this I'm having drinks with friends, I'm going to see some shows, I'm going to spend the wekend relaxing just see some friends and then it's back to work for me. I love what I do. I love music, I love acting, I love being creative.
Oh, and here's something you guys will find interesting. Of course you guys must know Jaime Camil?
H: Of course!
JM: He's a good friend of mine, we've known each other for years, kind of an unlikely situation. We met each other boxing in Los Angeles. He's become one of my best friends, he has a couple of years on me, no offense old man, (laughs) but he really is. We have such mutual respect for each other. We're going to be doing a motorcycle trip from Mexico City to LA. It's something he's done before, and he wants to do it again. He's inviting me, just him and I, we both ride so I'm really excited about that. To me that's more fun than any vacation on the beach. We go do something adventurous, clear your mind, hang out with your buddy… I'm really excited.
H: How was the last time you were in Mexico?
JM: Last time I was in Mexico we played Mexico City, Monterrey and Guadalajara and then I stopped in Acapulco with Jaime. That was like my last 2 days of vacation before this. I don't think I've ever felt like such royalty to be honest. The treatment down there is amazing. Everybody is just ecstatic, we felt like the Beatles being down there. It was one of the best experiences I've ever had. The last entire Latin American tour bar none was my favorite tour, the most fun, the most excited crowds.
Part of that was the comfortability of just playing for so many years and having a really good crew I can rely on so I could relax and have fun on stage. The other part was just the environment, just how happy everyone is to receive us when we go down there. Whether we tour or not again as Big Time Rush I really want to carry over on that excitement over to my music and my acting projects because I want to keep going down to Latin America. I love it.
JAMES MASLOW photographed exclusive for HOMBRE by PAUL TIRADO
Location: Trump Soho New York, www.trumphotelcollection.com/soho/
THIS ARTICLE IS WRITTEN BY