HOMBRE Father's Day Gift Guide: Give An EXPERIENCE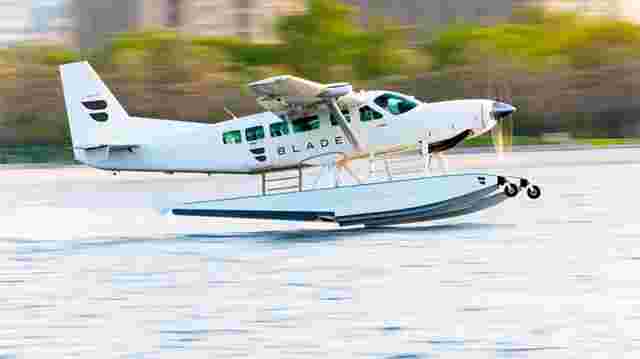 This year, instead of giving dad a gift, give him an experience. A chance to travel, enjoying quality time, or a day of pampering. From a golf getaway to Punta Mita, Mexico, to ziplining in California, to a sip & shave at Casa Buchanan's in New York, to a dinner cruise in Miami. The experiences below offer the perfect setting for bonding with Dad and creating unforgettable memories.
PUNTA MITA, MEXICO
Father's Day "Spirits Savour" Experience at The St. Regis

This Father's Day, The St. Regis Punta Mita Resort is offering a healthier and innovative take on wine and smoke to celebrate beloved dads around the world with its "Spirits Savour" experience:
Spirits Savour will allow guests to relax on their own terrace and enjoy Punta Mita's breathtaking ocean views, while enjoying a wine tasting using a Wine Wand by the resort's expert sommelier. The Wine Wand is revolutionary in that it absorbs histamines, removes sulfite preservatives and reduces significantly headaches associated with drinking wine, while Shishas provide all the pleasure of smoking without the side effects of nicotine. The tasting will be accompanied by a refined "Shisha cocktail" created by blending fresh fruit, herbs and spices to be smoked in a hookah. This special amenity will be offered at$95 per person.
Set amidst a spectacular coastal setting, surrounded by azure water and white sand beaches, The St. Regis Punta Mita Resort features 120 exquisitely appointed guestrooms and suites, three infinity pools with private cabanas, three world-class restaurants, an outstanding line-up of recreation facilities, including two Jack Nicklaus signature golf courses, and St. Regis' personalized services and amenities, including 24-hour concierge, room service and the legendary St. Regis Butler Service.  For the dad who wants to experience true barefoot luxury this Father's Day, The St. Regis Punta Mita Resort is the ideal destination.
For more information www.StRegisPuntaMita.com
CALIFORNIA
Ziplining Through The Forrest
 Ziplines at Pacific Crest has the perfect gift for any Dad, whether he's into sports or museums. How about celebrating the man of the house with a thrilling adventure in majestic forest canopies 300-feet about the ground?
The owner and operator of world-class zipline courses in the San Gabriel mountains, Ziplines at Pacific Crest delivers an unforgettable non-traditional option for Father's Day. Just imagine the ear-to-ear grin  as he flies through air in a nature-filled experience that showcases the breathtaking beauty of the San Gabriel Mountains, just 75 miles northeast of Los Angeles and near the popular Mountain High winter resort.
Featuring two high-adventure zipline courses with multiple zips, the tours are entirely tree-based and use innovative design and installations to minimize environmental impact while maximizing safety. The picturesque location also is on a portion of the 300-acre Guest Ranch at Pacific Crest property and retreat, which is a stunning backdrop and picnic setting for a Father's Day like no other.
Plus, to make this Father's Day even more special, Ziplines at Pacific Crest is offering a special "Buy-one-get-one-half-off" promotion throughout June (if booking online, use code bogozip at checkout).
NEW YORK
CASA BUCHANAN'S Sip & Shave
Dads deserve pampering too, and nothing is more indulgent than the comforts of the traditional barbershop and a sip of a Blended Scotch Whisky.
What better way to bond with the special man in your life than offering him a gentlemen's experience that includes a complimentary grooming service (choose from a hot shave, beard trim, or haircut) courtesy of Buchanan's Scotch Whisky.

You and dad will also enjoy sipping the award-winning Buchanan's Special Reserve, a blend of 15 unique whiskies aged for a minimum of 18 years, offered neat or on-the-rocks, hors d'oeuvres, and the latest Latin hits with a live DJ set.
To reserve a spot, please email casabuchanspopup@gmail.com. Must be 21+ to attend, appointments are made on a first come, first serve basis. Limit one service per customer.
If Father's are not available to join the local festivities, you can visit Reservebar.com for 20% off on your Buchanan's Special Reserve purchase by using the code BUCHANANS.
Dinner In The Hamptons – Via Seaplane & Helicopter
This Sunday night treat dad to dinner in the Hamptons, with a twist. Dad will arrive at the BLADE Aqua Lounge in Manhattan at 6pm, enjoy a quick drink, and then board a seaplane to Duryea's, Montauk's hottest restaurant.
He will land in the water, only 100 feet from his table, ready for a comped dinner with you and the sibs. After a sunset dinner, he'll be picked up via quick ground transport to an awaiting helicopter for his flight home.
Dad will be in bed watching CNN by 10:45 PM.
$295 each way, round trip mandatory. Tough-to-get rez for up to 6 and Dad's dinner included.
So your Dad wants to stay in the city? Buy him a tie. And then treat yourself and your friends to this unparalleled experience instead.
For more information visit www.flyblade.com
SPA DAY
Father's Day is all about dad, so let's treat him well with a relaxing spa day. Premier57, NYC's hidden gem, offers specialty massages, and body treatments, a rooftop pool deck, a valley of saunas, and a full bar.
Treat dad to a body scrub and a beer or a massage and a mojito with Premier57's all-inclusive wellness experience that offers a fusion of Eastern and Western culture and takes all of the best spa practices from around the world to provide Manhattan with an all-inclusive wellness experience.
Father's Day Deals:
Ultimate Hero Spa Package – $395 per person
General admission
50 minute deep tissue massage
50 minute signature refueling men's facial or rejuvenating facial
10 minutes foot bath
Glass of champagne
My Hero – $250 per person
General admission
Choice of

50 minute deep tissue massage
50 minute signature refueling men facial or rejuvenating facial

10 minute foot bath
Glass of champagneFor more information visit www.premier57.com
MIAMI
Dinner Cruise
What dad doesn't like a good boat day and some good food? Pair the two with a Father's Day brunch cruise on the South Beach Lady. Taking place on Father's Day, this three-level yacht will come with a buffet brunch, a cash bar, live DJs, and all the views in the world as you and your family cruise along the South Florida coast. The cruise boards at 11:30 a.m., sails from noon to 3 p.m., and departs from 1318 N. Ocean Drive. Tickets cost $79 per adult and $39 per child.
Steak Dinner
Miami has plenty of steakhouses fit for a king of any castle—or in this case, Dad. Head to Red, the Steakhouse, in trendy SoFi, for Chef Peter Vauthy's signature steaks with nearly 20 sauces and toppings: from classic béarnaise and peppercorn sauces, to ¼ King crab, seared foie gras and even a black truffle demi-glace.
The award-winning StripSteak by Michael Mina, at the Fontainebleau Miami Beach, is a contemporary steakhouse concept with a la carte cuts of steak prepared in the hotel's onsite aging room and butcher shop.
For something on the mainland, there's nowhere better than Wolfgang's Steakhouse. The Miami outpost of Wolfgang Zweiner's world-renowned steakhouses, this Downtown Miami locale grills juicy steaks for two that are dry-aged onsite for 28 days.
Take Dad To The Racetrack
Speed, speed and more speed. Take Dad to the Homestead Miami Speedway and give him a shot behind the wheel. Miami Exotic Auto Racing will be onsite with some of the world's most exotic cars, like a Ferrari F430, Lamborghini Gallardo, Ferrari GT or an Audi R8. For $249 per person, Dad can get one-on-one instruction from a professional race car driver, while you watch from the side of the track.
THIS ARTICLE IS WRITTEN BY