HOMBRE Gift Guide: Elements of STYLE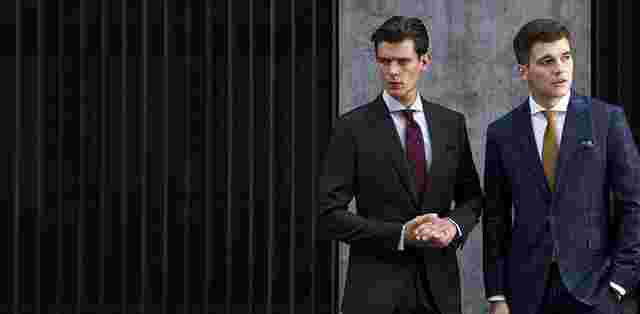 For guys with immaculate style the following brands should rank right up there on your gift selection. And moving beyond the Christmas giving season consider some of these elements to really make an impact leaving 2017 and entering into a more fashion forward 2018.
BLACK LAPEL
Few gifts can reach the level offered by BlackLapel.com . Guys can choose everything they want in a suit, shirt, top coat or tux – and play an instrumental role in creating a unique design.  The offerings are upscale, and yet reasonably priced for custom clothing. All of the measuring and fitting can happen right from the convenience of your home, and selections can be completed with advice from the brand's online stylists.
Here are some Black Lapel Gift Ideas suggestions:
1. Upscale Tie Bars & Cufflinks, $39-$79:
If you're looking for a small gift Black Lapel has curated a collection of tie bars and cufflinks. These range from conservative looks in silver or black, to more showy, attention-getting pieces accented with Lapis Lazuli, Mother Of Pearl, Tiger's Eye, or Onyx.
2. The Rust Flannel Suit, $949:
This unique blend of brown and dark red flannel is giving off some serious Renaissance Man vibes. This a stunning, masculine color that would stand out at the office or on a date with its ultra warm tones. It's crafted from the finest Italian wools and is now one of Black Lapel's most popular suits.
3. The Forest Green Flannel Suit, $949:
A man can't go wrong with this beautiful suit that looks great for the office or for social occasions. This also fits one of the major trends our stylists are seeing — more men leaning toward green hues.
4. Black Custom Tuxedo With Peak Lapel,$599:
A black tuxedo with peak lapels is as classic as they come. Your black tie presentation doesn't get any more traditionally stylish than a sharply tailored, jet black tuxedo. It's great for holiday parties, New Year's Eve gatherings and any other time you want to make an occasion truly special.
5. A Black Lapel Gift Card ($50 to $500):
A Black Lapel gift card fits into just about everyone's budget and gives the recipient the choice to use it for a shirt, a bag, a pocket square, a vest, some cufflinks, a new suit or another high quality item on the site.
LODING 
Founded in 1998 French firm LodinG has come a long way since the days when it specialized in Goodyear welted shoes. Now the brand offers a collection that includes 100% cashmere sweaters, shirts, italian ties, belts and other fashion accessories. You can't go wrong with any of the options, but we're here for the shoes.
LodinG ranks as one of our favorite shoe brands with innovative fashion designs in the best materials and perfect fit – the highest quality at very competitive price.
The LodinG network has grown to over 68 stores, providing great customer service in a comfortable yet sophisticated environment. The brand can be found mostly in France, including Paris, Bordeaux, and Nice, but it's also in Toronto, Casablanca, Lucerne, and other major markets. Here's a list. If If you're city is not included head to their website at www.loding.com and find the selection online.
Here are some of our two of our top styles:

PHEDO 482: $300.
A bold take on the 'monkstrap.' Buckle with round toe cap, sharp elongated upper, machine welted leather sole.
Jodhpur Boots: $300
These unique Jodhpur buckle boots are Goodyear welted on a leather sole. The leather strap gives it an elegant urban style, even rock, far from its equestrian origin. The full grain calf leather comes from the most prestigious French tanneries.

POSIE TURNER
Lately several sock brands have come to market. Posie Turner makes an impact in aesthetics and messaging. Each pair of socks features an inspirational mantra like ALL IN and BE YOUR BEST.
The power of a few good words is strong and these socks are intended to inspire and honor the magic in you. These men's socks have a luxury finish and are woven in Peru, using the world's finest cotton, Peruvian Pima Cotton.
They are constructed on 200-needle knitting machines, the highest gauge available, with a 2-ply combed twisted yard. This knitting process results in a superior quality sock with a better fit, less piling, and a finer, softer finish.
Quality, comfort and a modern sensibilities.
Visit www.posieturner.com
MSRP  $16.50 indidually/ $50. Gift Box
JANLESLIE
For a tuly unique accent look into the collection of handcrafted cufflinks of Limited Edition Rare Gems and Fossils from Jan Leslie. They are truly one of a kind. They also offer a more traditional and playful array of luxury bracelets, cufflinks & formal sets.
Madagascar Jasper Sterling Silver Cufflinks $1,195.
Found in the depths of the Indian Ocean, Madagascar jasper is believed to harness the cleansing powers of the ocean. Just as no two ocean waves are the same, every piece of Madagascar Jasper is completely unique, making this the perfect accessory for the one-of-a-kind man. Handmade with 925 Sterling Silver and featuring an anti-tarnish rhodium finish that makes for lasting wear.
For more information visit www.janleslie.com
THIS ARTICLE IS WRITTEN BY