HOMBRE Gift Guide: SPIRITS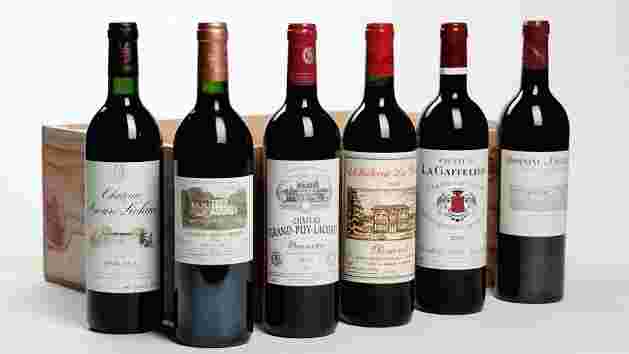 As you search for holiday gift ideas for family, friends and colleagues spirits are always a great option.  Check out our selection of premium cognac, whisky, tequila, bourbon, and mezcal.  There is something here sure solve your gift dilemmas – or raise the level of your own celebration.
Hennessy VSOP Privilège Collection 8 Edition Limited 2018 Deluxe Gift Cognac
This Hennessy VSOP Privilège Collection 8 Edition Limited 2018 Deluxe Gift Cognac has a unique packaging in metallic deep gold or bronze color, with a panel to the front that has contrasting red, yellow, and blue shades in a seemingly random pattern.
Inspired by a cognac created in 1817 in response to a request from the future king of England, George IV, Hennessy V.S.O.P Privilège has built its reputation across nearly 2 centuries. A wonderful addition to any Cognac collection – or perhaps the perfect gift for anyone who enjoys the finer things in life.
$239.99
Johnnie Walker Blue Label 
The ultimate luxury and rare Scotch whisky blend with a smooth taste and custom engraving available.
Johnnie Walker Blue Label sets the standard, a blend of the rarest malts from hand-selected casks across Scotland.
You can order a customized engraved bottle online here for home delivery.
$225.
Jack Daniel's Barrel Proof  (PREMIUM)
The closest thing one can get to drilling into a barrel and drinking the whiskey straight. It's the interaction of the whiskey, the wood and the environment that creates barrel-to-barrel nuances, varied proof from 125 to 140, and brings out distinct flavor profiles that transcends ordinary and becomes Jack Daniel's Barrel Proof.
$65.
Jack Daniel's Gentleman Jack
Just like Jack Daniel's Tennessee Whiskey and Jack Daniel's Single Barrel, Gentleman Jack is charcoal mellowed before going into the barrel. Gentleman Jack, however, receives an additional "blessing" when it is charcoal mellowed again after reaching maturity giving it ultimate smoothness. Gentleman Jack is full-bodied with fruit and spices, and its finish is silky, warm, and pleasant.
$29.99
Laphroaig 10 Year Old
This is the perfect gift for the seasoned Scotch connoiseur. The best recognized of all Islay malts and Laphroaig's flagship expression, it delivers a unique measure of Islay peat smoke, tangy, salt-laden air and an echo of sweetness.
$49.99

Laphroaig Select Scotch Whisky is a blend that brings the world's favorite Laphroaig expressions together. The result is an exquisite new Laphroaig expression with an additional layer of complexity and depth. More approachable than the average Laphroaig, Select is the perfect introduction for aspiring Scotch drinkers.
$54.99


Basil Hayden's Rye Whiskey 
Basil Hayden's Bourbon has always been proud of its trademark spicy finish, which comes from using twice as much rye as traditional bourbons. At an approachable 80 proof and featuring an even spicier flavor, this rye is perfect for anyone who loves a whiskey that's both flavorful and east to sip.
$44.99

MEZCAL
Creyente Mezcal Joven, is a fairly new entry to the fine spirits world. This is an unprecedented union of two 100% Espadín agave mezcals from two Oaxaca regions: the rich soils of Tlacolula and the wild, mountainous terrain of Yautepec. It was created by Pedro Mateo and Mijail Zarate, a pair of legendary mezcaleros with individual styles who worked together on this ultra-premium blend.
Available in select U.S. Markets
$49.99

TEQUILA
1800 Tequila Milenio
1800 Milenio is a super premium extra-aged tequila, finished in French Cognac barrels and also what we like to call, "tequila for the whisky drinker."  Milenio comes from 250 years of family traditions and eleven generations of Expert Tequileros and represents the best of avant-garde aging and distillation techniques. It's Premium extra-aged  Añejo  tequila, matured for forty months in American Oak barrels. Surprisingly balanced, soft and unique flavor with notes of vanilla, cinnamon and caramel.
$225.00
DELEÓN Platinum Tequila
DeLeón Platinum Tequila is a provocative Blanco with a rich, complex agave honey that is slow-fermented and twice-distilled.  Exquisite highland agaves are slowly roasted in traditional ovens for a subtle taste profile with a whisper of sweet agave, citrus, warm spice and smooth vanilla on the finish.
$60.
DON JULIO 1942
Aged for a minimum of two and a half years in American white-oak barrels, Don Julio 1942 pays tribute to the year that Don Julio González began his tequila-making journey. Distinguished and refined, this special Añejo is produced in small batches and reflects Don Julio González's life-long passion for making the highest quality tequila. Its sweet and complex aroma complements an equally intriguing range of flavors including hints of warm oak, pepper and cinnamon. Extraordinarily smooth, with astonishing depth, it is best enjoyed neat in a snifter.
$125.
VODKA
ABSOLUT ELYX Luxury Vodka – and Charity 
Absolut's luxury vodka, Elyx is known as the best tasting vodka on the market (we can attest to this after a blind taste test among the upper echelon brands available). On its own it makes for a perfect gift for any spirit connoisseur on your list. We like the brand because in addition to the pleasure it brings your taste buds, it's also concerned about making a difference in the world communities that need it the most. The brand has joined non-profit Water For People in an effort provide access to safe water in developing countries in one of the best charitable initiatives we've seen.
As of October 2017, the partnership has made a big impact, helping more than 30,000 people with safe water and 2.1M+ liters of water given.
$130.
(BELVEDERE)RED Limited-Edition Bottle $29
(BELVEDERE)RED Limited-Edition Bottle is available at select retailers nationwide throughout the holiday season. Proceeds of the limited-edition bottle support the critical work for The Global Fund in the fight against HIV/AIDS in Africa. With its audacious sleek red color and stunning pearl-matte finish, the bottle makes for both a striking and meaningful gift. This release marks the 6th year of Belvedere Vodka's partnership with (RED), with sales of (BELVEDERE)RED bottles helping to provide treatment for nearly 40,000 women living with HIV to help stop the transmission of the virus to their babies.
PREMIUM WINES
Millesima offers limited edition gift sets, perfect for the well-traveled or for someone longing to be transported to the rural regions of Bordeaux, France. An elevated assortment of premium vintages, perfect for dad, mom, a wine connoisseur  girlfriend or any treasured business partner.
Millesima Caisse Decouverte Bordeaux; Vintage 2006 ($1,400): An iconic Bordeaux magnum vintage from 2006, which includes six magnum bottles. Each bottle is 1.5 liters, equivalent to two bottles. This ultra exclusive set is limited to only six cases – adding to its luxury and exclusivity.
Millesima Caisse Crème de Sauternes; Vintage 2007 ($3,500): This offering includes 24 half bottles of the best Sauternes. Made from the Bordeaux region's rare white grapes. This selection is perfect to satisfy a sweeter palate. The perfect after dinner drink to enjoy with your holiday desserts.
Millesima Caisse Sauterenes 1ers crus; Vintage 2001 ($925):  This intoxicating case is filled with 12 bottles of refinement. This case is perfect for enjoying the golden liquid without the pressure of buying too much.
Millesima Caisse Rive Droite / Rive Gauche; Vintage 2000 ($1,200): This exclusive selection includes 12 bottles, carefully packaged within their wooden casings. A limited run of 18 cases will be produced.

A curated selection of wines gives the opportunity to discover Bordeaux through all the main appellations and terroirs. Each case is accompanied by a brochure, equipped with photos and vivid descriptions of the wines and their territories. Four offerings, handsomely packaged in wooden cases, adds to the charm and value of these luxurious gift sets.
For more information visit Millesima
CHAMPAGNE
Champagne Bollinger $140
The Limited-Edition Bollinger Rosé 2006, housed in a stunning, metallic gift box, is ideal for collectors that would like to experience this never-before-released expression from the iconic Champagne House – often recognized as James Bond and Queen Elizabeth's bubbly of choice. Available nationally, this Champagne displays a brilliant salmon pink color and is full of power, honeyed richness and structure. The liquid is a blend of still and sparkling Pinot Noir and Chardonnay, and offers bubbles as fine as velvet.
ACCESSORY
KingsBottle: Wine and Beverage Coolers
Traditionally, there have been wine connoisseurs and beer connoisseurs, which means two different storage temperatures. KingsBottle is proud to break this tradition with their innovative dual temperature wine and beverage coolers. Now you can enjoy an icy cold beer or a gently chilled bottle of wine all from the same unit.
KingsBottle has the right beverage cooler.  Load-bearing, strong and non-warping hard wood designer shelves optimized for maximum bottle capacity and designed with standard Bordeaux, Pinot Noir, Riesling, and Champagne/Sparkling Wine bottles in mind
$4,495.
THIS ARTICLE IS WRITTEN BY