Independence Day Cocktails from D'USSE Cognac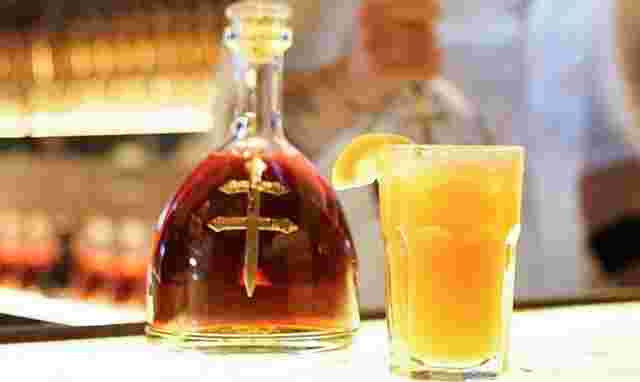 July 4th is the perfect holiday to celebrate with refreshing cocktails. And a great way to toast at your next gathering is  with D'USSÉ Cognac.
D'USSÉ [dew-say] is a bold new expression of Cognac that dares the palate. Born from the prestigious Chateau de Cognac, France, it blends over 200 years of tradition with the inspiration of a passionate Cellar Master who set out to create his own legacy. The result is a uniquely powerful, authentic Cognac that starts off with distinguished intensity and then gives way to a pleasantly smooth, balanced finish. The D'USSÉ Cognac range consists of VSOP (Very Superior Old Pale) and XO (Extra Old) qualities
D'USSÉ VSOP Cognac: Naturally aged at least four and a half years in the cellars of France's Château de Cognac, D'USSÉ VSOP Cognac emerges as a bold, full-bodied blend that arouses the palate. On the nose, it reveals a powerful bouquet, rich in woody notes that are layered with touches of cinnamon and floral notes. Distinctively and unexpectedly smooth, with each taste, you savor hints of spices, almond and cinnamon. Subtle accents of honey and dried fruits are the finale.
D'USSÉ XO Cognac: Maître de Chai Michel Casavecchia meticulously hand-selects the finest eaux-de-vie from the cellars of the Château de Cognac to craft the unique blend of D'USSÉ™ XO Cognac. His uncompromising standards demand the eaux-de-vie be aged ten years or more in French oak barrels to ensure the utmost complexity and depth in flavor. D'USSÉ XO Cognac delivers rich flavor notes of ripe blackberry and apricot, layered with hints of dark chocolate and walnut, culminating in an exceptionally balanced finish.
D'USSÉ  LEMONADE (pictured at the very top)
1.5 parts D'USSÉ VSOP Cognac
3 parts Simply Lemonade
D'USSÉ SIDECAR
1½ parts D'USSÉ VSOP Cognac
1 part triple sec
¾ part freshly squeezed lemon juice
¼ part sugar
THIS ARTICLE IS WRITTEN BY